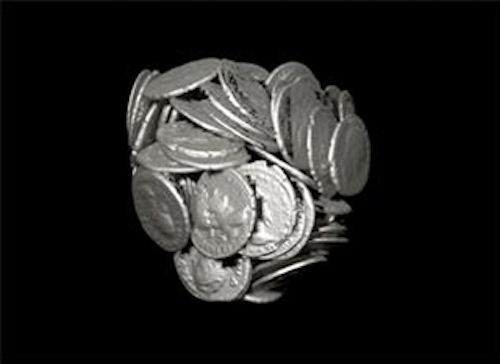 Archaeologists and engineers from Southampton University (Southampton, UK) are collaborating with the British Museum to examine buried Roman coins using X-ray computed tomography.

Originally designed for the analysis of substantial engineering parts, such as jet turbine blades, the imaging equipment at Southampton's µ-VIS Centre for Computed Tomography has been used to examine the Roman coins buried in archaeological artifacts from three UK hoards.

The three objects are a cremation urn containing nine coins found in the Cotswolds, an estimated 30,000 Roman coins discovered in Bath concreted together in a large block, and a small pot found in the Selby area of East Riding in Yorkshire.

The tomography equipment has been used to scan inside the objects -- rotating them 360 degrees while taking thousands of 2-D images, which were then used to build up a detailed 3-D picture.

For those items recently scanned at Southampton, the researchers also employed 3-D computer visualization techniques to enable them to read inscriptions and identify depictions of emperors on the faces of the coins -- on some, the heads of Claudius II and Tetricus I have been revealed.

The researchers at the university and the owners of the artifacts have plans to share the data with the public, hopefully through future exhibitions as well as online.

A moving image of coins inside the Selby area hoard pot can be seen here.

Computed tomography imaging is being put to a variety of uses outside the medical field. Here are five of the top stories on the subject that Vision Systems Design has published over the past year.
1. Software gets to the root of the problem

A team of researchers at the University of Nottingham (Nottingham, UK) has used X-ray Micro Computed Tomography (μCT) to look at the shape and branching patterns of roots in soil.

2. CT scan helps with digital dissection of prehistoric mite

Researchers at the University of Manchester and Humboldt University, Berlin have produced 3-D images of a prehistoric mite as it hitched a ride on the back of a 50 million-year-old spider.

3. CT imaging helps reproduce Stradivarius

Using computed tomography (CT) imaging and CNC machining, a team of experts has created a reproduction of a 1704 Stradivarius violin.

4. CT scanner captures images of ant excavations

Researchers at the University of Bristol (Bristol, UK) are using a CT scanner to capture images that show how ants build their nests over time.

5. X-ray tomography images early human skull and brain

A project led by researchers at the University of the Witwatersrand (Johannesburg, South Africa) has resulted in the production of the highest resolution x-ray scan ever made of the skull of a 1.9 million-year-old human ancestor.

-- Dave Wilson, Senior Editor, Vision Systems Design