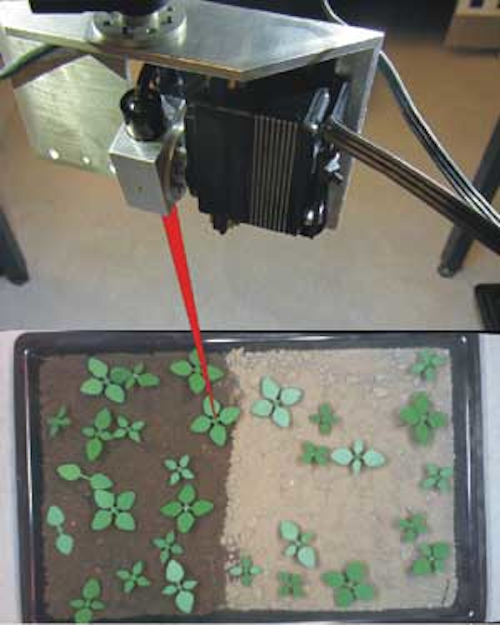 Researchers at the Laser Zentrum Hannover (LZH; Hannover, Germany) and the Biosystems and Horticultural Engineering faculty of the Leibniz Universität Hannover (Hannover, Germany) are developing a system that uses a camera-guided laser to fight weeds. Using a selective laser beam, the growth of weeds can be impaired by destroying the sensitive growth centers of the plants, called meristems.
A stereo camera system recognizes the plants and optimizes the position of the laser beam. The position of the leaves is then used to determine the meristem position; once these coordinates are found, a signal is sent to activate the laser.
By using a galvanometer scanner with a flexible mirror system, the laser beam can be moved from plant to plant and focused on their meristems. Under laboratory conditions, an accuracy of <±1 mm has been achieved; under greenhouse conditions, a laser on a rail carriage achieved accuracies of ±3.4 mm.
Researchers from the LZH Department of Materials and Processes' Safety Technology Group are using a CO2 laser in the infrared range with a wavelength of 10.6 µm in their current investigations. Current laboratory results show that a minimum dose of around 35 J is necessary to kill seedlings.
More Vision Systems Issue Articles
Vision Systems Articles Archives