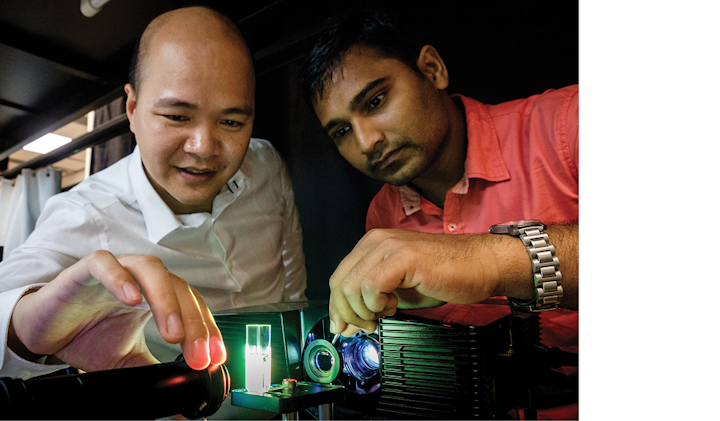 A team of scientists from Nanyang Technological University, Singapore (NTU Singapore; Jurong West, Singapore, www.ntu.edu.sg) have developed a multispectral imaging technique using a monochrome camera that removes the need for a lens or color filters.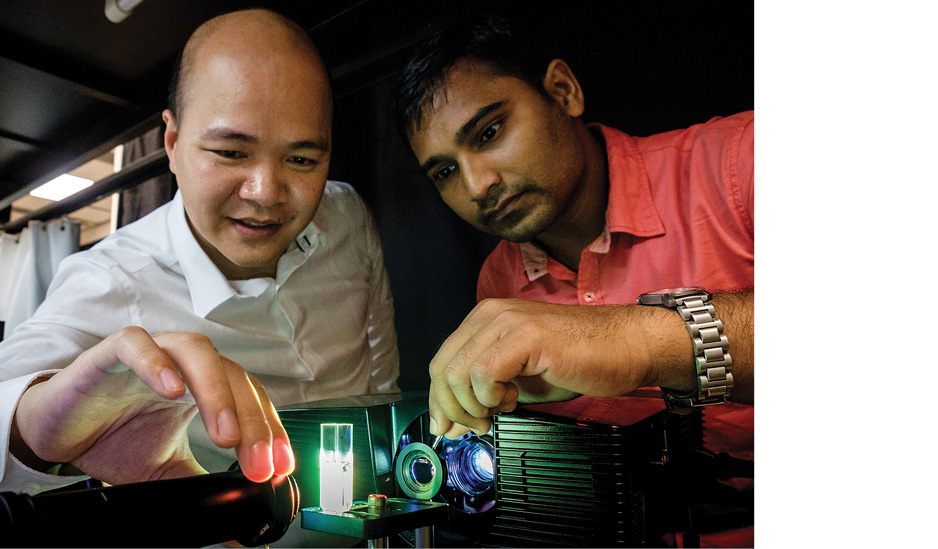 Assistant Prof Steve Cuong Dang (left) with Dr. Sujit Kumar Sahoo from Nanyang Technological University, Singapore experiment with the ground glass.
To obtain color images with conventional cameras requires optics made from glass or plastic lenses that capture and guide light onto color filters and the camera's sensor. Such lenses, suggests NTU Singapore, are usually bulky in size and expensive due to the precision of the manufacturing that is required. Understanding this, researchers devised a method that utilizes a monochrome camera and a piece of ground glass.
To create multispectral images, the team "reverse engineered," the light scattered by the glass diffuser. In an experimental setup, the team used a common projector without a magnification lens to generate 2D multispectral objects on the plane of an iris (iris 1, the object plane), which blocks any stray light from projectors. A glass optical diffuser scatters the light path, which passes through a second iris (iris 2) that plays the role of the aperture of the system, before entering a monochromatic camera, and creating a raw speckle pattern from which multispectral images can be obtained.
This, according to the team of reasearchers, demonstrates a single-shot multispectral imaging technique that "gives flexibility to end users with a very simple optical setup," through spatial correlation and spectral decorrelation of speckle patterns. These seemingly random speckle patterns are point spread functions (PSF) generated by light from point sources spreading through a scattering medium (a ground glass optical diffuser). The spatial correlation of PSFs, according to the team, allows image recovery with a deconvolution algorithm, while the spectral decorrelation allows them to play the role of tunable spectral filters in the deconvolution process.
"We demonstrated a multispectral imaging technique by just adding a strongly scattering medium in front of a monochromatic camera," wrote one of the team's authors in the academic paper, Single-shot multispectral imaging with a monochromatic camera (http://bit.ly/VSD-NTU2.) "A single-shot speckle pattern essentially contains spatial and spectral information of the object."
While the academic paper does not specifically mention the camera that was used in this setup, a video (http://bit.ly/VSD-NTU) on Channel NewsAsia shows an Andor Neo 5.5. This camera features a 5.5 MPixel monochrome front-illuminated scientific CMOS image sensor that can deliver 30 fps sustained or 100 fps in burst mode. The camera is -40°C vacuum cooled and offers 1 e- read noise and a maximum dynamic range of 30,000:1. Using the current camera setup, the team noted that it can do single-shot multispectral imaging of any spectral band within a range of UV (250 nm) to near IR (1100 nm).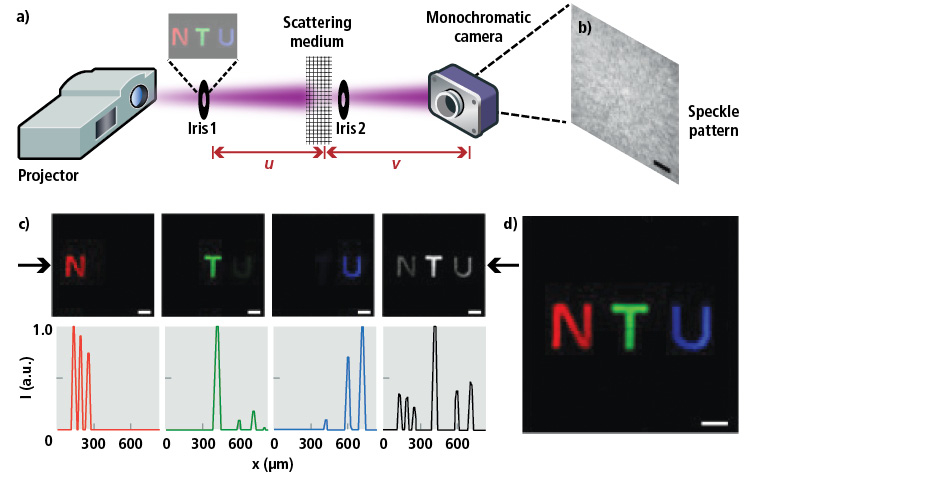 Scientists from Nanyang Technological University, Singapore have developed a multispectral imaging technique that uses a monochrome camera and removes the need for a lens or color filters.
According to Assistant Professor Steve Cuong Dang from the NTU School of Electrical and Electronic Engineering who led the research, this technique could potentially lead to slimmer cameras and smartphones, improved imaging in biomedical and scientific applications, while opening new doors in other industries.
"Our technology can also reconstruct images in other multiple wavelengths invisible to the naked eye, like infrared and ultraviolet, which are used in imaging purposes for medicine, surveillance and astrophysics. It can also reconstruct images taken at the microscopic scale," explained Prof Dang. "The unique feature of our camera is that it can capture any range of light spectrum, unlike existing cameras on the market which are pre-fixed. It is also less affected by optical alignment issues like conventional cameras, because there are no moving parts and no focusing optics."
Further, the technique could potentially be used in food and beverage safety. In fact, the team used their experimental setup to tell the difference between two different apple juices that look identical to the naked eye yet have different color spectrums signaling different ingredients or freshness.
"There are other potential areas of application where our technique could be useful," said Dr. Sujit Kumar Sahoo, who is the lead author of the paper. "For instance, it could be used for food safety, where one can take a photo of fruits or meat in particular spectra to look for spots that are associated with chemicals or bacterial activity leading to spoilage."
A patent has been filed for the new technology by NTU's innovation and enterprise arm, NTUitive, and the research team will be engaging industry partners to see how they can adapt their technology for real-world applications.