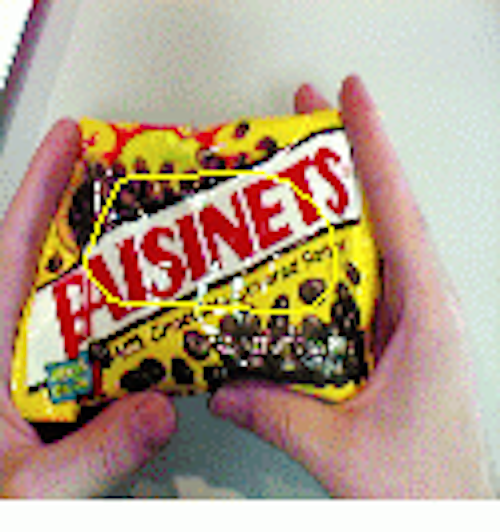 Active-blobs technique aids motion-tracking analysis
t the Image and Video Computing Group of Boston University (Boston, MA), researchers are using a new imaging technique called active blobs to track nonrigidly deforming shapes at speeds approaching video frame rates on standard graphics workstations. According to Stan Sclaroff (esclaroff@cs.bu.edu), the active-blobs approach is more robust than other imaging techniques because it incorporates information about image shape and color. It also demonstrates some correlation to photometric variations, including specular highlights and shadows. By taking advantage of available texture-mapping hardware, active blobs have achieved peak rates of more than 12 frames/s.
"Active blobs use a region-based approach to nonrigid motion tracking," says Sclaroff. Shape is defined in terms of a deformable triangular mesh of object shape and a color-texture map of object appearance, and photometric variations can also be modeled. Nonrigid shape registration and motion tracking are achieved by using a method that provides robustness to occlusions, wrinkles, shadows, and specular highlights. "The formulation is tailored to take advantage of texture-mapping hardware and enables nonrigid tracking at speeds approaching video rate," Sclaroff says.
During operation, the user first selects a sample image and a contour that encloses its shape. A two-dimensional active-blobs model is then constructed using a triangular meshing algorithm. Next, the model is deformed using affine, projective, or finite-element transformations. Lastly, the blob`s appearance is captured as a color-texture map and applied directly to the triangulated model.
By defining a blob warp as a deformation of the mesh and a bilinear resampling of the texture-mapped triangles, researchers can harness the hardware-accelerated triangle-texture mapping capabilities of mid-end workstations and personal computers."Tracking is then a task of active blobs registration," notes Sclaroff, "and this registration procedure minimizes a function that accounts for both the deformation parameters and the color-texture map. It can then be made robust to specular highlights, shadows, photometric variations, and small occlusions. Furthermore, the use of color imagery enables tracking in situations in which gray-scale tracking might be less robust."
The active-blobs technique has been implemented on a Silicon Graphics` Indigo2 Impact workstation and an R10K processor running at 195 MHz with 192 Mbytes of RAM to provide texture-map acceleration in hardware. During operation, the workstation-imaging system can track objects from live video input.
--ANDREW WILSON
Tracking the motion of a bag of candy is accomplished at 8.4 frames/s on a workstation/processor setup using the active-blobs technique. This vision system provides satisfactory imaging results on a moving object despite large deformations and changes in orientation, specular highlights, and moving shadows.