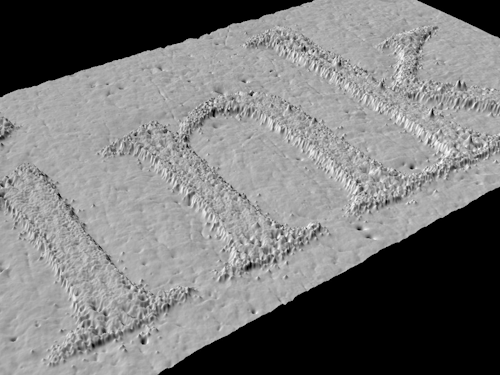 By combining a novel sensor with a computer-vision system, researchers in the Massachusetts Institute of Technology's (MIT's) Department of Brain and Cognitive Sciences (Cambridge, MA, USA) have created a portable imaging system that can achieve resolutions previously possible only with large and expensive lab equipment.
The heart of the 3-D imaging system, dubbed GelSight, is a slab of transparent, synthetic rubber, featuring one side coated with a paint containing tiny flecks of metal. When pressed against the surface of an object, the paint-coated side of the slab deforms. A camera mounted on the other side of the slab photographs the results, and computer-vision algorithms analyze the images.
An earlier version of GelSight was sensitive enough to detect the raised ink patterns on a $20 bill; however, a higher-resolution version of the system can resolve features as small as 2 μm spatially with submicron depth resolution. Because GelSight makes multiple measurements of the rubber's deformation, it can produce 3-D models of an object, which can then be manipulated on a computer screen.
Traditionally, generating micron-scale images has required a large, expensive piece of equipment such as a confocal microscope or a white-light interferometer, which may take minutes or hours to produce a 3-D image.
MIT researchers Edward Adelson's and Micah Kimo Johnson's new prototype system is only about the size of a soda can and can be moved over the surface of an object with one hand to produce 3-D images.
The object of interest is illuminated by six LEDs mounted along the edge of a glass plate inside the can, and images from the back of the rubber slab are captured by a Point Grey Research (Richmond, BC, Canada) 0.8-Mpixel Flea2 FireWire camera. Images are processed using a new near-field photometric stereo algorithm that handles spatially varying illumination and cast shadows.
Adelson and Johnson are already in discussions with one major aerospace company and several manufacturers of industrial equipment, all of whom are interested in using GelSight to check the integrity of their products. The system has also drawn the interest of experts in criminal forensics, who think that it could provide an efficient way to identify the impressions that guns leave on the casings of spent shells.
-- Posted by Vision Systems Design