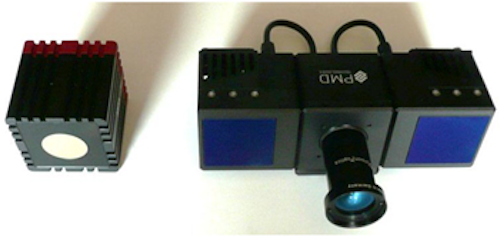 Italian researchers from thePolitechnico Di Torino (Torino, Italy) have conducted a study to compare the performance of two Time-of-Flight (ToF) cameras.

More specifically, the researchers chose to evaluate the SR-4000 camera from Mesa Imaging (Zurich, Switzerland) and the CamCube3.0 by PMD Technologies (Siegen, Germany).

In their investigations, they analyzed the influence of camera warm-up time on distance measurement, and concluded that a warm-up time of 40 minutes was required to obtain stable measurements, especially in the case of the CamCube3.0 camera.

They also investigated the precision of the distance measurements from both the SR-4000 and the CamCube3.0 cameras for varying image integration times. Here, they found that both cameras could measure with a precision of between three to four millimeters.

Other tests performed by the research group showed that the CamCube3.0 camera was more robust to sunlight than the SR-4000 thanks to its Suppression of Background Illumination (SBI) system.

A report "SR-4000 and CamCube3.0 Time of Flight (ToF) Cameras: Tests and Comparison" which was written by Dario Piatti and Fulvio Rinaudo was published in a recent issue of Remote Sensing, an open access journal about the science and application of remote sensing technology.
A copy of the report can be foundhere.
Recent articles on time-of-flight cameras that you might also find of interest.
1.Time-of-flight camera launched at VISION 2012

An Austrian company making its debut at last week's VISION 2012 show in Stuttgart, Germany took the wraps of a new miniature time-of-flight smart camera.

2.Scottish startup develops camera that captures 3-D images at video rates

A startup based at the Scottish Microelectronics Centre has developed a camera that can capture 3-D images at video rates.

Vision Systems Design magazine and e-newsletter subscriptions are free to qualified professionals. To subscribe, please complete the formhere.

-- Dave Wilson, Senior Editor,Vision Systems Design