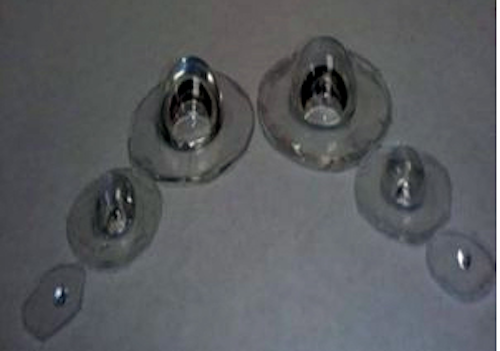 A team of researchers has created an artificial lens made up of thousands of nanoscale polymer layers that is nearly identical to the natural lens of the human eye.

The lens may one day replace damaged or diseased human eye lenses, as well as find a home in consumer products.

The work, which was undertaken at the Case Western Reserve University (Cleveland, OH, USA), Rose-Hulman Institute of Technology (Terre Haute, IN, USA), US Naval Research Laboratory (Washington, DC, USA) and PolymerPlus (Valley View, OH, USA) was recently described in the Optical Society's (OSA) open-access journal Optics Express.

The fundamental technology behind the new lens is called "GRIN" or gradient refractive index optics. In GRIN, light gets refracted, by varying degrees as it passes through a transparent material.

"The human eye is a GRIN lens," says Michael Ponting, polymer scientist and president of PolymerPlus, an Ohio-based Case Western Reserve spinoff launched in 2010. "As light passes from the front of the human eye lens to the back, light rays are refracted by varying degrees. It's a very efficient means of controlling the pathway of light without relying on complicated optics, and one that we attempted to mimic."

The research team's new lens comprises thousands of nanoscale layers each with slightly different optical properties, to produce a material with a gradually varying its refractive index.

To make the layers for the lens, the team used a multilayer-film coextrusion technique (a common method used to produce multilayer structures).

The technology has already moved from the research labs of Case Western Reserve to PolymerPlus for commercialization.

A paper: "A Bio-Inspired Polymeric Gradient Refractive Index Human Eye Lens," which was published in Optics Express is available here.

Recent articles on lenses from Vision Systems Design that you might also find of interest.
1. 3-D images created by movement of single lens

Researchers at the University of California, Los Angeles (UCLA; Los Angeles, CA, USA) and Intelligent Optical Systems (IOS; Torrance, CA, USA) have developed a novel 3-D imaging system built around a moveable single lens.

2. Researchers make Fresnel lens from nanotubes

In work funded by Samsung Electronics, Cambridge University (Cambridge, UK) researcher Dr. Tim Wilkinson and his colleagues have created arrays of carbon nanotube Fresnel lenses on a silicon substrate using photo lithography and chemical vapor deposition.

3. Microlens arrays built from biomaterials

A global research team has demonstrated that micro lens arrays with uniform size and focal length can be produced by a mineral precipitation at ambient conditions.

-- Dave Wilson, Senior Editor, Vision Systems Design