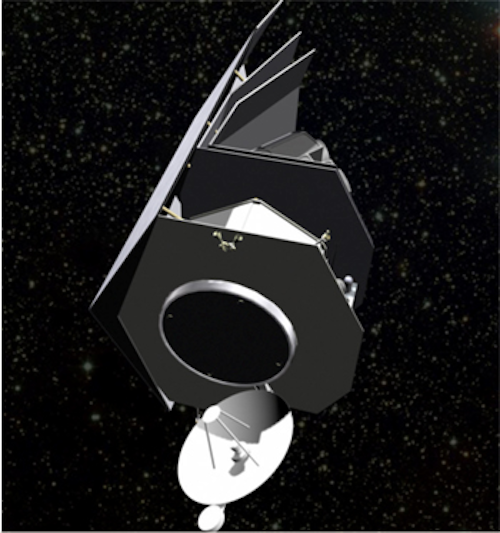 The non-profit B612 Foundation has signed a contract with Ball Aerospace and Technologies (Broomfield , CO, USA) that will see engineers at Ball create prototype infrared imaging sensors for use on B612's Sentinel spacecraft which aims is to detect asteroids that might pose a threat to the Earth.
The creation and testing of the sensors is one of a number of critical steps in the B612 engineers' plans before committing to signing a full spacecraft design and manufacturing contract with Ball to build the Sentinel spacecraft.

Once built, the goal of the spacecraft will be to create a comprehensive and dynamic map of the inner solar system by cataloguing 90 percent of the asteroids larger than 140 meters in Earth's region of the solar system.

The map will detail the paths of asteroids during the next 100 years to provide decades of notice of threatening asteroids on a collision course with Earth.

To date, only about one percent of the nearly one million asteroids that could potentially hit Earth with devastating consequences have been observed and tracked.

In just the first few weeks of operation, Sentinel will surpass this total, and during the first five years of operation, is expected to discover 50 times more near-Earth asteroids than have been found by all other telescopes throughout history combined.

Sentinel will take approximately five years to complete development and testing. It will be ready for launch in 2017-2018.

Related stories from Vision Systems Design that you might also find of interest.

1. Telescope captures deepest space image on record

The European Southern Observatory's (ESO; Garching, Germany) Vista telescope has created the widest deep view of the sky ever made using infrared light.

2. Telescope captures image of 84 million stars
An image of 84 million stars has been created by an international team of astronomers from data collected by the UK-built VISTA infrared survey telescope at the ESO's (Garching, Germany) Paranal Observatory.

3. Astronomers launch new 3-D galaxy map

The largest ever 3-D map of galaxies and black holes has been released by researchers working on the Sloan Digital Sky Survey III (SDSS-III), an international project mapping the Milky Way.

-- Dave Wilson, Senior Editor, Vision Systems Design