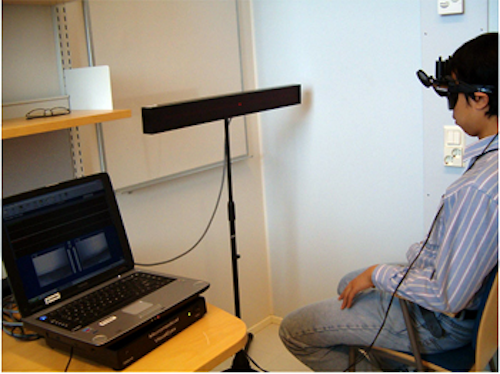 Researchers at the University of Tampere (Tampere, Finland) are developing a biometric security system based on classifying eye movement.

Writing in the International Journal of Biometrics, the team explained how a person's saccades -- their tiny, but rapid, involuntary eye movements -- can be measured using a video camera. Statistical data extracted from an analysis of the images can then be used to classify an individual.

The pattern of saccades is as unique as an iris or fingerprint scan but easier to record and could provide a secure biometric identification technology that would be more difficult to fool than fingerprint or iris identification systems.

"Saccades are the fastest eye movements and very easy to trigger by asking an individual to look at one target and then another on a computer screen," says university researcher Martti Juhola.
Preliminary tests suggest that verification could be undertaken in as little as 30 seconds during which time 30-40 saccades would be recorded. The accuracy of the approach is claimed to be between 90-100 per cent.

A detailed technical article "Biometric verification of subjects using saccade eye movements," can be found here.

Related stories from Vision Systems Design you might also find of interest.
1. Eye tracking helps spot movement disorder

Tobii Technology (Danderyd, Sweden) has selected a behavioral research team that used eye-tracking technology to enhance its understanding of Progressive Supranuclear Palsy (PSP) as the winner of its annual Tobii EyeTrack Award.

2. Eye tracker spots liars with greater accuracy
Computer scientists at the University of Buffalo (UB; Buffalo, NY, USA) are exploring whether machines can read visual cues that give away deceit.

3. Head-mounted camera tracks eye movements to operate wheelchair
Researchers at the University of Bradford (Bradford, UK) have developed a system that will allow disabled people to control electric wheelchairs by simply moving their eyes.

-- Dave Wilson, Senior Editor, Vision Systems Design