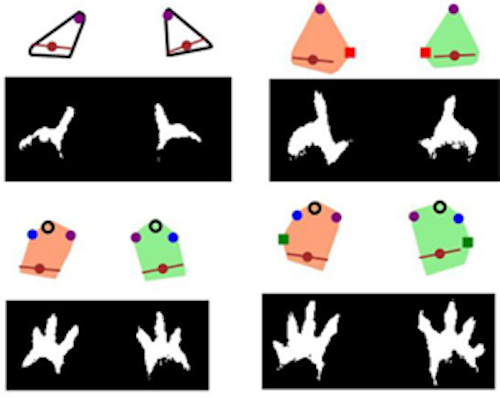 Engineers at Purdue University (West Lafayette, IN, USA) have developed a system that allows individuals to interact with programs on a computer screen projected onto surfaces such as tables or walls.

The system, which employs a Microsoft Kinect sensor, identifies the fingers of a person's hand while touching any plain surface. It also recognizes hand posture and gestures, revealing individual users by their unique traits.

What is more, it allows more than one person to use a surface at the same time and enables people to use both hands, as it can distinguish between the right and left hand.

Research indicates the system is 98 percent accurate in determining hand posture, which is critical to recognizing gestures and carrying out commands.

The technology has many possible applications, said Karthik Ramani, Purdue's Donald W. Feddersen Professor of Mechanical Engineering.

"Basically, it might be used for any interior surface to interact virtually with a computer," he says. "You could use it for living environments, to turn appliances on, in a design studio to work on a concept or in a laboratory, where a student and instructor interact."

The researchers detailed the design of the system in a research paper that was presented during the Association for Computing Machinery Symposium on User Interface Software and Technology (ACM UIST 2012) in Cambridge, MA. Patents are pending on the concept.

More details on the system are available here.
Recent articles on applications of the Kinect that you might also find of interest.
1. Kinect system simplifies the art of puppetry

Researchers at the University of Washington (Seattle, WA, USA) and the University of California, Berkeley (Berkeley, CA, USA) have created a system that can enable even inexperienced puppeteers to produce 3-D animations.

2. Kinect system tracks construction workers to analyze on-the-job movements
University of Calgary (Calgary, Canada) researchers have developed a system around the Microsoft Kinect sensor that can be used to track construction workers

3. Kinect system tracks household objects
Two researchers from the Department of Computer Science at the University of Virginia (Charlottesville, VA, USA) have developed algorithms that can be used with Microsoft Kinect hardware to locate and track household objects.

Vision Systems Design magazine and e-newsletter subscriptions are free to qualified professionals. To subscribe, please complete the form here.

-- Dave Wilson, Senior Editor, Vision Systems Design