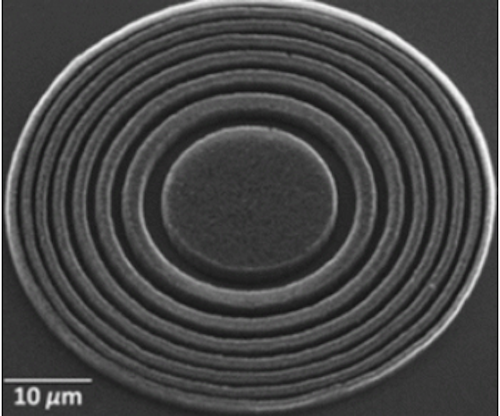 In work funded by Samsung Electronics, Cambridge University (Cambridge, UK) researcher Dr. Tim Wilkinson and his colleagues have created arrays of carbon nanotube Fresnel lenses on a silicon substrate using photo lithography and chemical vapor deposition.

The first Fresnel lens was installed in 1823 in the Cordouan lighthouse, where its beam was visible for 32 km. Since then, this lens design has been used in lighthouses, traffic lights, automobile headlights, magnifying glasses and cameras.

Compared to a conventional lens design of comparable aperture and focal length, a Fresnel lens requires less mass and volume, allowing it to be thinner and flatter, capturing more oblique light from a light source.

However, reflections from the opaque zones in a Fresnel lens can degrade the focusing and lensing properties. Tim Wilkinson and colleagues Ranjith Rajasekharan, Haider Butt, Qing Dai and Gehan Amaratunga, at Cambridge University's department of engineering overcame this limitation by designing a lens using vertically aligned carbon nanotube arrays. In their design, the opaque zone is almost absent.

Their findings have been published in an article in Volume 24, Issue 23 of the journal Advanced Optical Materials. Their article "Can Nanotubes Make a Lens Array?" can be found here.

Vision Systems Design magazine and e-newsletter subscriptions are free to qualified professionals. To subscribe, please complete the form here.
-- Dave Wilson, Senior Editor, Vision Systems Design