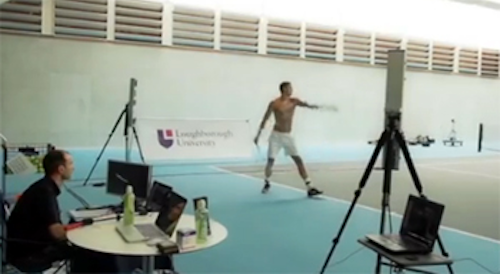 Loughborough University (Leicestershire, UK) sports engineers have used Charnwood Dynamics' (Rothley, UK) 3-D motion tracking system to examine the movement of the spines of tennis players while they are serving a ball.
The Loughborough team captured the action of a number of high level tennis players, including Junior Wimbledon doubles Champion 2010 and Junior Wimbledon singles finalist 2011 Liam Broady during the Wimbledon qualifiers.
"For the first time ever we have been able to look at the spinal motion in detail during the serve. We hope this project provides a platform for coaches and scientists to apply the technology in future research to create a blueprint of a safe and effective technique for the younger player," says Loughborough University's Ashley Gray.
As a result of the project, Charnwood Dynamics also hopes to be able to provide players and coaches with a report of their movements, and how these relate to their own normal ranges of motion, and crucially, when and where this is potentially being exceeded.
The project was made possible with UK Government Research Council funding designed to enable companies to engage with British universities, in this case Loughborough's Sports Technology Research Group.
The Group has a global reputation for working with sports companies and governing bodies including Head, Dunlop Slazenger and the International Tennis Federation (ITF).
-- Dave Wilson, Senior Editor, Vision Systems Design