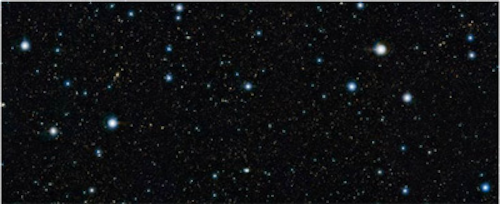 The European Southern Observatory's (ESO; Garching, Germany) Vista telescope has created the widest deep view of the sky ever made using infrared light.
Astronomers use the word deep to mean images taken with very long total exposures that can detect the faintest possible objects.
The new picture of the sky reveals more than 200,000 galaxies. It forms just one part of a huge collection of fully processed images from all the Vista surveys that is now being made available by ESO to astronomers worldwide.
ESO's Vista telescope has been trained on the same patch of sky repeatedly to slowly accumulate the very dim light of the most distant galaxies. In total more than six thousand separate exposures with a total effective exposure time of 55 hours that were taken through five different colored filters were combined to create the image -- the deepest infrared view of the sky of its size ever taken.

At first glance the image looks unremarkable, a few bright stars and a sprinkling of fainter ones. But almost all of those fainter objects are not stars in the Milky Way, but very remote galaxies, each containing billions of stars.

More details are available on the ESO web site here.

-- by Dave Wilson, Senior Editor, Vision Systems Design