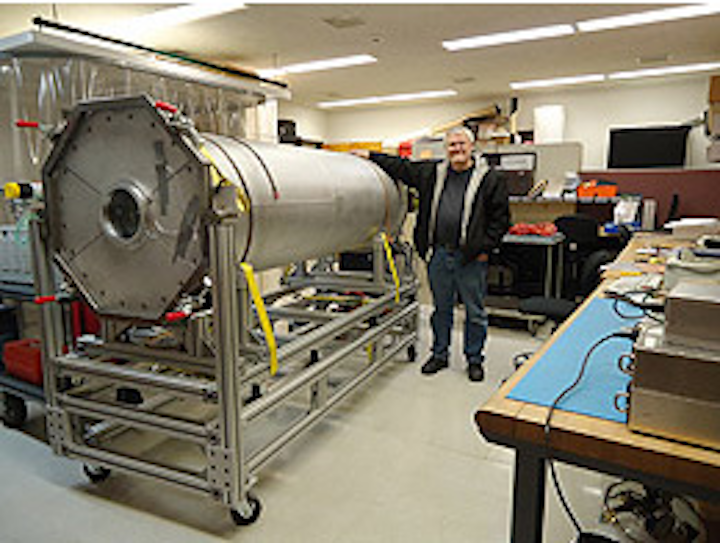 University of Wyoming (Laramie, Wyoming, USA) physics and astronomy associate professor Michael Pierce has built a Near-Infrared Imaging Spectrograph (NIIS) that will be used to capture images of the stars.

The instrument is large – it measures 7 feet long, is two and a half feet wide and weighs approximately 1,000 pounds. The camera is fully cryogenic; all its mechanical and optical parts are cooled to liquid nitrogen temperatures -- approximately 300 degrees below zero Fahrenheit -- in order for it to operate at infrared wavelengths.

The Milky Way is filled with gas and dust, which obscures light from distant stars. Infrared light can easily escape that gas and dust, and allow clearer views of such stars. Subsequently, those views provide more clues to the star formation within the galaxy.

At present, the NIIS is limited to imaging only. However, plans are underway to include a multi-object, spectroscopic capability. This will allow for more detailed research of the distant universe.
In March, the infrared camera was shipped to Apache Point Observatory, located in Sunspot, NM, and operated by New Mexico State University where it was used on a large 3.5-meter telescope.

Pierce's development project began in 2005 with an $800,000 National Science Foundation (NSF) grant, which was approved by the Foundation's Major Research Instrumentation Program. The state of Wyoming and NASA's Goddard Space Flight Center also provided funding to develop the spectrograph.

-- by Dave Wilson, Senior Editor, Vision Systems Design