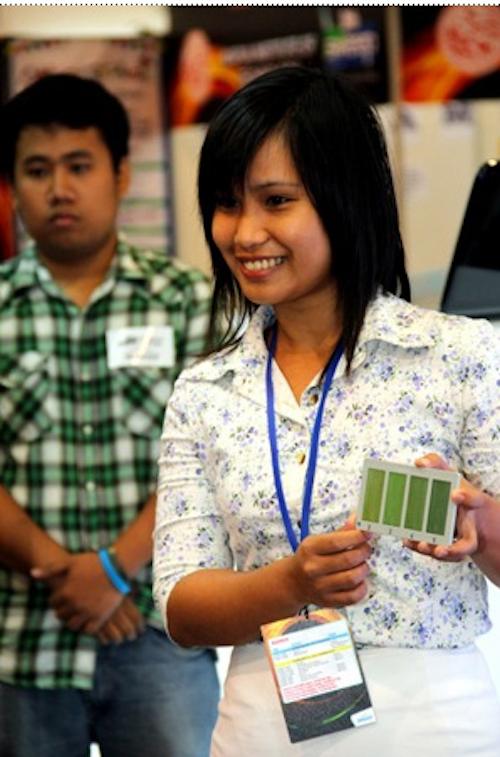 A group of students from Bataan State Peninsula University (Bataan, Philippines) has developed a software "app" for a smart phone that can help farmers increase their chances of a good rice harvest.

Traditionally, farmers would use a Leaf Color Chart (LCC) developed by the International Rice Research Institute (IRRI) and Philippines Rice Research Institute to measure the quality of rice crops and from it determine the required quantity of fertilizer to be applied in the field.

The students' software app, on the other hand, can detect and analyze the color of the rice leaves using the input from the camera of a smart-phone. The color is compared to a standard color reference on the smart-phone and the application will give suggestions as to how the farmer might improve the quality of the rice.
For their efforts developing the software, students Maria Crizele M. De Jesus, Alejandro P. Garcia Jr., Jun Alvin O. Galang, Jairus J. Fernando and McJefren S. Quiñones won the grand prize in a new mobile application development category introduced this year at the 8th Sweep Innovation and Excellence Awards of Smart Communications.

To get accurate results, a set of guidelines needs to be followed. When taking photos of the leaves, the mobile phone should be 2.5 to 3.5 inches away from them. The flash should be turned off, and the leaf being photographed should not be exposed to direct sunlight.
According to the team, the application will also benefit farmers with blurred vision or those who are color blind. It can also serve to attract the younger members of farming families.

-- by Dave Wilson, Senior Editor, Vision Systems Design