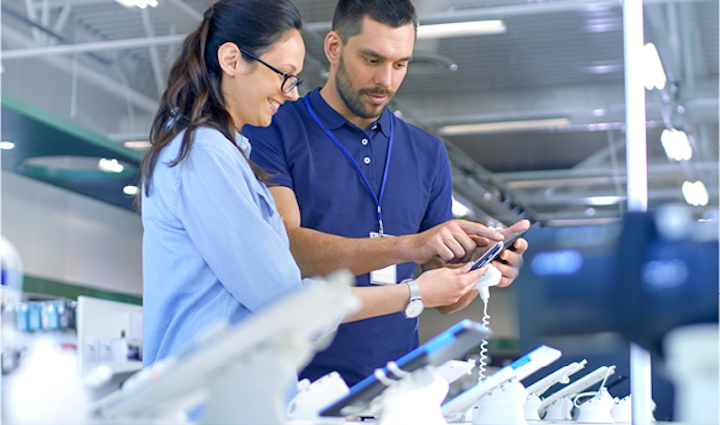 Sometimes, the success of a product depends on being on store shelves at a certain time of the year. But because product design requires an iterative design process with inevitable design errors, it's challenging for product design engineers to meet the pressures for an on-time delivery. Virtual prototyping is the answer for teams in the tough position of meeting seasonal deadlines that could make or break their product sales. Here are three examples of companies or industries in such a situation.
Fall for Apple
Like clockwork, each September, Apple announces its new products and features at a big event. There, it usually takes preorders for its latest cell phone that's often available shortly thereafter. Imagine, though, if that cell phone wasn't done in time. What if the phone's camera lens was taking light-distorted images? Consumers expecting the product at that specific time of year could lose faith and buy the new phone they've been waiting for from a competitor.
January for consumer electronics
At the start of each year, companies vie for media and consumer attention at Consumer Electronics Show (CES) in Las Vegas, showing off what's new and hot in their lineups. Everything tech is on display, from lidar for autonomous vehicles to augmented or virtual reality headsets to products like the tiny sensor capable of detecting ultraviolet exposure that sits comfortably on your fingernail announced at last year's event by L'Oréal. Since they're likely seated next to or close by at least one competitor, companies strive to put their best foot forward and show off at least a physical prototype of coming products. And many debut new releases at the show. But what if an anticipated lidar system wasn't properly detecting road signs? What if a VR headset wasn't amply tested for stray light? What if the fingernail sensor didn't sense anything? With this annual deadline in mind, these designers have no room for error.
Cameras at Christmas
Cameras continue to be a popular holiday wish list item, so it's no wonder that camera companies strive to have their latest and greatest on shelves before the holiday shopping season begins. To break out from the competition—and perhaps allow snap-happy consumers to take advantage of summer vacation photos—many are even launching much earlier in the year. With the smart phones including incredibly impressive cameras on board, traditional camera companies are under even more pressure to ship products that are far superior to last year's model—and the competitions'.
Virtual prototyping helps companies never miss a ship date
When timelines are tight, optical and mechanical teams must work efficiently together to arrive at a high-confidence design on time. Zemax Virtual Prototyping streamlines the workflow between optical and mechanical engineers, harnessing the power of OpticStudio and LensMechanix so that teams can share complete design data and analyze optical performance in a virtual model, reducing design iterations and physical prototypes and allowing teams to reach their hard ship deadlines.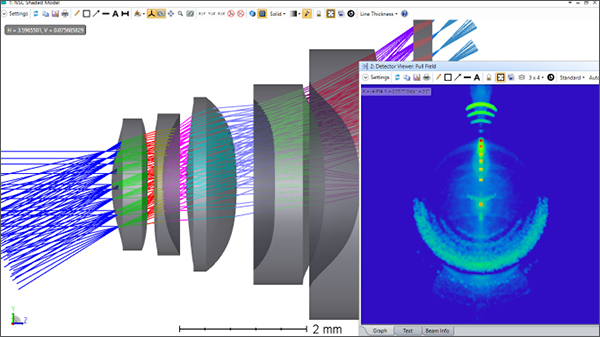 An OpticStudio stray light simulation in non-sequential mode for a camera phone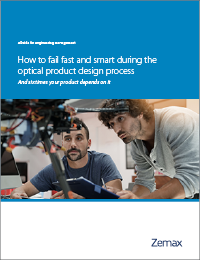 New eGuide: How to fail fast and smart during the optical product design process
Product design requires an iterative design process. But how can you embrace failure, when you're in a situation when internal and external pressures demand speedy development cycles? How can you fail faster? Smarter? Better? Improved efficiencies between optical and mechanical engineers are critical to enabling managers and teams to embrace failure on the road to success—especially during six common situations when it can make or break a product, like when hard ship deadlines are looming. Download the guide to read about the other five make-or-break times that virtual prototyping saves the day.