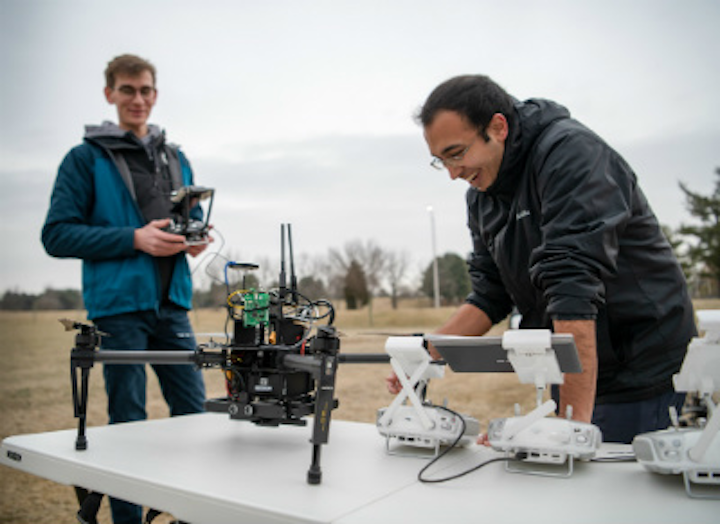 In this week's roundup from the Association for Unmanned Vehicle Systems International, which highlights some of the latest news and headlines in unmanned vehicles and robotics, a drone operation becomes an airline, improving the search and rescue capability of UAS, and the U.S. Coast Guard drafts drones for inspection duty.
Wing becomes first drone operator to receive government approval as an airline
Wing, the subsidiary of Alphabet Inc.'s Google, has become the first drone operator to receive government approval as an airline.
Now equipped with the same certifications that smaller airlines receive from the U.S. Federal Aviation Administration and the Department of Transportation, Wing plans to begin routine deliveries of small consumer items in two rural communities in Virginia within the coming months.
"It's an exciting moment for us to have earned the FAA's approval to actually run a business with our technology," Wing Chief Executive Officer James Ryan Burgess says in an interview, via Bloomberg.
There are limits to where Wing can operate due to UAS regulations still not permitting most flights over crowds and urban areas, but the approvals signed by the FAA allow Wing to charge for deliveries of clients' goods in Virginia and apply for permission to expand to other regions.
Montgomery County, Virginia Administrator Craig Meadows says that the plan has received unanimous approval from local elected officials in mountainous southwest Virginia.
"Our community is very excited to be the birthplace of drone delivery in the United States," Meadows says in a statement.
The idea of flying UAS over people's homes is new, so Wing plans to conduct "extensive outreach" to local government leaders and the public, Burgess says.
Wing has been working with the Virginia Tech Mid-Atlantic Aviation Partnership (MAAP) on tests of the deliveries. MAAP's director, Mark Blanks, says "we'll be working with the community a lot more as we prepare to roll this out."
Blanks adds that Wing and university representatives have contacted many of the people living in the neighborhoods where these tests were conducted to make sure that they were comfortable.
"Across the board everybody we've spoken to has been pretty excited," Blanks says.
According to the FAA, Wing provided extensive documentation to support its application, including records of thousands of safe flights conducted in Australia in recent years. Wing also recently won approval for drone deliveries from regulators in Australia.
Wing had to become a full-fledged air carrier in order to operate over longer ranges and actually charge for the service. The air-carrier certification was signed, the FAA confirmed.
Deliveries will be conducted in the Blacksburg and Christiansburg areas of Virginia. Now that it has received FAA approvals, the company will begin finding business partners in the two towns.
Deliveries will be conducted using Wing's UAS, which is described as a hybrid between a helicopter and plane. Capable of lifting off vertically and flying horizontally at high speeds, the UAS carries packages in its belly, and uses a tether to lower them to people's yards while it hovers a safe distance overhead.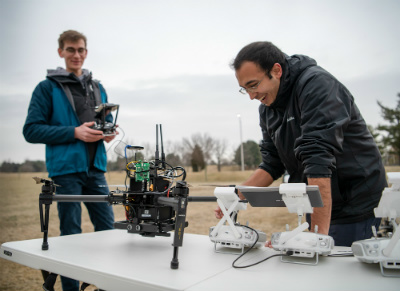 Virginia Tech engineers hope to redefine search and rescue protocols by teaming up human searchers with UAS
With the help of a grant from the National Science Foundation worth $1.5 million, a group of Virginia Tech engineers will pair up human researchers with UAS, in hopes of redefining search and rescue protocols.
Utilizing autonomous algorithms and machine learning, the UAS will complement search and rescue efforts from the air. Additionally, they will suggest tasks and send updated information to human searchers on the ground.
The researchers hope to make searches more effective by using mathematical models based on historical data that reflect what lost people actually do combined with typical searcher behavior, which balances autonomy with human collaboration.
Having received support from the Virginia Department of Emergency Management, the researchers will also work closely with the local Black Diamond Search and Rescue Council throughout the project.
"Human searchers are excellent at what they do. Drones are unlikely to replace people on the ground because searchers are too good at their jobs," explains the leader of these efforts, Ryan Williams, an assistant professor in the Bradley Department of Electrical and Computer Engineering within the College of Engineering.
Williams' family has also been involved with the Black Diamond Search and Rescue Council since its founding more than three decades ago.
"However, what drones can do is address these niche problems of the search process by providing large-scale data that can help a search team make better decisions."
Some instances where UAS could prove beneficial are exploring treacherous terrain that's difficult for human searchers to reach. They could also collect information about areas of the search environment that are relatively unknown, which would save time.
To build the mathematical model that will help the UAS decide where to go and how to search, Nicole Abaid, an assistant professor in the Department of Biomedical Engineering and Mechanics, is using historical data gathered from more than 50,000 documented lost person scenarios. The data comes from the work of Robert Koester, a search and rescue expert who will consult on the project.
"From the historical search data, we know that certain types of people tend to do certain things when they're lost," Abaid says. "For example, people with cell phones tend to move up in elevation as they try to get service, while an elderly person might not travel very far."
Abaid plans to build more than 30 lost person profiles into the model that incorporate various pieces of information, including age, mental status, and activity—i.e. hiking, horseback riding, hunting, etc. Abaid will also use topographical data from ArcGIS maps that can provide insight into how people usually move through terrain.
"The overall goal is to create an autonomous, scalable system that can make search and rescue processes here and elsewhere more effective simply by intelligently incorporating existing technology," Abaid says.
For Williams, making the UAS as unobtrusive as possible to searchers on the ground is of great importance.
"Most of the data a drone will pick up from sensors, whether it be from cameras, thermal imaging, or Lidar surveys, will be really uninteresting," Williams says. "We don't want to interrupt human searchers to show them video feed of a piece of trash on the ground, for instance. That wastes precious time."
The team also includes Nathan Lau, an assistant professor in the Grado Department of Industrial and Systems Engineering, and James McClure, a computational scientist in Advanced Research Computing.
Specializing in human-computer interaction, Lau will seek to address the issue of when and how the UAS will interrupt searchers to provide new information, while McClure will design a wearable, backpack-based server to provide on-the-ground processing and communications support.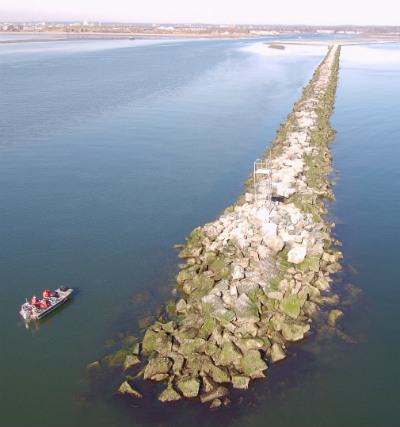 UAS helps U.S. Coast Guard inspect new Aids to Navigation structures
A UAS was recently used by U.S. Coast Guard Civil Engineering Unit (CEU) Providence, Rhode Island to inspect the construction of new Aids to Navigation (ATON) structures.
The inspections were conducted by Lt. Kieron D. McCarthy, who piloted the UAS from a small boat assigned to the U.S. Coast Guard Cutter Bollard (WYTL-65614), based in New Haven, Connecticut.
The UAS was hand launched from the boat, and helped the CEU inspect and approve the steel tower structures that serve as fixed channel markers at Housatonic River, Black Rock, and Duck Island.
According to McCarthy, using UAS saved the CEU more than 30 hours of work, while reducing the risk of having to climb the structures.
"We were able to complete all three inspections in six hours. The evolution originally had the Bollard getting under way for 12 hours to visit each site," says McCarthy, the project lead and UAS pilot.
"To acquire aerial photographs without the UAS, we would have had to use a contracted helicopter or a Coast Guard helicopter, which would be too costly and impractical. They estimate a helicopter at $14,500 for a day."
In order to operate the UAS, McCarthy not only had to earn an FAA pilot certificate, but he also had to complete Department of Defense UAS training. McCarthy has been flying the UAS since his unit received it in June 2018.
CEU Providence is one of just eight CEUs in the U.S. Coast Guard with UAS capability.
"It has proved to be exceptionally helpful with CEU's mission. Largely for elevated assets or assets over water such as roofs, siding, towers, piers and wave breaks," McCarthy says.
"The UAS has allowed us to be more self-sufficient when it comes to accessing hard to reach assets, so we can better serve our operational partners."
McCarthy adds that UAS are also beneficial for post hurricane damage assessments.
During the new ATON inspections, the boat that the UAS was piloted from was driven by Petty Officer 1st Class Patrick M. Rogers, the executive petty officer and coxswain on U.S. Coast Guard Cutter Bollard. The UAS reduced the time, effort and risk needed to complete the inspections, Rodgers says.
"Our aids usually take a minimum of two members to do an inspection in order to have a certified climber and rescue climber. The UAS was able to be operated by one person," Rogers says, adding that UAS are also ideal for verifying new ATON construction.
Rodgers also notes that UAS can serve as a force multiplier for many U.S. Coast Guard missions, including law enforcement, search and research, and ice breaking.
Share your vision-related news by contacting Dennis Scimeca,Associate Editor, Vision Systems Design

To receive news like this in your inbox, click here.