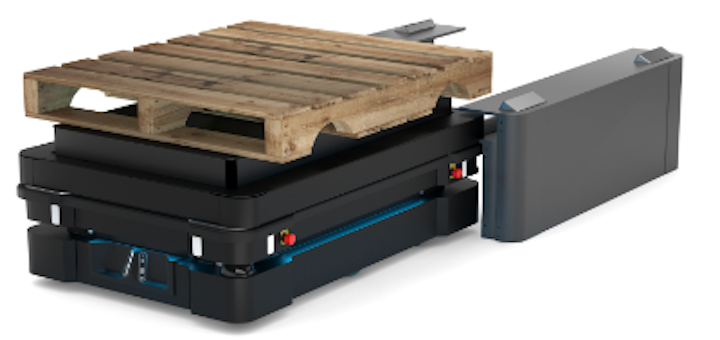 Mobile Industrial Robots' new MiR1000 model can transport loads up to 1000 kg (2200 lbs), which is double the maximum payload of MiR's previous model, the MiR500. The new robot is equipped with LiDAR and a front-facing 3D camera that can "see" between 30 and 2000 mm above floor level. The MiR1000 also has two sensors at each corner for further environmental awareness.
The MiR1000 can be programmed with the MiR Robot Interface that can run on smartphones, tablets, or computers. Optional top modules for the robot include lifts for both EU and 40" by 48" pallets, conveyor belt, and robot arm, among others. The MiR1000 is compliant with ISO/EN 13849 and fulfills the EMC requirement for industrial and light industrial use.

To Learn More:
Contact: Mobile Industrial Robots
Headquarters: Odense, Denmark
Product: MiR1000 robot
Key Features: 1000 kg max payload, LiDAR and 3D cameras for obstacle detection and avoidance, optional modules for pallet lifts, conveyor belts, and robot arms.
What MiR says:
View more information on the MiR1000 robot.
Share your vision-related news by contacting Dennis Scimeca,Associate Editor, Vision Systems Design
To receive news like this in your inbox, click here.