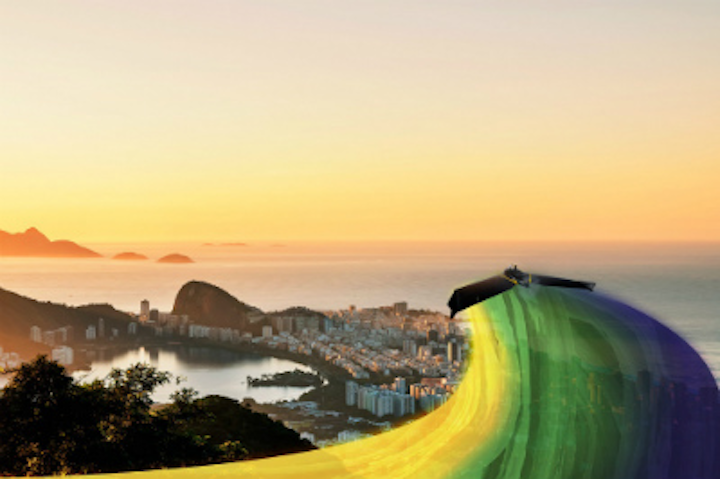 In this week's roundup from the Association for Unmanned Vehicle Systems International, which highlights some of the latest news and headlines in unmanned vehicles and robotics, AUVSI President Brian Wynne addresses attendees of the Xponential 2019 unmanned technology conference, senseFly and the Brazilian National Civil Aviation Agency set a new milestone for use of drones in the country, and automated drone flights take another step toward becoming a reality.
Speakers: Unmanned systems technology is changing lives, but public acceptance is key
As AUVSI President and CEO Brian Wynne introduced Tuesday's keynote speakers at Xponential 2019, he first pointed out that the biggest challenges facing the professionals in the audience involve convincing a generally skeptical public that the new technologies they are fostering will improve their quality of life.
Wynne called for "complete agreement that the number one thing we need to work on is pubic acceptance."
With that, speakers with divergent backgrounds expounded on how unmanned technology is fostering a cultural revolution of sorts, which is changing nearly every aspect of human existence and will continue to do so.
Two industry leaders, Precision Hawk CEO Michael Chasen and Florida Power and Light's drone-program chief Eric Schwartz, together addressed how drones are incorporating artificial intelligence (AI) to monitor the company's vast network of power equipment.
Before Chasen and Schwartz spoke, journalist and screenwriter Dan Lyons marveled about the changes unmanned technology has brought forth within a mere handful of years. He also offered words of caution to companies that would choose to champion unmanned and AI systems at the expense of their human employees.
Think of the stupidest person you know, Lyons told the audience.
"That person can drive a car," Lyons said. "The smartest robot cannot."
Lyons pointed to a graphic takeoff on DaVinci's Creation, which showed a robotic Hand of God reaching down to a human one.
"I want to talk about the interface — the place where those two fingers are meeting," he said.
Lyons pointed out that despite the "miracles" that are emerging with the advent of automation and the internet, studies show that "people are more miserable than ever before."
He mentioned empirical evidence that people fear they will lose their jobs to robots – or, perhaps equally as bad, be forced to assume workplace subservience to AI computers and automatons.
"Today, a lot of people go to work and feel like technology uses them. The effect is people feel dehumanized," Lyons said.
He offered three pieces of advice:
· Don't sleep in your moving Tesla. Overconfidence in the emerging technologies would likely do more harm than good.
· Change, but slowly. "Humans can't change as fast as machines, and as fast as we want them to."
· Invest in your humans. "Pay them better. Provide them with benefits. Invest in training and development." Companies that take this approach, he said, outperform those who do not.
Before introducing Schwartz, Chasen talked of the key roles AI and machine learning are already playing in the industry. He believes the two factors are about to trigger the transition to exponential growth from merely strong growth.
"I can tell you it's happening in multiple industries," Chasen said. "It's starting to change the way businesses look at their operations."
Schwartz discussed how Florida Power and Light and NextEra Energy, Inc., are using AI and machine learning to improve reliability for their customers.
Florida Power and Light employs 3,000 people and maintains 75,000 miles of power lines and 890,000 transformers in the state alone. NextEra, which owns FP&L, operates in states outside of Florida as well as in Canada and other nations.
The parent company is the "world's largest generator of renewable energy," Schwartz said.
Today, FP&L employees are "literally driving and walking every mile of every feeder … using their subjective experience" to identify potential problems.
The company believes that AI and machine learning could assume that burden and perform it more efficiently, Schwartz said.
Hurricane Irma, which struck Florida in 2017, proved his point, he believes. The Federal Aviation Administration granted 51 emergency certificates of authorization, allowing the company to conduct unmanned flights over affected equipment. The COAs helped FP&L restore service more quickly, and expand use once normalcy resumed. Last year, Schwartz said, the company was able to inspect 4,000 miles of equipment autonomously.
"This year, we'll be able to reach well over 10,000 miles," Schwartz said.
Travis Mason of Airbus Industries, this year's show host, emceed the presentation.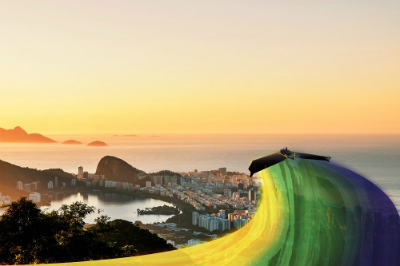 senseFly drones approved for Brazil's first-ever BVLOS operations
In collaboration with drone engineering and consulting specialists AL Drones and geotechnology company Santiago & Cintra, senseFly has announced that the National Civil Aviation Agency (ANAC) has approved beyond visual line of sight (BVLOS) flights to be carried out in Brazil for the first time in the country's history, using UAS technology from senseFly.
SenseFly's UAS can now be used for future BVLOS missions conducted by Brazilian drone operators.
"This is a momentous step forward for BVLOS operations in Brazil, and a really exciting time for the country's expanding commercial drone industry," says Pierre-Alain Marchand, regulatory compliance manager, senseFly.
"We're delighted that our robust drones—offering the appropriate safety mechanisms and exceptional navigational performance needed for BVLOS—have played a part in this landmark achievement and are helping to define frameworks and regulations that will support the growth of future BVLOS operations."
With this approval, senseFly's UAS are the first and only in the country permitted to fly 400 feet in height with a five-kilometer radius from a licensed pilot or observer. Visual line of sight (VLOS) operations restrict the current use of UAS to a 500-meter radius.
SenseFly notes that one of the major benefits of this authorization is that UAS operators can now navigate and map larger and more remote areas, which will expand the professional use of UAS in a diverse range of sectors, the company says.
"We're very proud to be the first company in Brazil to receive authorization to commercialize ANAC-certified drones for BVLOS flights," says Eduardo Oliveira, president, Santiago & Cintra. "This approval is a major achievement for us and is something we have been working towards, in collaboration with senseFly and AL Drones, for a long time."
André Arruda, drone associate, AL Drones, adds, "this is our biggest achievement to-date and is a testament to the extensive planning and hard work that went into receiving this approval. With correct planning, and communications with local air traffic control, BVLOS operations can be an incredibly efficient mapping tool."
The BVLOS authorization comes almost two years after regulation RBAC-E94 was published in 2017. This regulation legislated the use of UAS for civil applications in Brazil.
That same year, senseFly became the first drone operator to be granted 'anytime' BVLOS authorization in Switzerland. The company's UAS are also approved for BVLOS use in France, Spain, Denmark and China.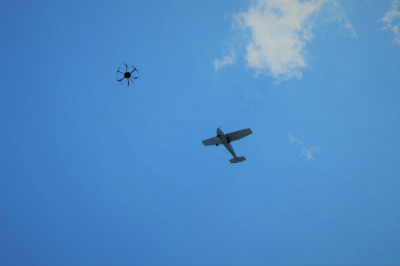 Iris Automation launches detect and avoid tech to enable BVLOS operations for UAS
Iris Automation has launched Casia, which the company describes as the "first commercially available computer vision detect-and-avoid solution to enable beyond visual line of sight (BVLOS) operations for autonomous vehicles."
According to Iris, Casia allows a UAS to truly understand the aviation environment around it as if a pilot were on board, as it detects other aircraft, classifies them using machine learning, and makes intelligent decisions about the threat they may pose to the vehicle, and triggers automated maneuvers to avoid collisions.
A combination of hardware and software that's ultra lightweight, low power and small in size, Casia is made up of sophisticated artificial intelligence algorithms and software, which is packaged in a self-contained supercomputer that works with a machine vision camera.
"Casia is the critical piece our industry has been dreaming about for years – finally allowing us to use drones to their full commercial potential," explains Iris Automation CEO Alexander Harmsen.
"By unlocking BVLOS flight with Casia, operators all over the world will be able to use their aircraft in every conceivable scenario."
Iris notes that the Casia technology has been thoroughly tested with more than 7,000 real-world test flights and mid-air collision scenarios, during which various manned aircraft were flown against UAS. Casia has also been tested in more than 40,000 encounters in simulation.
Recently, Casia also ran a successful early adopter program that included more than 30 participating beta customers from five countries.
Iris says that with the launch of Casia, it will also offer customers regulatory support for Part 107 waiver writing and regulatory approval processes to secure the necessary permissions for their unique UAS operations.
Share your vision-related news by contacting Dennis Scimeca,Associate Editor, Vision Systems Design

To receive news like this in your inbox, click here.