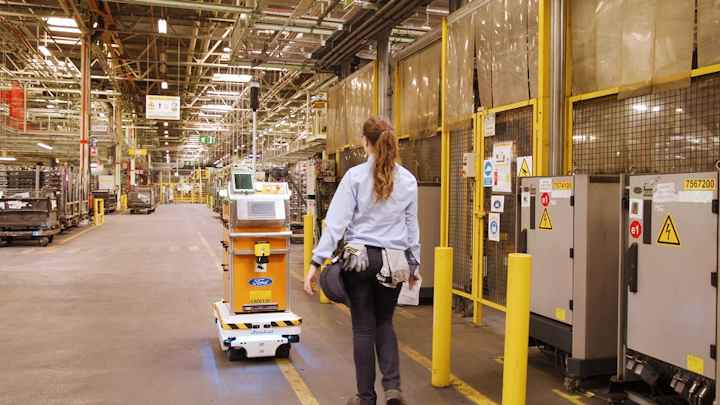 In this week's roundup from the Association for Unmanned Vehicle Systems International, which highlights some of the latest news and headlines in unmanned vehicles and robotics, Ford tests a new autonomous vehicle that adapts to its environment, Sea Machines Robotics installs autonomous systems for search-and-rescue missions, and Invert Robotics closes an $8.8 million round of financing.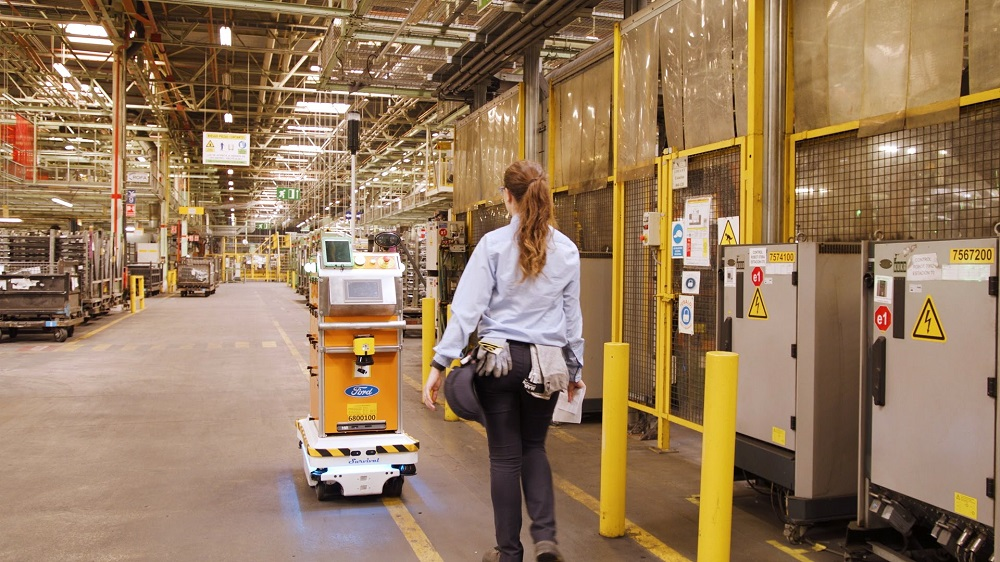 Ford's 'Survival' robot delivers parts to keep production going around company's plant
Ford is actively working on autonomous vehicles, but the company has thrown its hat into the robotics arena with the introduction of its self‑driving robot, nicknamed 'Survival.'
Developed entirely by Ford engineers, Survival earned its nickname because of its ability to adapt to its environment. It can dodge unforeseen objects, change its route if obstructed, and stop whenever necessary.
Survival is currently being tested in one of Ford's manufacturing plants in Europe, delivering spare parts around the plant. The company notes that it is the first of its kind to be used in a Ford facility in Europe.
"We programmed it to learn the whole of the plant floor so, together with sensors, it doesn't need any external guides to navigate," explains Eduardo García Magraner, engineering manager at Ford's body and stamping plant in Valencia, Spain, where the robot is being tested.
"When it first started you could see employees thinking they were in some kind of sci-fi movie, stopping and staring as it went by. Now they just get on with their jobs knowing the robot is smart enough to work around them."
According to Ford, delivering spare parts and welding material to different stations around the plant is a crucial element in keeping the production of various Ford vehicles going. This task is time consuming and "relatively mundane" for Ford workers, though, the company says.
The robot is designed to take over this role, and free up operators so that they can spend their time on more complex tasks. Ford notes that the robot does not replace employees, but instead saves up to 40-employee hours every day by taking over this role.
Survival is equipped with an automated shelf that has 17 slots to hold materials of different weights and sizes. The opening and closing of these slots is automated to avoid any errors, which means that operators in each area only have access to the materials assigned to them.
"It's been on trial for almost a year now and has performed faultlessly to-date. It's become quite a valuable team member," Magraner says.
"Hopefully we can put it into full-time use shortly and expand into other Ford facilities."
Survival is one of several smart robots being utilized in Ford's European facilities, including the "Robutt" and co-bots in Cologne, Germany. To visualize its surroundings, the robot uses lidar, the same technology used in Ford's prototype autonomous vehicles.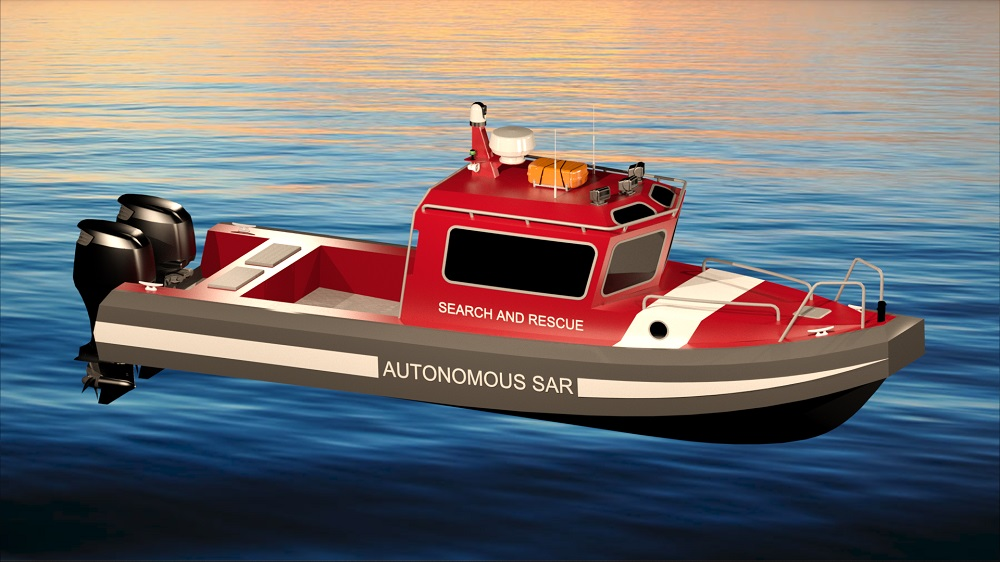 Sea Machines Robotics bringing autonomous capabilities to commercial vessels
Sea Machines Robotics has partnered with workboats manufacturer Hike Metal to integrate its SM300 autonomous vessel control system aboard commercial vessels used for search-and-rescue (SAR) missions.
According to Sea Machines, the collaboration will "help develop and demonstrate the capabilities of autonomous marine technology for the purposes of increasing the productivity and safety of SAR operations."
"Response times are critical in the success of search-and-rescue missions, due to the limited survival time of victims who fall overboard and inherent risks to rescuers," explains Sea Machines' Don Black, vice president, sales and marketing.
"Our technologies installed aboard responding vessels reduce response times and increase productivity of on-water search operations, improving safety for all involved. We are thrilled to partner with Hike Metal on such an important prototype that will help to modernize marine responses, save lives and recover critical property faster."
Equipped with the SM300, Hike Metal's vessels will have several new capabilities, including autonomous SAR capability, remote vessel and payload control, and minimally manned and unmanned configurations.
Sea Machines notes that it also enables minimally manned and unmanned autonomous operations, allowing operators to respond to rescue events anytime of the day or night, even when crews are unavailable or restricted.
"We have seen the need to increase response capabilities and also reduce the risk to first responders," says Hike Metal's Roger Stanton, senior project manager.
"We feel this technology and platform will be a valuable tool to all Coast Guard Societies around the world."
Phase I demonstrations will begin this summer on Lake Erie—near Hike Metal's headquarters—aboard a new-build, 27-foot Rigid Hull Inflatable Boat (RHIB). The vessel will be equipped with a variety of technologies and hardware, including twin 200-HP engines, a remote-control Flir camera system, a heated survivor seating area, remote-control rescue cradles and extended-range fuel reserves.
Invert Robotics looks to increase global footprint of its climbing robot
Robotics company Invert Robotics has closed an $8.8 million round of financing. The company will use the strategic investment to scale its team, open a U.S. office and expand its technology platform and industry-specific technologies.
Headquartered in New Zealand, Invert Robotics' goal is to increase the global footprint of its climbing robot, which is the first robot specifically designed to inspect the integrity and safety of non-magnetic, hazardous environments, according to the company.
"Our climbing robots go where other robots cannot and people should not," says Invert Robotics Managing Director Neil Fletcher.
"We give our customers an easier, safer and faster way to inspect the safety and integrity of the most hazardous and toxic environments. Industrial accidents can be costly and sometimes even deadly, but they are often preventable. Remote inspection solutions that take into account chemical corrosion and high-pressure processing scenarios can help chemical companies improve worker safety, optimize maintenance and avoid future tragedies."
As Fletcher points out, workers tasked with the responsibility of inspecting and maintaining the high and confined spaces common across various industries frequently suffer deadly accidents on the job. Along with substantial fines, companies are also facing increased pressure from health and safety regulators to act to prevent these situations.
With this in mind, Invert Robotics offers what it calls "precise, remote" inspection of non-magnetic surfaces such as stainless steel, carbon fiber, aluminum and glass. With its platforms already being used by companies across a variety of industries such as food and beverage, aviation and oil and gas, Invert Robotics plans on expanding its reach, and opening new international markets.
Capable of securely adhering to surfaces that other robots cannot, Invert Robotics' climbing robots can also go into confined, dangerous spaces that would put workers' lives at risk. Using surface-wave detection and ultrasonic probes, the robots can also perform in-depth scans to measure wall thickness, assess structural integrity and find defects on any surface.
Invert Robotics says that it also plans to develop an artificial intelligence platform, which will give customers the ability to take a proactive approach to asset management by predicting potential fail points and future maintenance needs.
Share your vision-related news by contacting Dennis Scimeca, Associate Editor, Vision Systems Design.


To receive news like this in your inbox, click here.