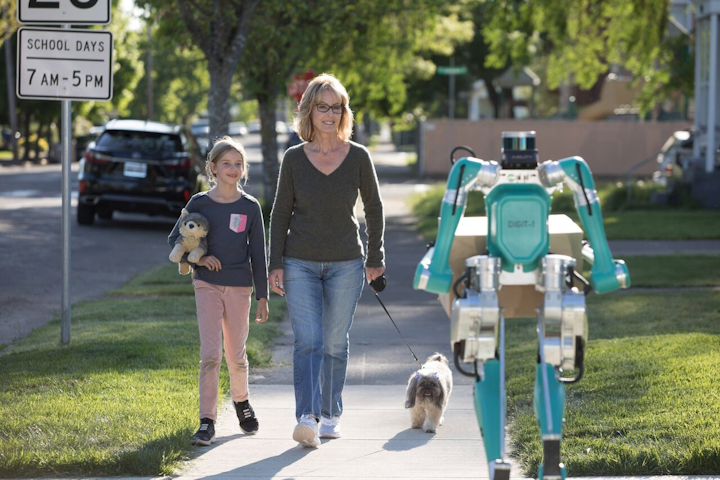 In this week's roundup from the Association for Unmanned Vehicle Systems International, which highlights some of the latest news and headlines in unmanned vehicles and robotics, the U.S. Army taps a new company to develop recon drones, DJI reveals new safety plans, and autonomous delivery trucks are getting robotic package handlers.
Parrot chosen for short range recon drone development
The U.S. Department of Defense has chosen Parrot to participate in the development of the next-generation of short range reconnaissance drones for the U.S. Army.
Parrot is one of six companies that have met the standards set in the solicitation issued in November 2018 to develop and prototype the next generation of small-unit surveillance UAS.
In an effort to identify and prototype new UAS capabilities with commercial companies that specialize in "on-demand, 'eye in the sky' technologies," the U.S. Army Program Executive Officer (PEO) for aviation's project manager, UAS, is working with the Defense Innovation Unit (DIU) and the Army's Maneuver Center of Excellence.
As part of the process, the U.S. Army is working with the Pentagon's internal startup accelerator to adapt small commercial UAS for the battlefield.
Recently, the Short Range Reconnaissance (SRR) effort awarded six companies $11 million in funding to prototype and evaluate UAS that can provide the soldier on the ground with a "rapidly deployable scouting capability" to gain situational awareness beyond the next terrain feature.
According to the original solicitation, the UAS would be expected to fly for 30 minutes straight at a range of up to three kilometers.
Officials also specified that the aircraft should weigh three pounds or less, take less than two minutes to assemble and fit inside a soldier's standard-issue rucksack.
"Parrot is proud to have been selected by the Army to work on this highly strategic project. The United States has always been a major market for the Parrot Group whether it is for our well-known consumer range or our advanced professional offering," says Henri Seydoux, founder and CEO of Parrot.
"We look forward to focusing our advanced R&D on meeting the high standards set by the U.S. Army, to integrate drone efficiency in their day to day operations and support the world leading army defense system."
DJI equipping new consumer drones with airplane and helicopter detectors
As part of a 10-point plan to "ensure the world's skies remain safe in the drone era," DJI has announced that it will install airplane and helicopter detectors in new consumer drones.
AirSense technology, which receives ADS-B signals from nearby airplanes and helicopters and warns UAS pilots if they appear to be on a collision course, will be integrated into all new DJI drone models released after January 1, 2020 that weigh more than 250 grams. According to DJI, this will be the largest single deployment of ADS-B collision awareness technology to date, and will set a new standard by putting professional-grade aviation safety technology in drones available to everyone.
"DJI leads the drone industry in developing safety technology and education, and we continue that tradition today by setting higher expectations for ourselves, our competitors and regulators," says Brendan Schulman, DJI vice president for Policy & Legal Affairs.
Capable of detecting airplanes and helicopters from miles away—farther than a UAS pilot can hear or see them— AirSense displays their locations on the screen of the pilot's remote controller. This technology has previously only been available on some professional-grade DJI UAS.
DJI says that other aviation organizations agree that installing AirSense in mainstream consumer UAS is "an important step" for protecting airplanes and helicopters and the people who fly in them.
DJI notes that its schedule aligns with the FAA's upcoming requirement for essentially all airplanes and helicopters to be equipped with ADS-B transmitters in controlled airspace, starting January 1, 2020.
"Expanding the availability of AirSense to DJI pilots is a meaningful step forward in safely integrating UAS and reducing conflicts with manned aircraft," says Rune Duke, senior director of Airspace and Air Traffic at the Aircraft Owners and Pilots Association.
"ADS-B In is used daily by thousands of pilots to increase their situational awareness and ensure safe operations. As the general aviation fleet further equips with ADS-B Out and other NextGen technology, enhancements like AirSense will allow all pilots to maximize their investment. All of aviation will benefit from the incorporation of this technology into DJI's large fleet."
DJI's AirSense commitment is the first of 10 points in "Elevating Safety," which is DJI's new plan for how it, along with other UAS manufacturers and government officials, around the world can maintain drones' admirable safety record.
The 10 points are:
·      DJI will install ADS-B receivers in all new drones above 250 grams
·       DJI will develop a new automatic warning for drone pilots flying at extended distances
·       DJI will establish an internal Safety Standards Group to meet regulatory and customer expectations
·       Aviation industry groups must develop standards for reporting drone incidents
·       All drone manufacturers should install geofencing and remote identification
·       Governments must require remote identification
·       Governments must require a user-friendly knowledge test for new drone pilots
·       Governments must clearly designate sensitive restriction areas
·       Local authorities must be allowed to respond to drone threats that are clear and serious
·       Governments must increase enforcement of laws against unsafe drone operation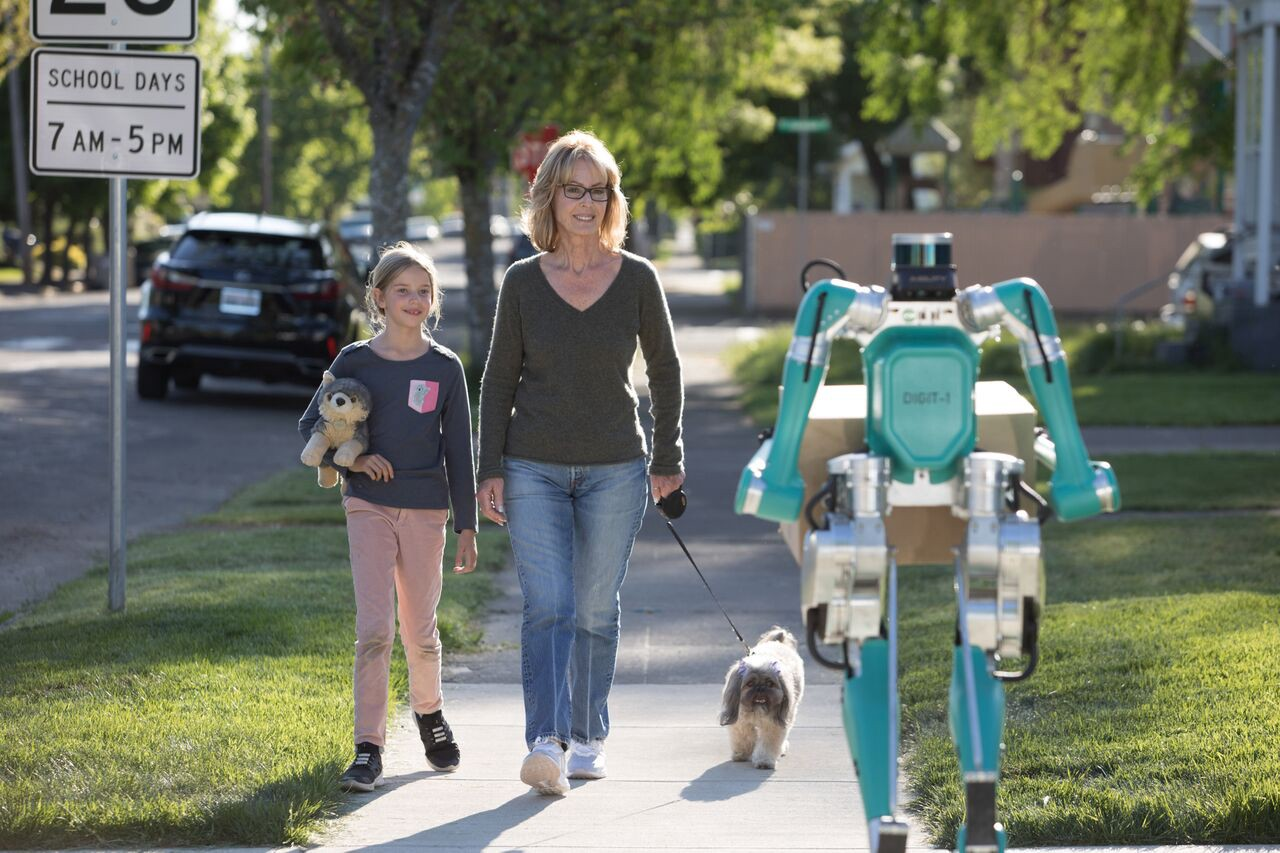 Ford, Agility Robotics partner to get deliveries from self-driving vehicles to the door using robotics
Ford has partnered with Agility Robotics to help self-driving vehicles complete the final step of getting a delivery from the car to a customer's door using robotics.
Through its pilot programs, Ford has learned that it's not always convenient for people to leave their homes to retrieve deliveries or for businesses to run their own delivery services.
With this in mind, Ford is optimistic that Digit, a two-legged robot designed and built by Agility Robotics, could be the key to solving this issue. Capable of lifting packages that weigh up to 40 pounds, the robot, built out of lightweight material, can go up and down stairs, walk naturally through uneven terrain, and even react to things like being bumped without losing its balance and falling over.
Ford notes that Digit has been designed to walk upright without wasting energy, so it has no issue maneuvering the same types of environments most people do every day. Thanks to its design, Digit can also tightly fold itself up for easy storage in the back of a self-driving vehicle until it needs to be used.
"Once a self-driving car arrives at its destination, Digit can be deployed to grab a package from the vehicle and carry out the final step in the delivery process," Ford says.
Ford notes that Digit also has a "hidden advantage," beyond its ability to just traverse objects. Digit needs to function on its own, but there is also a desire to keep the robot lightweight and capable of dynamic movement, which led to an innovative idea: Letting it tap the resources of another robot — one that's equipped with advanced sensors and heavy computing hardware — for additional support and analytical skills when needed.
"A self-driving vehicle is capable of creating a detailed map of the surrounding environment, so why not share that data with Digit instead of having it recreate the same type of information?" Ford says.
"After all, both Digit and the self-driving car need to know where they are in the world, where they need to go and how to get there."
As a result, when a self-driving vehicle brings Digit to its final destination, the vehicle can wirelessly deliver all the information it needs, including the best pathway to the front door. This data exchange allows Digit to work collaboratively with a vehicle to situate itself and begin making its delivery.
Digit is equipped with lidar and a few stereo cameras, giving it just enough sensory power to navigate through basic scenarios. If it runs into an unexpected obstacle, it can send an image back to the vehicle and have the vehicle come up with a solution.
The car could even send that information into the cloud and request help from other systems to help Digit navigate, which provides multiple levels of assistance that help keep the robot light and nimble.
Digit has a long run time thanks to its light weight, which is "essential for a self-driving delivery business that will be operating most of the day," Ford notes.
"Through our collaboration with Agility, we are striving to determine the best way for our self-driving vehicles to cooperate with Digit and understand how this new delivery method can be taken advantage of in the future," Ford says.
Share your vision-related news by contacting Dennis Scimeca, Associate Editor, Vision Systems Design

To receive news like this in your inbox, click here.