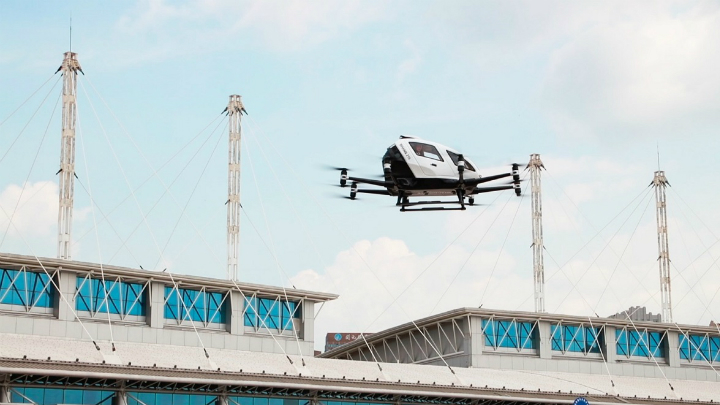 In this week's roundup from the Association for Unmanned Vehicle Systems International, which highlights some of the latest news and headlines in unmanned vehicles and robotics, drone delivery company Flirtey announces its 2020 plans, the 2019 Northeast Asia Expo hosts the premiere demonstration of EHang's passenger-carrying autonomous aerial vehicle, and TomTom launches a new testbed for improve the company's autonomous driving technologies.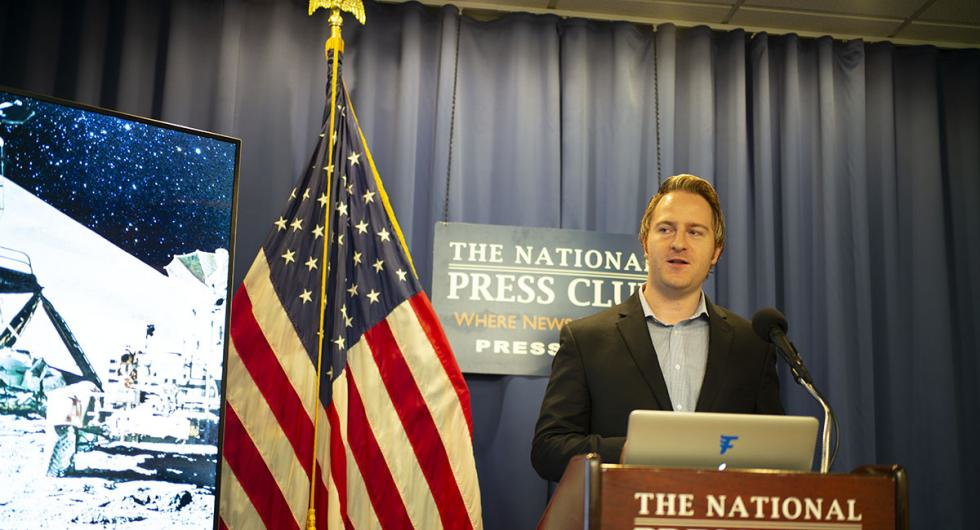 Flirtey unveils Eagle drone and launch portal, sets sights on commercial delivery next year
Drone delivery pioneer Flirtey announced a new cargo-carrying drone and a launch platform that it says will help it begin commercial drone deliveries next year.
"I'm here to tell you that a new age of technology is dawning and it is being driven by mission-driven technology startups," Flirtey CEO and cofounder Matt Sweeny said at a press conference Monday morning at the National Press Club.
"We protect data, we defend the privacy of our customers, we empower our partners, we manufacture in America, we reduce traffic congestion and we reduce carbon emissions and we work hand in hand with the communities who want drone delivery."
Sweeny announced the Eagle, a new Flirtey delivery drone, which he said has "more than double" the carrying capacity than its rivals, although he wouldn't say what that was and declined to provide its range. The Eagle would lower packages to the ground using a tether.
He also announced the Flirtey Portal, a launch and landing platform sized to fit in a normal vehicle parking space.
That technology — combined with autonomous flight software that Sweeny said has earned approval from the Federal Aviation Administration to allow one operator to control 10 aircraft — means Flirtey Eagles could operate from mom and pop storefronts across America.
"The future is here now, and here it is," he said.
Flirtey's idea is to dispense with flights from large distribution centers and instead allow small companies to get in on the rapid drone delivery game, with company providing the delivery service.
Small stores can have on-demand deliveries sent to nearby homes in 10 minutes or less, which enables them to compete with delivery giants such as Amazon, he said.
"And so drone delivery is a unique tool that will help reinvigorate middle America, small businesses and drive sales for customers who can now have hyper-local deliveries placed," he said.
Flirtey is part of the Reno, Nevada-based Integration Pilot Program that has explored using drones to deliver defibrillators.
"When you look up into the sky and see a Flirtey delivery drone, it could be on its way to delivering a defibrillator to save a life," Sweeny said.
The company is seeking a type certification for the Eagle, which certifies it's safe to fly, and production certification, which allows it to mass produce them. The company will also need a Part 135 certification from the FAA to conduct commercial operations, and Sweeny said the company has already taken a stake in startup drone operator that is seeking Part 135 approval.
"People within the IPP expect to obtain the Part 135 in 2020," he said. "So that means not only will the regulations enable commercial operation, they will enable Flirtey to provide our aircraft and now autonomous software platform to those who wish to operate it."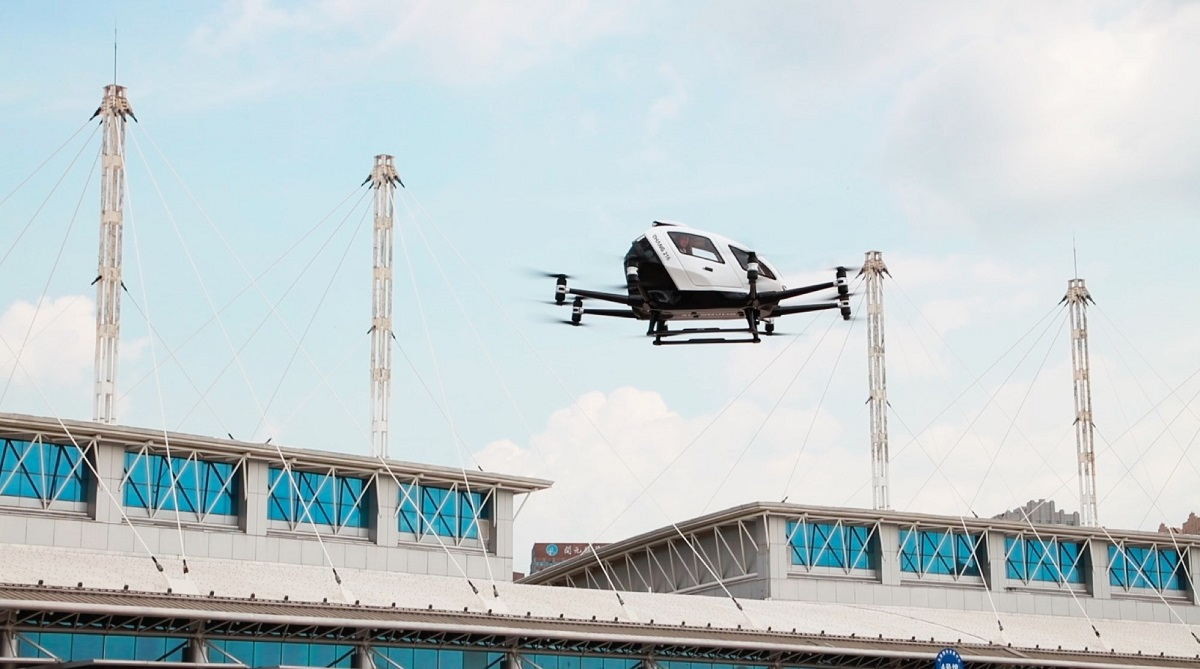 EHang completes first passenger-carrying autonomous aerial vehicle demonstration flight
EHang has announced that during the 2019 Northeast Asia Expo in August, it conducted the first passenger-carrying autonomous aerial vehicle (AAV) demonstration flight.
According to EHang, its passenger-grade AAV, EHang 216, has also completed similar public demonstration flights in other Chinese cities such as EHang's headquarters in Guangzhou, Lianyungang and Luzhi in Jiangsu province, Taizhou in Zhejiang province, Yantai in Shandong province and Shenyang in Liaoning province.
EHang's AAVs have also performed several passenger-carrying autonomous flight demonstrations in other countries such as Austria, the Netherlands, and Qatar.
"We are very excited that our AAVs are visiting more cities and being accepted and celebrated by local communities," says Hu Huazhi, EHang's founder, chairman, and CEO.
"This is a critical step towards making our dream reality and to make urban air mobility broadly available and affordable as a safe, fast, and eco-friendly transportation alternative."
Equipped with full redundant components for safety, including 16 propellers, the battery powered EHang 216 is capable of carrying up to 220 kilograms, and can fly as fast as 130 kilometers per hour.
To get from one location to another, passengers using EHang's AAVs will not need a pilot license to fly them, the company notes. Instead, they will simply choose their destinations on a mobile app, and the AAVs will fly autonomously on pre-programmed routes, which includes taking off, landing vertically, and conducting U-shaped travel. The vehicles will be tracked, and if necessary, they can be commandeered from a command-and-control center on the ground.
EHang notes that along with its partners, it has been working with several different global aviation regulatory authorities "to help lay the groundwork for developing the logistics and regulations for the urban air mobility market." Some of these authorities include the International Civil Aviation Organization at the United Nations, the European Aviation Safety Agency, the Civil Aviation Administration of China, and other organizations in North America and Europe.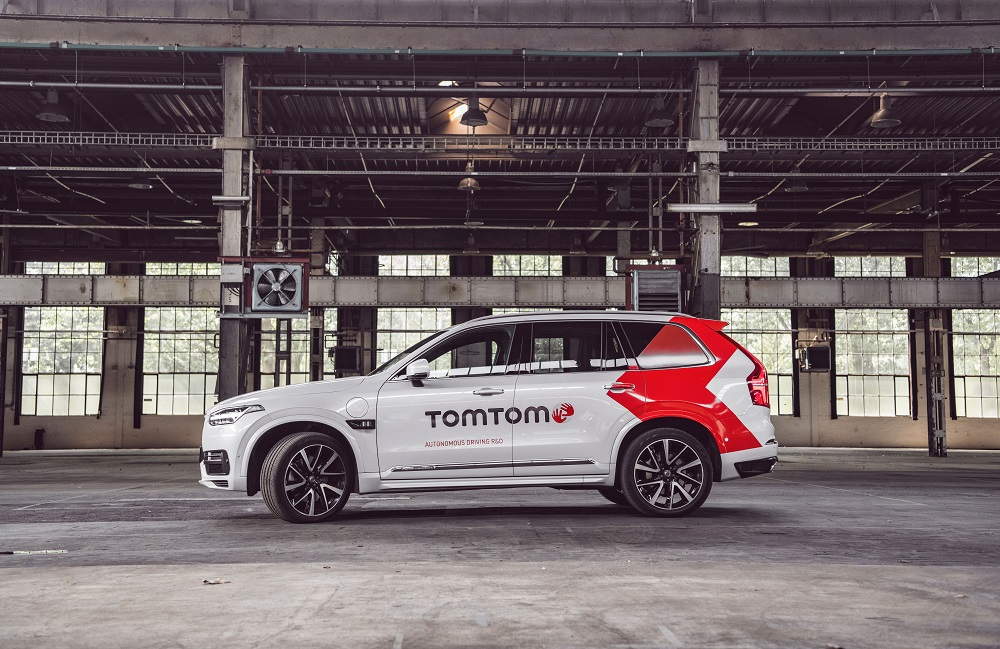 TomTom unveils fully autonomous test vehicle
TomTom has launched its fully autonomous test vehicle, which is designed to test and improve the location technology specialist's autonomous driving technologies, which includes the TomTom High Definition (HD) Map, TomTom Roadagrams, and TomTom AutoStream, a map streaming service.
"Having our own autonomous vehicle is a critical advantage when it comes to developing the technology required for safe and comfortable autonomous driving," says Willem Strijbosch, TomTom's head of Autonomous Driving.
"We can continuously test our mapping technology on the roads, get insights and high-quality data on how it performs in a multitude of circumstances and, right away, feed this into our AI-driven map-making process."
TomTom's autonomous test vehicle is equipped with eight laser scanners, stereo cameras and six radars, allowing for different sensor configurations to be tested. The sensor set provides a 360-degree view of the vehicle's surroundings, and the data from these sensors is processed and referenced against the TomTom HD Map, which allows the vehicle to locate itself precisely.
Described as a "highly accurate and highly attributed representation" of the road that includes lane models, lane geometry and traffic signs, with accuracy down to a few centimeters, the TomTom HD Map gives autonomous vehicles a variety of capabilities, including the ability to precisely locate themselves on the road; to build a detailed model of the surrounding environment working together with the vehicle sensors; and to plan a path to the destination.
TomTom notes that it has closed deals with several carmakers across the globe to provide its HD map, which covers the U.S., Europe and Asia.
"We're already the natural choice for automakers who want to deploy automated driving systems on a global scale," Strijbosch says. "Now that we can move even faster in our research and product development, we're further elevating the quality of our offering."
Share your vision-related news by contacting Dennis Scimeca, Associate Editor, Vision Systems Design

SUBSCRIBE TO OUR NEWSLETTERS