In this week's roundup from the Association for Unmanned Vehicle Systems International (AUVSI) which highlights some of the latest news and headlines in unmanned vehicles and robotics, State Farm is granted permission to fly drones over people and greater distances, the TuSimple company announces the success of its self-driving truck fleet, and Ouster releases the highest-resolution LiDAR on the market.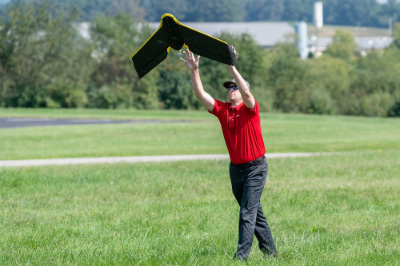 State Farm granted first national FAA waiver to conduct UAS flights over people and BVLOS
State Farm has become the first company in the U.S. to receive a national waiver from the FAA that allows it to conduct UAS operations over people (OOP) and flights beyond the pilot's visual line of sight (BVLOS) through November 2022. Previously, State Farm received waivers that were limited to a short time frame and to specific geographic areas impacted by hurricanes.
​A member of Virginia's UAS Integration Pilot Program (IPP) team, State Farm says that the waiver will also open up new innovation opportunities for the company by allowing longer-distance flights.
"It's been a team effort to make drone technology a reality," says Senior Vice President for P&C Claims Robert Yi.
"The waiver will provide our claims specialists with another way to efficiently help customers. We can use drones to assess on-the-ground damage and deploy resources. This is a huge win for our customers and demonstrates we're recognized as a leader in drone technology."
Virginia Tech's Mid-Atlantic Aviation Partnership (MAAP) played an integral role in helping State Farm obtain this waiver, as the company has worked with MAAP on UAS safety case research for nearly two years.
State Farm and MAAP have conducted several tests that evaluated senseFly's fixed-wing eBee Classic UAS, which is designed for longer-distance damage assessment flights. The strength of the research and resulting safety case documentation resulted in the FAA approving temporary waivers for State Farm to conduct damage-assessment UAS flights over people and beyond the operator's visual line of sight in states effected by Hurricanes Florence and Michael.
State Farm says that successful flights following the two hurricanes provided "valuable real-world experience and insights" that were incorporated into the national waiver request.
"State Farm had a compelling proposal for how drones could improve their customer experience and an unwavering commitment to safety," says Mark Blanks, Director of MAAP.
"MAAP had the operational expertise and the research experience to help them navigate the approval process and collect supporting data. This success shows how powerful it can be when industry and academia collaborate to break new ground."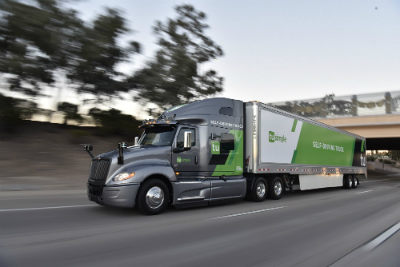 TuSimple making three to five fully-autonomous trips per day in Arizona
In response to growing commercial demand from 12 contracted customers, TuSimple has announced that it currently has 11 trucks operating fully autonomously in the U.S., with plans for that number to reach 40 by June.
TuSimple has also announced that right now, it makes three to five fully-autonomous trips per day for customers on three different routes in Arizona, with another route from Arizona to Texas expected to launch early next year.
According to TuSimple, it is the only self-driving truck company running daily fully-autonomous commercial routes from depot-to-depot, which requires highway driving, as well as local street driving.
This week during CES 2019 in Las Vegas, TuSimple will display a Navistar International LT semi-truck, which will not only highlight the company's self-driving (Level 4) perception system, but also showcase what TuSimple trucks 'see' while driving autonomously.
"Exactly one year after debuting our prototype system at CES 2018, we're now running up to five commercial trips a day in Arizona, expanding our fleet and moving quickly toward our goal of creating the first commercial self-driving truck," says Dr. Xiaodi Hou, founder, president and chief technology officer, TuSimple.
TuSimple has also announced that it is working with Tier 1 suppliers such as global power leader Cummins Inc. TuSimple is working with Cummins to enable powertrain integration with its autonomous technologies.
With nearly 100 years of technological innovation in engines, components and controls, Cummins played an integral role in developing the industry standard interface between powertrains and autonomous systems.
"We are making tremendous progress towards the commercialization of our technology and trucking ecosystem with key Tier 1 partners like Cummins," Hou adds. "The viability and power of our autonomous truck solutions is being proven daily on highways and local streets."
TuSimple notes that the trucking industry is currently facing a shortage of 50,000 drivers. Additionally, the industry is approaching a 100 percent turnover rate per year with an average driver age of 49 years old.
​With the shortage of drivers and high turnover rate, TuSimple points to a PwC study that shows that autonomous trucking technologies will reduce annual operating costs for a traditional average long-haul truck by 28% in 2025. With this in mind, TuSimple is looking to transform the U.S. trucking industry—valued at $740-billion—by cutting costs, reducing carbon emissions and getting rid of some of the challenges that operators currently face.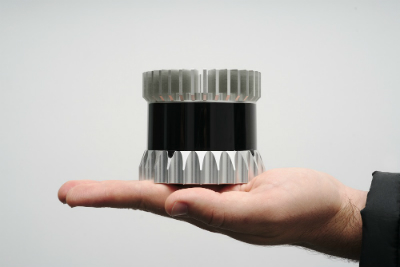 Ouster says its newest lidar sensor is the highest resolution lidar on the market
On Jan. 3, Ouster announced the OS-1-128, the company's newest multi-beam flash lidar sensor.
Ideal for "safety-critical robotics applications" such as autonomous vehicles, the OS-1-128 is the highest resolution lidar on the market, Ouster says.
With no change in size, mass, power consumption, or ruggedness compared to the OS-1-64, the OS-1-128 continues to deliver on the promise of "Moore's Law-esque" product improvements enabled from Ouster's Multi-Beam Flash Lidar architecture, the company explains.
Priced at $18,000, the OS-1-128 is six times cheaper than the competing 128-channel lidar sensor, according to Ouster, allowing the company to extend its commitment of providing the lowest pricing at every performance level.
"Ouster continues to push the frontier of what is possible in lidar; our multi-beam flash lidar architecture gives us the ability to constantly improve our performance while keeping prices low, reliability high, minimizing the sensor's size, weight and power consumption, and producing at volume," explains Ouster CEO Angus Pacala.
"In a market where all of these metrics matter and under-delivering on even one of them is a dealbreaker, Ouster continues to provide performance without compromise."
The OS-1-128's 45-degree vertical field of view is the widest available of any commercially sold high-performance lidar sensor, according to Ouster. The sensor provides a consistent and dense point cloud, thanks to incorporating .35-degree vertical angular resolution, uniformly spaced throughout the field of view.
Ouster adds that the OS-1-128 also takes the "perfectly correlated 3D and 2D range, intensity, and ambient camera-like images" that it is known for to the next level, with double the vertical resolution.
The company notes that these improvements in resolution benefit from the same quality and reliability achievements that it continues to build on. Ouster also says that its simple design "sets a new bar in the lidar market and offers increased resolution without reliability compromises."
The OS-1-128 is expected to be available for volume purchases this summer.
Share your vision-related news by contacting Dennis Scimeca,Associate Editor, Vision Systems Design

To receive news like this in your inbox, click here.
Join our LinkedIn group | Like us on Facebook | Follow us on Twitter