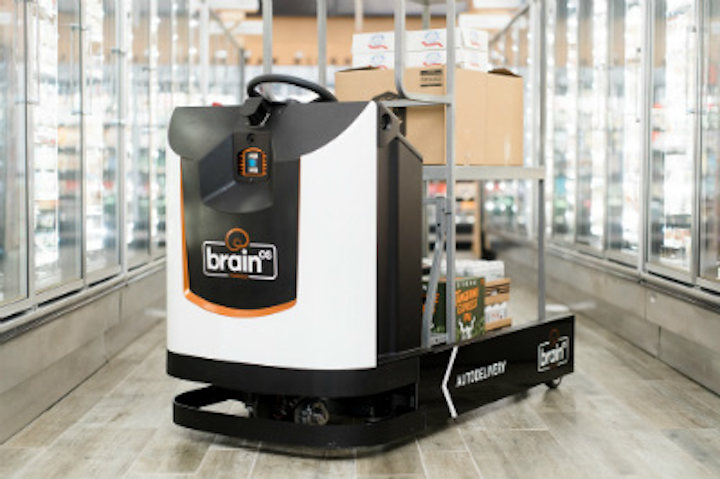 In this week's roundup from the Association for Unmanned Vehicle Systems International, which highlights some of the latest news and headlines inunmanned vehiclesand robotics, Google's parent company begins drone delivery down under, DJI announces a new partnership with the Los Angeles Fire Department, and Brain Corp. introduces a new delivery robot system.
Wing launches UAS delivery service in North Canberra, Australia
Wing, a subsidiary of Google's parent corporation Alphabet, has launched a drone delivery service in North Canberra, Australia.
Through Wing's service, customers can order a variety of items on Wing's mobile app, and have them delivered directly to their homes via UAS in minutes.
"Whether you're a parent with a sick child at home and have run out of baby paracetamol, a busy professional who forgot to pick up fresh bread during your regular weekly shop, or you simply just want to order your morning flat white without the hassle of having to drive to the cafe, Wing has teamed up with local Canberra businesses to give customers the opportunity to have a range of goods delivered in a handful of minutes," Wing explains.
Initially, the service will be available to a limited set of eligible homes in the suburbs of Crace, Palmerston and Franklin. In the coming weeks and months, though, Wing expects to gradually expand to more customers in Harrison and Gungahlin.
"We're excited to connect with more local businesses in the Gungahlin area about how we can help them reach more customers faster, safer and more sustainably and encourage any local merchants who are interested in learning more to get in touch with us," Wing says.
Since 2014, Wing has been testing UAS delivery in Australia. Over the last year and a half, Wing has made more than 3,000 deliveries to Australian homes in Fernleigh Park, Royalla and Bonython communities, delivering food, small household items and over the counter chemist products.
Wing describes the feedback it has received during these trials as "valuable," adding that the feedback has helped it refine its operations to better meet the needs and expectations of the communities in which it operates.
"We will continue to engage with the local community and stakeholders as we expand our service and are hosting community information stalls and delivery demonstrations in the serviceable areas over the next few weeks," Wing says.
DJI partners with Los Angeles Fire Department to advance UAS tech for public safety purposes
In an effort to create, test and deploy its UAS technology as an emergency response and preparedness tool, DJI has announced a Solution Development Partnership with the Los Angeles Fire Department (LAFD).
Through the partnership, DJI will provide the LAFD with access to new technologies, training and support, so that the agency can utilize UAS technology as part of its operations.
"We are excited to be strengthening our partnership with the LAFD, one of the nation's preeminent public safety agencies, to help them take advantage of DJI's drone technology that has been purpose-built for the public safety sector," says Bill Chen, Enterprise Partnerships manager at DJI.
"Through our two-way collaboration, DJI will receive valuable insight into the complexities of deploying drones for emergency situations in one of the most complex urban environments in the nation. This insight will allow us to continue to refine and develop new technologies that will allow the LAFD and leading public safety agencies around the world to gain more value from life-saving drone technology."
The LAFD will continue to deploy and test DJI's UAS technology for the fire and rescue service industry. Thus far, the LAFD has flown more than 175 incident-related missions using a variety of DJI's platforms, including the Matrice 200 Series, Matrice 600 Series, and Phantom 4 Pro UAS. The UAS are equipped with visual and thermal imaging cameras that provide real-time video and data transmission to incident commanders.
DJI's UAS technology will continue to be used for a variety of purposes including hot-spot identification and aerial mapping to help manage wildfire response, as well as incident response for quick water rescues, hazmat operations, and urban search and rescue missions.
"We are excited about today's partnership with DJI because it gives the Department access to cutting edge developments from the world's leading provider of drone technology, such as drones equipped with thermal cameras that will help give incident commanders a real-time birds-eye perspective," says LAFD Battalion Chief Richard Fields.
"Combining advanced drone technology with new software tools will help bridge the gap between helicopters and firefighters on the ground, allowing us to address life-threatening situations faster and more effectively than ever before."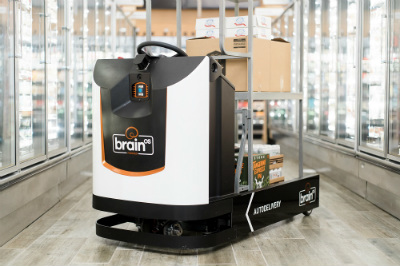 Brain Corp introduces AutoDelivery robot for retail facilities, warehouses and factories
Brain Corp has introduced a new proof-of-concept robot called AutoDelivery, which is powered by the company's commercial operating system, BrainOS.
Described as an "autonomous tug" powered by BrainOS, AutoDelivery can operate across a number of different public environments, enabling the seamless transportation and delivery of goods from point A to B, Brain Corp says.
The robot can tow several common cart types, providing "easily customized, automated delivery solutions" for commercial and retail facilities, as well as warehouses and factories. According to Brain Corp, the robot will allow users to improve workflows, boost productivity, increase efficiency, and reduce interruptions.
"This planned expansion beyond floor care and into the delivery space has primed BrainOS to become the industry standard when building AMRs," says John Black, Brain Corp's senior vice president of New Product Development.
"Cited as the world's top Autonomy Solution Provider by ABI Research, BrainOS and its promise of form factor and application flexibility is well represented through our introduction of AutoDelivery."
Brain Corp says that it is currently looking into potential manufacturing partners for the AutoDelivery robot, which is expected to launch commercially in early 2020.
Share your vision-related news by contacting Dennis Scimeca,Associate Editor, Vision Systems Design

To receive news like this in your inbox, click here.