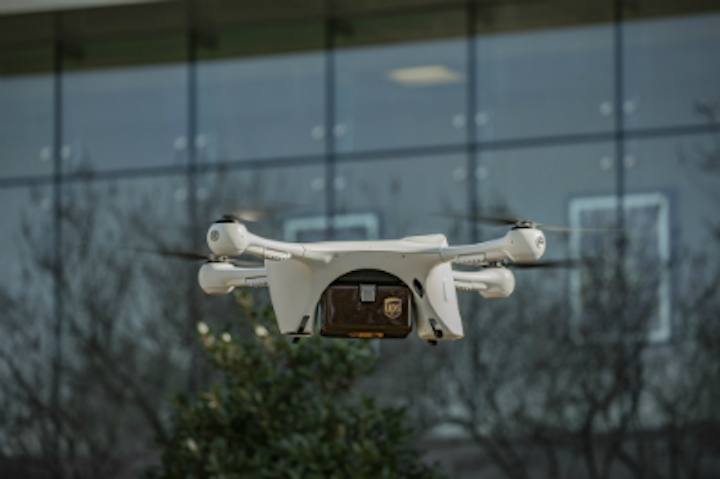 In this week's roundup from the Association for Unmanned Vehicle Systems International, which highlights some of the latest news and headlines in unmanned vehicles and robotics, UPS strikes a deal for drone medical sample deliveries, robotic examination of mine pillars, and a new player enters the drone ocean exploration market.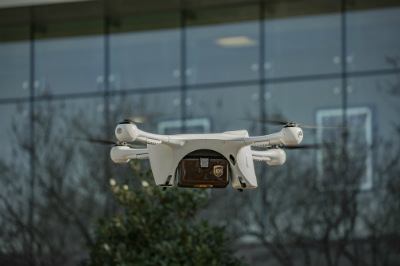 UPS, Matternet delivering medical samples in North Carolina using drones
UPS has announced a partnership with Matternet to use drones to deliver medical samples in North Carolina, marking the "first FAA sanctioned use of a drone for routine revenue flights involving the transport of a product under a contractual delivery agreement," the companies say.
The program is taking place at WakeMed's flagship hospital and campus in Raleigh, North Carolina. It will be overseen by the FAA, as well as the North Carolina Department of Transportation (NCDOT), which supported Matternet in conducting first-round test flights using the company's UAS technology on WakeMed's campus in August 2018 under the FAA UAS Integration Pilot Program (IPP).
​Courier cars are the primary form of transportation for the majority of medical samples and specimens across WakeMed's expanding health system. Adding UAS to this process offers a variety of benefits, the companies note, including an option for on-demand and same-day delivery, the ability to avoid roadway delays, and improving the patient experience with potentially life-saving benefits.
During the program, a medical professional will load a secure drone container with a medical sample or specimen at one of WakeMed's nearby facilities. The UAS will be monitored by a specially trained Remote Pilot-in-Command (RPIC) as it flies along a predetermined flight path to a fixed landing pad at WakeMed's main hospital and central pathology lab.
The program will be ongoing at WakeMed, with UPS and Matternet using the lessons learned to consider how UAS can be used to improve transport services at other hospitals and medical facilities across the U.S.
Matternet's M2 quadcopter will be used to make the deliveries during the program. The UAS can carry medical payloads weighing up to about five pounds over distances of up to 12.5 miles.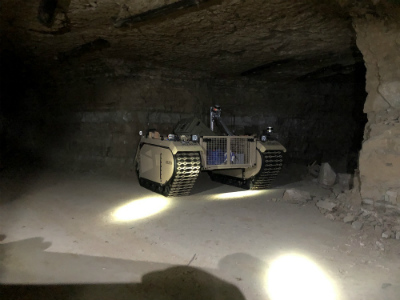 Milrem Robotics' Multiscope UGV used to determine condition of pillars in mine
Milrem Robotics has announced that an energy company in Estonia called Enefit used its Multiscope UGV to determine the condition of the pillars in a mine in which mining ended ten years ago.
Equipped with 3D lidars, the Multiscope UGV was used in the Estonia Mine in closed underground locations. People are no longer allowed to enter these areas being that the anchor structure used to support the ceiling is being removed following the end of mining operations.
"An unmanned vehicle is an excellent solution for conducting surveys in an area which may be unsafe or prohibited for people to enter," says Veljo Aleksandrov, development project director at Enefit.
"The vehicle's mission was successful – we obtained the three-dimensional images and other necessary data which are vital for building a solar power plant on top of the mine."
For this mission, data coming from lidars and wide spectrum HDR cameras were used to pilot the UGV underground, but Milrem Robotics notes that autonomous operation can be applied in future projects.
According to Enefit, this was the first time that conditions in a closed room block were examined using this process.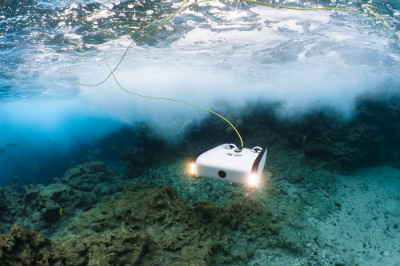 Ocean drone and sensor companies merge to form Sofar Ocean Technologies
Ocean data startup Spoondrift and underwater drone developer OpenROV have announced that they have merged to form Sofar Ocean Technologies.
Sofar brings together two teams who have experience developing and scaling tools for distributed ocean sensing and monitoring, as the newly formed company notes that the world's oceans remain "largely unexplored, misunderstood, and tragically under-utilized."
"There have been multiple approaches to capturing ocean data but up to this point they have been large, expensive and generally inaccessible by the ordinary person," says Peter Rive, chairman of Sofar. Rive led a $7 million Series A financing round for Sofar.
"I believe the best approach to reaching a deeper understanding of our oceans is to have pervasive sensors and drones transmitting information in real-time. By forming Sofar we have great products available right now as well as a platform for future development."
​Two of Sofar's flagship products, Spotter and Trident, are now available.
Described as a "compact, solar-powered device," Spotter transmits weather information such as wave and wind conditions in real-time. The device can be moored in place or can be free-floating, and users can access data previously unavailable through an online dashboard or a mobile app.
"Spotter could revolutionize the way we monitor remote ocean basins through a constellation of drifting buoys," says Dr. Aitana Forcén-Vázquez of MetOcean Solutions.
"These buoys (Spotters) are surprisingly easy to deploy, very light and easy to handle, and can be lowered in the water by hand using a line. As a result, you can deploy them in almost any kind of conditions..."
Meanwhile, Trident is an underwater drone designed for exploration, research, and inspection. With its rugged build, Trident provides an accessible way to gather imagery and data from below the surface, as it can dive up to 100 meters and stream live video to a smartphone or tablet. The drone is also open source and can easily be extended for various underwater uses.
"The biggest hurdles to understanding the ocean have been expense and exclusivity — the tools have been too costly and too hard to use," explains David Lang, co-founder of Sofar.
"We're changing that through the design of accessible ocean exploration tools."
Share your vision-related news by contacting Dennis Scimeca,Associate Editor, Vision Systems Design

To receive news like this in your inbox, click here.