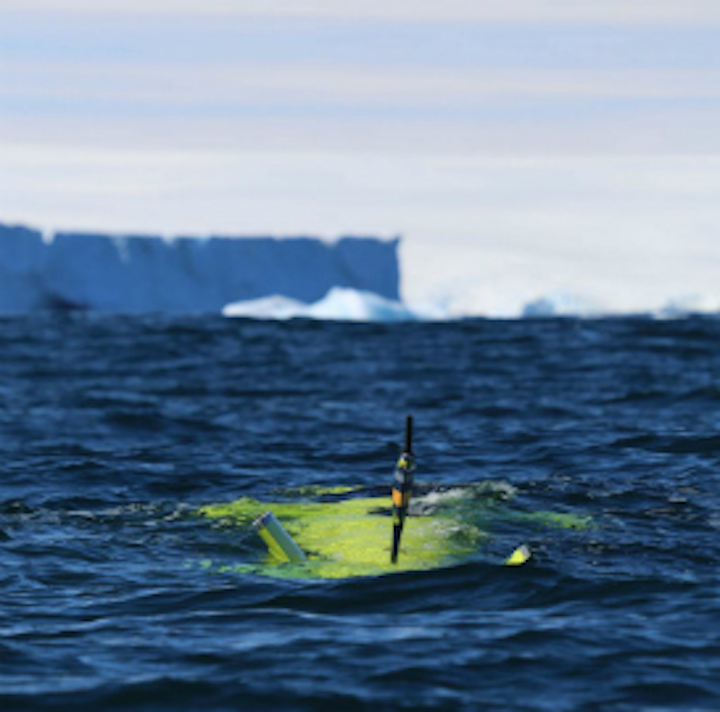 In this week's roundup from the Association for Unmanned Vehicle Systems International, which highlights some of the latest news and headlines in unmanned vehicles and robotics, drones produced by DJI assist firefights in dousing the flames that engulfed Notre Dame, a drone explores the underside of an ice shelf in Antarctica, and Amazon purchases a warehouse robotics startup in Colorado.
DJI UAS help tame Notre Dame fire
DJI drones were used to track the progression of the Notre Dame fire and to find the best positions to aim fire hoses.
Flying the UAS over the Notre Dame cathedral allowed Parisian firefighters to obtain important data that helped them ultimately tame the flames.
"The drones allowed us to correctly use what we had at our disposal," Fire brigade spokesman Gabriel Plus told local media.
Firefighters used DJI Mavic Pro and Matrice M210 drones. According to DJI's director of public safety integration, Romeo Durscher, via the Verge, firefighters utilized the Mavic Pro's visible light camera and optical and electronic zoom.
Usually, UAS aren't allowed to fly in Paris and are geofenced to prevent any flying, but DJI confirmed to the Verge that it removed those restrictions to cooperate with authorities' purposes. Any UAS operator can request that geofencing be unlocked, but they may need credentials to unlock a particularly high-risk area.
DJI didn't train or give the firefighters its UAS, but it did promote its technology. According to a DJI spokesperson, the firefighters "have now integrated and digested out technology so they can fully adopt it in search and rescue missions...[and] in extinguishing fires like what we saw in Notre Dame."
"The mission was delicate and they intelligently called for the Parisian Police Drone Unit cell, which is a dedicated team of professional drone pilots ready to intervene in critical missions."
Firefighters still don't have their own UAS, so they borrowed them from France's culture and interior ministries.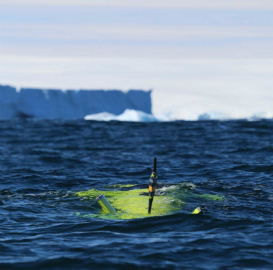 University of Tasmania's AUV completes successful first deployment in Antarctica
The University of Tasmania's AUV, nupiri muka, and its support crew recently returned home after a successful first deployment in Antarctica.
​Located in Tasmania, Australia, the University of Tasmania says that nupiri muka is the first untethered Australian AUV to dive under an ice shelf, joining AUVs from the UK and Sweden as the only ones in the world with this capability.
With support from the Australian Antarctic Program, nupiri muka was successfully deployed under the Sørsdal Glacier ice shelf during the summer Antarctic season. The AUV was funded by the Australian Research Council (ARC) through the Antarctic Gateway Partnership.
"This summer's deployment under the Sørsdal Glacier means Australia has joined a very select list of countries with an AUV that's capable of independently exploring under the polar ice," says Australian Maritime College AUV Facility Manager Peter King, who led a support team of engineers and scientists.
"nupiri muka allows us to study variables such as water temperature, salinity and current as well as the profile of both the seabed and the underside of the ice, while at the same time collecting sonar imagery and potentially data on the internal structure of the ice."
Professor Richard Coleman, director of the Antarctic Gateway Partnership, adds, "completing this successful first deployment is a major step forward and testament to the skill, experience and detailed planning of the support team.
"Activities such as these require a significant investment of both time and money, and deploying equipment in extreme environments such as Antarctica always carries an element of risk. However, the potential scientific rewards that nupiri muka can deliver are enormous. Now that we have shown what the AUV is capable of we look forward to realizing its great potential during future research projects."
Amazon acquires warehouse robotics startup Canvas Technology
According to TechCrunch, Amazon has acquired Canvas Technology, a warehouse robotics startup based in Boulder, Colorado.
"We are inspired by Canvas Technology's innovations, and share a common vision for a future where people work alongside robotics to further improve safety and the workplace experience," an Amazon spokesperson says in a statement, via TechCrunch.
"We look forward to working with Canvas Technology's fantastic team to keep inventing for customers."
Canvas raised a $15 million Series A led by Playground Global. During Playground's open house approximately a year ago, the Canvas Autonomous Cart was on display and showcased its ability to avoid people and obstacles in the crowded space.
Using 3D imaging and an in-house software technology that can be applied to other hardware, the platform essentially operates as a self-driving car in a warehouse setting.
Share your vision-related news by contacting Dennis Scimeca,Associate Editor, Vision Systems Design

To receive news like this in your inbox, click here.