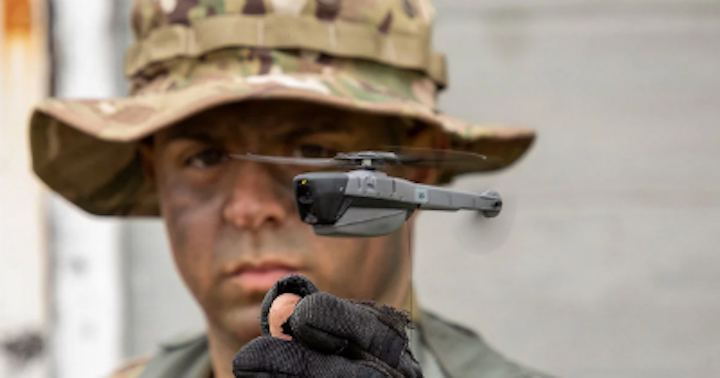 FLIR Systems has delivered the first batch of Black Hornet Personal Reconnaissance Systems for duty in the U.S. Army. These tiny helicopters, referred to by FLIR as nano-unmanned aerial vehicles (UAVs) were developed as part of the Soldier Borne Sensor (SBS) Program and will be used by platoons and small units for surveillance and reconnaissance.
The units being delivered now were originally ordered in June 2018 when the U.S. Army awarded the first SBS phase contract to FLIR. Now, FLIR's Unmanned Systems & Integrated Solutions business division has been awarded a $39.6 million order for more Black Hornet units.
The Black Hornet can capture live video and take still images using electro-optical (EO) and thermal imaging (TI) sensors. EO video runs at 640 x 480, and snapshots are captured at 1600 x 1200. TI video and snapshots are 160 x 120. TI imaging is accomplished via the FLIR Lepton thermal microcamera core, that is sensitive in the LWIR range from 8 to 14 µm.
FLIR's nano-UAV weighs 32 g, is 168 mm long, can fly at speeds of more than 21 km/h at a range of 2 km, and has a flight time of up to 25 minutes. According to FLIR, the unit can operate in temperatures between -10° C and +43° C, withstand winds of 15 knots and gusts of 20 knots, operate in light rain up to 2.5 mm an hour, and can be deployed in GPS and GPS Denied environments. The nano-UAV is also capable of navigating indoors and can be integrated into the Android Tactical Assault Kit (ATAK), a networking platform used by the military to distribute information.
According to FLIR, the Black Hornet is designed for "squad-level immediate covert situational awareness." The nano-UAV is meant to accomplish goals such as minimizing collateral damage by providing precise reconnaissance data to soldiers in the field. The unit has "extraordinarily low visual and audio signatures," according to FLIR, as well as a small profile, which is meant to allow soldiers to deploy and use the Black Hornet covertly.
The ability to check corners and scan the immediate environment for threats should allow soldiers equipped with the Black Hornet to maneuver more quickly and locate optimal positions for their units. In addition to the U.S. Army, Black Hornet units have been deployed by the Royal Australian Army and French Armed Forces.
Share your vision-related news by contacting Dennis Scimeca,Associate Editor, Vision Systems Design

To receive news like this in your inbox, click here.
Join our LinkedIn group | Like us on Facebook | Follow us on Twitter