In today's roundup from the Association for Unmanned Vehicle Systems International (AUVSI) which highlights some of the latest news and headlines in unmanned vehicles and robotics, the Office of Naval Research (ONR)'s Sea Hunter unmanned surface vehicle (USV) successfully navigates from San Diego to Pearl Harbor, a county in Florida uses an unmanned aerial system (UAS) to keep up with its rapid pace of growth, and iRobot unveils a robotic lawnmower.
SeaHunter USV successfully autonomous navigates from San Diego to Pearl Harbor
Leidos has announced that the Office of Naval Research (ONR)'s Sea Hunter USV is the first ship to successfully autonomously navigate from San Diego to Pearl Harbor, Hawaii, and back without a single crew member onboard, except for short period boardings by personnel from an escort vessel to check electrical and propulsion systems.
The journey from San Diego to Pearl Harbor and back is part of an extended test phase that has been ongoing since late 2016. Throughout 2019, Sea Hunter will continue long duration and mission package testing.
"The Sea Hunter program is leading the world in unmanned, fully autonomous naval ship design and production," says Gerry Fasano, Leidos Defense Group President.
"The recent long-range mission is the first of its kind and demonstrates to the U.S. Navy that autonomy technology is ready to move from the developmental and experimental stages to advanced mission testing."
Designed by Leidos, Sea Hunter is the first autonomous, unmanned vessel capable of traveling for long periods of time and executing various missions at a fraction of the cost for a manned ship, according to Leidos.
Leidos will design Sea Hunter II, after being awarded a potential $43.5 million contract from ONR. Currently under construction in Mississippi, Sea Hunter II will be evolved based upon lessons learned while the first Sea Hunter was being built, evolving mission requirements, and further development of autonomy enhancements.
"Our talented team of engineers, scientists and analytical experts have decades of experience that will allow us to deliver a second highly autonomous vessel designed to keep our servicemen and women safe while monitoring the maritime environment," Fasano says.
"We're excited to showcase our unique and innovative capabilities for a program of great national significance."
Florida's St. Johns County uses UAS to keep up with rapid growth
Florida's St. Johns County is using UAS to more efficiently keep up with the pace of growth in one of the nation's fastest developing areas.
The appraiser's office is using UAS for a number of tasks, including ensuring compliance of existing homes, keeping tabs on permitted lots that may come online soon and more easily adding those new properties to the tax rolls.
According to St. Johns County Property Appraiser Eddie Creamer, the department purchased a DJI Mavic Pro two years ago to help meet the department's growing demands. Now, the department also has an eBee drone, which is used to scan larger areas, such as agricultural parcels.
The appraiser's office has a staff of four that it calls its "Drone Squad." The group schedules flights for about two or three times a week.
Another staffer works to upload the aerial captures into a software program that overlays new images over old ones, "based on geo-references and stitches them together," according to Jason Fuller, geographical information systems analyst.
With this software, the county can properly measure the perimeter of a property and see what additions have been made that could change the value, such as a pool or deck. All this can be done from a computer, and a lot of the times, field assessors follow up with a physical inspection.
The appraiser's office also uses UAS photography to make sure ongoing construction matches plans originally submitted to the county.
Additionally, UAS help save costs in manpower and labor, by allowing the appraiser's office to survey large areas of land.
"Previously, we used to get aerial photography once every two years," Creamer says via Government Technology magazine.
"Our county is growing so fast that 24 months is too long a time, and this really allows us to leverage our reach. ... Instead of sending 10 appraisers out, they can see all this at their desktop."
According to Creamer, St. Johns is one of just two property assessment offices in Florida that uses UAS, with the other being Santa Rosa.
iRobot unveils Terra robot mower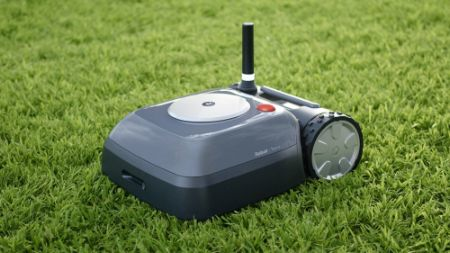 With a mind towards reinventing how people care for their lawn, iRobot Corp. has unveiled its new Terra robot mower, which features state-of-the-art mapping and navigation technologies, high-performance, high-quality mowing, and easy installation.
Using iRobot's Imprint Smart Mapping technology, Terra learns its environment, and can mow a lawn like a human does, as it navigates a yard and cuts efficiently in straight, back-and-forth lines.
Terra remembers its location in the yard, and where it still needs to cover. If its battery runs low, it will return to its base to recharge, and then pick up where it left off until the yard is complete.
"The robot mower segment is well established in EMEA and has tremendous room for growth in other markets, including North America," says Colin Angle, chairman and CEO of iRobot.
"With its ease of use and premium mowing features, Terra is poised to give consumers a whole new way to think about how they take care of their lawn."
iRobot notes that its Terra robot mower eliminates the need for costly and labor-intensive boundary wires that might be necessary with other existing robotic lawn mowers.
Thanks to the combination of the Imprint Smart Mapping technology and a newly developed wireless communications system, including standalone beacons, users can simply place the wireless beacons around their yard, drive the robot once around the perimeter, and schedule Terra to mow.
Users have complete control over where Terra goes and where it doesn't go, which helps it stay on the lawn and out of the flowers.
Thanks to Terra being connected, users can use the iRobot HOME App to customize their robot, which includes adjusting the height of the grass to controlling precisely when the lawn is cut, day or night. The robot can also operate in inclement weather and navigate tough outdoor terrain, thanks to its rugged features.