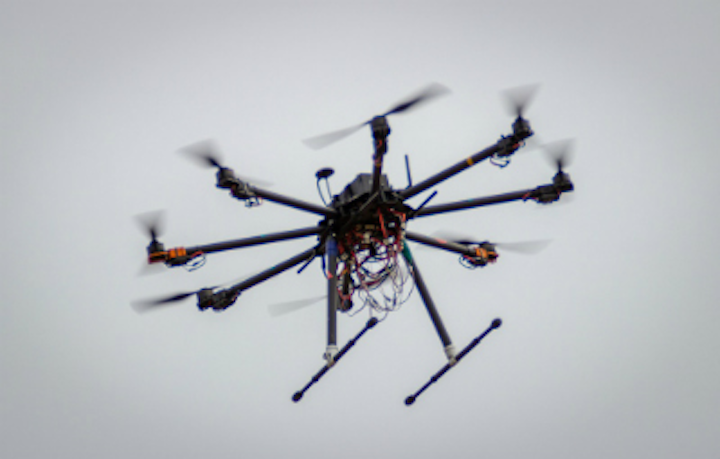 In this week's roundup from the Association for Unmanned Vehicle Systems International (AUVSI) which highlights some of the latest news and headlines in unmanned vehicles and robotics, a quadcopter helps end a 12-hour hostage situation, DJI provides improved reliability, safety, and security to drone operators, and three engineering students construct a proof-of-concept firefighting drone.
Impossible Aerospace's UAS helps SWAT team defuse armed standoff
Impossible Aerospace's US-1 quadcopter recently helped a SWAT team in Campbell, California defuse an armed standoff. After going to a Denny's restaurant in Campbell, a man pulled a gun on a Denny's employee, launching a nearly 12-hour armed standoff in the process.
The thermal sensors and standard cameras on Impossible Aerospace's drone helped monitor the perimeter of the building where the armed suspect was located.
According to Impossible Aerospace, the SWAT team used tear gas canisters to flush the suspect out, but the drone's live video feed let law enforcement see that the gas was leaking out of a kitchen vent instead of getting him to leave. The SWAT team added more tear gas, which, according to a report from the San Jose Mercury News via the Verge, apparently got the suspect to finally leave the building after nearly 12 hours, and peacefully surrender to police.
"At this recent event involving a barricaded subject with a gun, Impossible Aerospace provided a piece of intelligence that our agency previously has never had access to," reads part of a statement from Campbell police captain Gary Berg, via the Verge.
"The use of the US-1 drone helped us optimize the safety of our officers and the community while providing valuable information to the command post through the live video feed."
DJI unveils new hardware and software tools for professional UAS operators
In an effort to give professional UAS operators improved control, safety, and security for high-stakes missions, DJI unveiled new hardware and software tools on Thursday, Feb. 21.
DJI says that its new Matrice 200 Series V2 UAS are redesigned with better reliability, safety, and security features, while the FlightHub UAS operations management platform gives organizations more implementation control and data security assurances.
Together, these improvements allow commercial organizations to scale and manage their UAS programs while laying the technical foundations for beyond visual line of sight (BVLOS) and nighttime operations.
"As leading organizations have increased their drone fleets into the hundreds and thousands, they have asked for better ways to centrally manage drone operations and are using drones for applications that demand safer and more reliable drone technology," explains Jan Gasparic, director of Strategic Partnerships at DJI.
"Our updated Matrice 200 Series drones are now better equipped for complex life-saving missions, flights over sensitive locations, and flights at night, while enhancements to DJI FlightHub give organizations more control over their drone fleets and the data they generate."
A second-generation model, the Matrice 200 Series V2 retains its rugged all-weather design, simple setup and easy configuration, while upgrading important systems to provide safer, more reliable, and more secure operation.
Designed to be used for a variety of missions including, but not limited to, construction and infrastructure inspection, public safety and search and rescue, the Matrice 200 Series V2 features a variety of improvements, including reliable transmission, data security, and flight performance.
Combined, these improvements lay the "technical foundations for more advanced drone operations," DJI says, starting with the inclusion of night flight-enabling anti-collision beacons to DJI's newest enterprise UAS, including the Mavic 2 Enterprise and the Matrice 200 Series V2.
The combination of the anti-collision beacon and improved transmission range with its pre-existing DJI AirSense ADS-B receiver system for traditional aircraft detection and FlightAutonomy obstacle sensing system makes the Matrice 200 Series V2 ready to support BVLOS operations.
"These innovations will open countless opportunities for organizations and the general public to benefit from the life-saving uses of drone technology, and DJI is proud to help pave the way for regulators to create clear pathways for operators to receive approval to conduct advanced drone operations," says Brendan Schulman, Vice President of Policy & Legal Affairs at DJI.
According to DJI, organizations can efficiently manage all aspects of their commercial UAS operations from a single platform with the DJI FlightHub software. As a web-based service, FlightHub Basic and Advanced have provided the capability to oversee live operations, manage flight data, manage fleets and pilots, and effectively plan operations.
The new FlightHub Enterprise has other features that give commercial operators more control over their implementations and data security, including private cloud hosting, firmware management, and mission planning.
Together, these updates make FlightHub Enterprise valuable to a variety of commercial and industrial customers using UAS technology for increasingly sensitive missions.
"Drones are an important tool for our customers because they deliver information that transforms how they make decisions, help keep people safe, and ensure business assets are at peak performance," says Brandon Torres Declet, CEO and co-Founder of Measure, which specializes in aerial intelligence technologies.
"Our customers want the process of adopting drone technology to be simple, safe, and secure. By integrating FlightHub Enterprise into Measure's services and our all-in-one drone software platform Ground ControlTM, our customers now will have unprecedented control and insight at their fingertips."
FlightHub Enterprise and the Matrice 200 Series V2 UAS are now available across the world.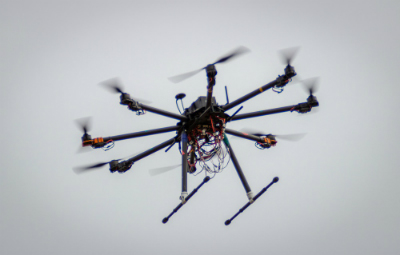 University of Connecticut engineering students work to build firefighting UAS
With help from mentors from Sikorsky, three University of Connecticut (UConn) engineering seniors are working to build and program an autonomous firefighting UAS to battle fires without a pilot's guidance.
Once the UAS is complete, it will be equipped with a thermal imaging camera to identify a fire, object avoidance technology to steer clear of any obstacles, and a softball-sized fire-extinguishing ball that will be dropped over the flames.
The students will develop coding language that will tie the drone's technology together, and it will operate based on inputted coordinates.
"In the world today there's a high prevalence of forest fires, like in California, but the problem is of how to safely put out these fires," explains Joshua Steil, an electrical engineering major working on the project.
"So our project, in essence, is to see if we can start putting out fires without a human driver."
The UAS that the UConn-Sikorsky team is developing can only put out a campfire-size fire, but the goal of the project is to prove that this technology is possible, to pave the way for bigger technology to be engineered in the future, according to computer engineering major Ryan Heilemann.
"The idea is that in the future, on a larger scale, there can be a fleet of unmanned helicopters that can go out and put out forest fires, thereby lowering loss of life," Steil says.
Over the years, teams have worked on similar projects with Sikorsky, and these experiences have offered insight into what has worked and what hasn't.
The team looked back on previous projects' reports, including last year's team, which was the first to integrate firefighting capabilities into the UAS. The previous team that worked on this project used small thermal sensors called thermopile array sensors, but Heilemann points out that these sensors required the previous UAS to be only about six feet from the flames, which was too close for real-world applications.
With this in mind, the UConn team decided to use an infrared camera, which allows for more distance from the flames.
Share your vision-related news by contacting Dennis Scimeca,Associate Editor, Vision Systems Design

To receive news like this in your inbox, click here.