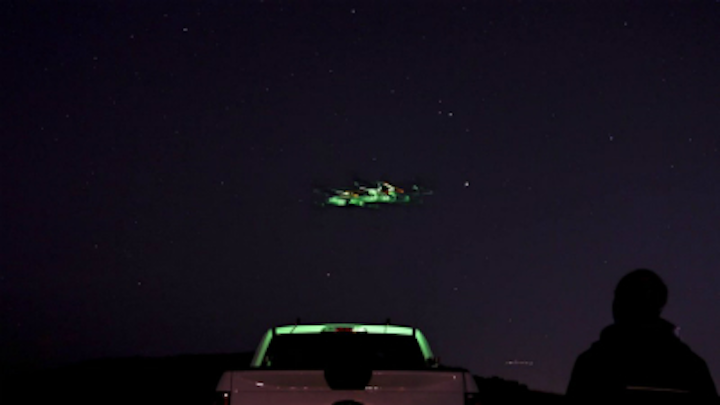 In this week's/today's roundup from the Association for Unmanned Vehicle Systems International (AUVSI) which highlights some of the latest news and headlines in unmanned vehicles and robotics, a UAS takes off and lands from a moving vehicle, England lays plans to establish a UAS testing corridor, and Logos Technologies scores a win in the UAS sector.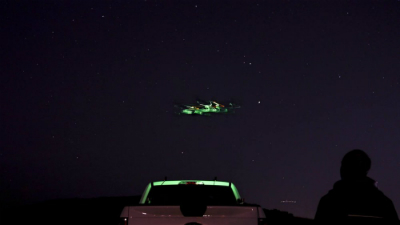 Planck Aero's Shearwater small UAS autonomously takes off and lands onto moving ground vehicle
Marine Corps Air Station (MCAS) Miramar, Air Traffic Control (ATC) recently gave Planck Aerosystems (Planck Aero) permission to test its Shearwater small UAS in controlled airspace and at night.
During testing, the Shearwater small UAS routinely conducted successful autonomous takeoffs and precision landings onto a moving, off-road ground vehicle with centimeter-level accuracy in complete darkness. The UAS performed these tasks without GPS or a pilot in the loop.
According to Planck Aero, the ability to perform nighttime operations from moving vehicles represents a "major step" forward in demonstrating the maturity of the company's vision-based navigation technology.
"This type of testing is critically important to prove that small UAS can safely be operated in close proximity to a high volume of military air traffic, which will continue to be the case as small UAS become proliferated more widely with operating forces," explains Josh Wells, CEO and co-founder of Planck Aerosystems and former US Navy Pilot.
"Through close coordination with Air Traffic Control leads from the Marine Corps, we were able to demonstrate that our technology could perform safe, autonomous missions, from moving vehicles, in national airspace - not only during the day but also at night."
Planck Aero notes that this is the first time that a commercial UAS company has received authorization to operate at MCAS Miramar's Autonomous Vehicle Proving Ground (AVPG).
Cranfield University and Blue Bear conduct first UAS test flights to establish principles for NBEC project
Cranfield, England's Cranfield University has announced that the first test flights to establish the principles for the National Beyond visual line of sight Experimentation Corridor (NBEC) were successfully conducted at Cranfield Airport.
A collaboration between Cranfield University and Blue Bear Systems Research Ltd, NBEC seeks to create an experimentation corridor that will enable UAS to fly in the same airspace as manned aircraft.
Using its Blackstart UAS towards its facility in Oakley, Bedfordshire, Blue Bear executed three-kilometer Extended Visual Line of Sight (EVLOS) race track flights within the Cranfield Air Traffic Zone.
Current regulations require UAS to operate within visual line of sight of the operator at all times. Under EVLOS conditions, observers maintain the line of sight while providing situational awareness to the operator.
Cranfield University notes that the Cranfield Air Traffic Zone was cleared of manned aircraft during this first phase of testing, to allow the project team to establish the principles for future integrated NBEC operations.
"When fully operational, the NBEC will be operated with Blue Bear and Cranfield running their respective systems, and will create an environment that allows other companies to come and test their UTM (Unified Traffic Management) concepts in a safe, managed environment," explains Ian Williams-Wynn, managing director of Blue Bear.
"These initial flights enabled us to provide Cranfield Airport with reassurance from an operational safety perspective that the systems Blue Bear had developed and put in place are appropriate and compatible with Cranfield Airport operations."
The NBEC partners believe that unification that ensures fair and equitable use of airspace for all is the key to future UAS operations, as opposed to segregation. With that in mind, NBEC will provide a safe, managed environment for UAS experimentation, which will help with their integration into controlled and uncontrolled airspace.
The goal is for the corridor to eventually stretch across Bedfordshire from Blue Bear's headquarters in Oakley to Cranfield University's airport.
Logos Technologies becomes preferred provider of WAMI sensors for Insitu's UAS
Logos Technologies will become the preferred provider of wide-area motion imagery (WAMI) sensors for Insitu's line of UAS, thanks to a recently finalized memorandum of understanding (MOU) between the two companies.
Developed for the payload bay of the Insitu Integrator tactical UAS, Logos Technologies' RedKite-I WAMI sensor is an official Insitu product offering for U.S. and international customers.
"By adding the RedKite-I WAMI system as a payload on their platform, Insitu now gives their users the unprecedented capability to detect and track multiple targets across a city-sized area," says John Marion, president of Logos Technologies.
"Not only does this support real-time operations, it also helps analysts uncover hidden relationships between people, places, and events within the scene."
The RedKite-I WAMI sensor for the Insitu Integrator has a number of capabilities, including its ability to operate a 50-plus megapixel electro-optical camera; its ability to stream real-time imagery to mobile devices on the ground; and its ability to record up to eight hours of imagery onboard for real-time forensic analysis.
Thanks to the new MOU, Logos will be able to leverage its previous work with RedKite-I and other WAMI systems to develop even more sensor payloads for the Integrator as a priority.
"We are always working to deliver powerful and versatile systems in ever smaller, more compact packages," Marion says. "Right now, we are finalizing development of an infrared WAMI system similar in size to the RedKite-I, for night operations."
​These new systems will be available for international markets and customers.
Share your vision-related news by contacting Dennis Scimeca,Associate Editor, Vision Systems Design

To receive news like this in your inbox, click here.