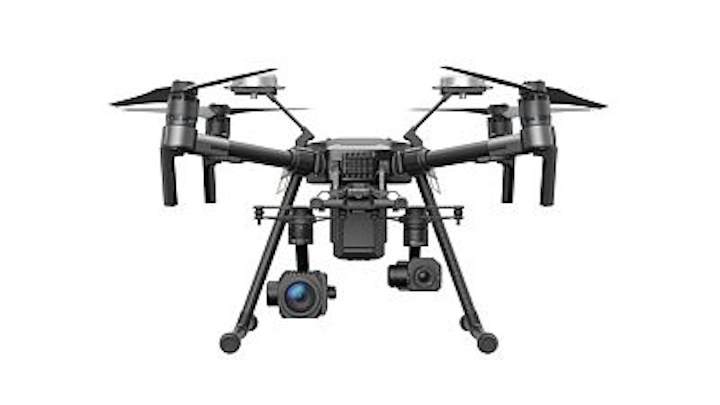 DJI's first drone series built specifically for professional applications—the Matrice 200 series—will be on display at XPONENTIAL 2017. The M200 drones is the first-ever dual mount to fly two cameras at the same time, according to the company, and is also DJI's first upward-facing mount for inspections under bridges and other infrastructure. In addition to the upward gimbal and dual gimbal payloads, the M200 series offers four other payloads: The Zenmuse XT camera (an infrared camera developed by FLIR available in either 640 x 512 or 336 x 246 uncooled microbolometer arrays), the Xenmuse X4S (featuring a 20 MPixel CMOS image sensor), the Zenmuse X5S (featuring a 20.8 MPixel CMOS image sensor), and the Zenmuse Z30 zoom camera (featuring a 2.13 MPixel CMOS image sensor).
M200 series drones feature a folding body for easy carry and setup, a weather and water-resistant body, and safety features including obstacle avoidance sensors facing forward, up and down, as well as an ADS-B receiver for advisory traffic information from nearby manned aircraft. These drones can fly for up to 35 minutes with a mounted camera.
XPONENTIAL 2017 booth number:721
To Learn More:
Contact:DJI
Headquarters: Shenzhen, China
Product: Matrice 200 series drones
Key Features:Six camera payload options, including an upward facing mount, dual camera payload, infrared camera, and visible imaging cameras with 2.13, 20, and 20.8 MPixel CMOS sensors.

What DJI says:
View more information on the M200 series.

View More Products| Locate a vendor or system integrator | Receive e-mail updates
Share new products that you think are particularly interesting or helpful by contactingJames Carroll, Senior Web Editor, Vision Systems Design.
Join ourLinkedIn group | Like us on Facebook | Follow us on Twitter
Learn more: search the Vision Systems Design Buyer's Guide for companies, new products, press releases, and videos