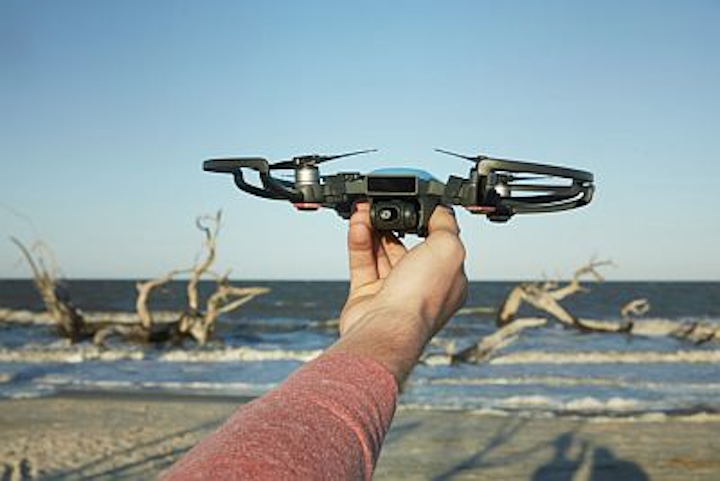 DJI's latest drone, the Spark mini—which weighs less than a can of soda—features the Intel Movidius Myriad 2 vision processing unit, which is used for accelerating machine vision tasks such as object detection, 3D mapping and contextual awareness through deep learning algorithms.
The Myriad 2 VPU, which the company calls the industry's first "always-on vision processor," features an architecture comprised of a complete set of interfaces, a set of enhanced imaging/vision accelerators, a group of 12 specialized vector VLIW processors called SHAVEs, and an intelligent memory fabric that pulls together the processing resources to enable power-efficient processing.
"To reach the impressive level of miniaturization seen in Spark, DJI looked to Intel Movidius chips for an innovative solution that reduces the size and weight of the drone," said Remi El-Ouazzane, vice president of New Technology Group and general manager of Movidius Group at Intel Corporation. "Our advanced Myriad 2 VPU combines processing of both traditional geometric vision algorithms and deep learning algorithms, meaning Spark not only has spatial awareness but contextual awareness as well."
DJI's Spark features a 1/2.3" CMOS image sensor that captures 12 MPixel images and shoots stabilized HD 1080p videos. It uses the VPU for onboard computer vision processing and deep learning algorithms at high speed, which enables sense-and-avoid, optical tracking, and gesture recognition capabilities.
In fact, the VPU has enabled several advanced features on the drone, which are as follows:
Face aware: When placed on the palm of the hand, Spark recognizes the user's face and knows when to take off, making the process of launching the drone seamless.
Gesture mode: Wave your hands to catch Spark's attention, move it with arm gestures, and let it know you're ready for the perfect shot by making a frame with your fingers.
Safe landing: Vision sensors placed on the underside detect and identify what is below to assist with a safe landing.
"Controlling a camera drone with hand movements alone is a major step towards making aerial technology an intuitive part of everyone's daily life, from work and adventure to moments with friends and family," said Paul Pan, Senior Product Manager at DJI. "Spark's revolutionary new interface lets you effortlessly extend your point of view to the air, making it easier than ever to capture and share the world from new perspectives."
Spark flies at speeds of up to 31 mph for up to 16 minutes at a time and features quick-swap batteries and can also be charged via a mini-USB port. Its onboard processing includes obstacle avoidance and DJI's geofencing system that keeps users from flying where they shouldn't. The Spark weighs just over the cutoff requiring registration of the vehicle with the Federal Aviation Administration, although a federal court has just ruled that registration doesn't apply to hobbyist drones.
View the DJI press release.
Share your vision-related news by contacting James Carroll, Senior Web Editor, Vision Systems Design

To receive news like this in your inbox, click here.
Join our LinkedIn group | Like us on Facebook | Follow us on Twitter
Learn more: search the Vision Systems Design Buyer's Guide for companies, new products, press releases, and videos