In this week's roundup from the Association for Unmanned Vehicle Systems International (AUVSI), which highlights some of the latest news and headlines in unmanned vehicles and robotics, learn about a UAS developed for precision farming, a Sheriff's office in North Carolina deploying a drone, and a college receiving accreditation for its UAS program.
American Robotics unveils UAS platform for precision farming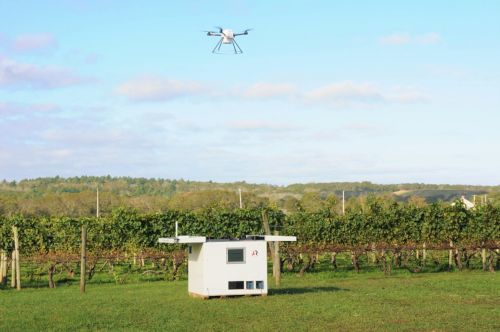 An industrial UAS developer called American Robotics has unveiled its flagship product, Scout, which is a self-charging, self-managing UAS platform capable of autonomously conducting daily scouting missions in the field of precision farming.
Specializing in agricultural automation, American Robotics says that traditional scouting techniques are "inadequate at detecting plant stress early enough to offset the billions of dollars of lost yields." A lot of the times, these methods, which can include first-generation and consumer UAS, are time-consuming, complicated, and not financially prudent.
American Robotics says that "automation must be delivered in a reliable industrial solution" in order to improve agricultural decision-making, optimize inputs, and maximize yields, and Scout provides this automation. Once Scout is installed within a farmer's field, manual intervention to plan, fly and manage the UAS operations is not needed, and, farmers also receive health reports and analysis.
"The technology behind Scout was developed after working with farmers and ag professionals to understand the unique logistical and economic challenges they face. As a result, Scout is the first practical, industrial drone system that truly addresses the needs of this industry," says Reese Mozer, Co-Founder and CEO of American Robotics.
"Full-automation is a key ingredient in the future of precision farming, and we're eager and excited to finally deliver this capability to our customers."
Gary V. McMurray, Associate Director, Collaborative Robotics, Georgia Tech Research Institute, says, "the rapid expansion of drones in farming has been impressive, but I've also been concerned with their inability to address the amount of time and cost required by the grower to use these tools."
McMurray continues, "American Robotics' Scout is the only practical solution that addresses this issue. Farmers need a tool that works for them, not another piece of technology that consumes their day. I believe fully-automated drone operation is a revolutionary approach that solves many of the real-world problems facing growers today, and I am confident Scout will scale to meet the needs of growers around the world."
Moore County Sheriff's Office in North Carolina adds UAS to its fleet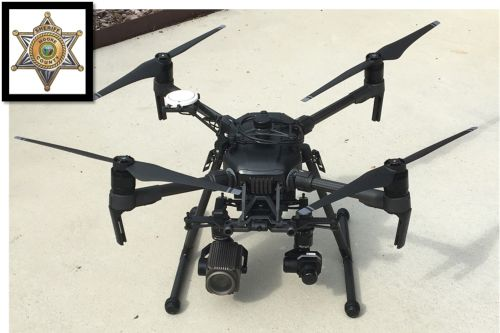 According to ThePilot.com, the Moore County Sheriff's Office in Moore County, North Carolina has added a DJI Matrice 210 UAS to its "Air Force."
The "first-ever" dual-camera UAS for simultaneous thermal and standard color imagery, the DJI Matrice 210 has a weather resistant design, an upward-facing gimbal mount, dual battery bays, thermal imaging and an extensive zoom. It also has two controllers; one for the pilot and one for the observer to control the cameras.
With an operational range of 4.4 miles, and an ability to fly for up to 35 minutes, the UAS is ideal for law enforcement agencies. According to Moore County Sheriff Neil Godfrey, the UAS will be a "mission-specific tool," but there is no shortage of potential missions that the UAS could be used for.
"The primary use remains search and rescue operations but may be employed in other capacities such as searching for a suspect, crime scene photography and documenting natural or man-made disasters," Godfrey explains.
"We are a customer-service-oriented organization and this UAV is another tool to help us to better accomplish our mission."
Just a few weeks ago, North Carolina enacted revised UAS laws, which loosen the restrictions on the use of UAS in emergency management. The law allows emergency management agencies to use UAS for all activities related to emergency management.
The law also removes the restriction on the use of special imaging technology. Previously, using technologies such as thermal and infrared was only permitted for scientific purposes, but the removal of the restriction now allows law enforcement to use the technology for emergency management missions such as search and rescue operations.
Big Bend Community College's UAS program receives accreditation
According to the Columbia Basin Herald, students in Big Bend Community College's (BBCC) UAS program will be able to receive an Associate of Applied Science degree in the program starting in January, after the program received accreditation by the Northwest Commission on Colleges and Universities.
BBCC also received accreditation for a "certificate of achievement" in its mechatronics program.
As a result of the accreditation, students taking classes under the programs will qualify to receive financial aid for them, says program director Pat Ford. Ford says that training in both UAS and mechatronics will open up opportunities in a field that continues to grow every day.
Located in Moses Lake, Washington, BBCC has been offering UAS classes since fall 2016. The UAS program includes both fixed-wing and rotorcraft UAS, and teaches flight operations, system programming and troubleshooting.
In order to receive a UAS management degree, participation in the mechatronics program is required. Instructor Gary Baker says that the technology has allowed students to afford the tools they need to learn mechatronics.
"We're teaching about microprocessors and microcontrollers as it relates to robotics," Baker says. Microprocessors and microcontrollers are both extremely important when flying UAS.
Thanks to the accessibility of the technology, students have access to advanced systems at a reasonable price, Baker says. The program is beneficial because it allows students to learn plenty of lessons, including how to build their own 3D printers.
"They're not left with a book and some memories, they're left with some hardware," adds Baker.
After getting the theory, students build their own systems, so when they graduate they're not dependent on the school, as they have the equipment necessary to get started.
People from all walks of life have found the UAS program beneficial so far. A real estate agent who is a friend of program assistant Laura Goodell took the course and now handles all of the aerial photography for her office.
Other participants in the program include a retiree, Running Start students, people working toward engineering degrees and people retraining for new careers.
"I recognized that this is an emerging technology," says Jim Leland, one of the people retraining for a new career. After being laid off from his previous job, Leland had to find a new career opportunity.
"In talking about what I wanted to do, this just jumped out," Leland says.
"What an opportunity," comments the retiree in the program, Kate Carey. Carey was laid off at the age of 65, but she wasn't ready to retire at that point in time. A friend urged her to move to Ephrata, Washington, where she began looking for new opportunities, which ultimately led her to the BBCC program.
View more information on the AUVSI.
Share your vision-related news by contacting James Carroll, Senior Web Editor, Vision Systems Design

To receive news like this in your inbox, click here.
Join our LinkedIn group | Like us on Facebook | Follow us on Twitter