In this week's roundup from the Association for Unmanned Vehicle Systems International (AUVSI), which highlights some of the latest news and headlines in unmanned vehicles and robotics, learn about an unmanned aerial system (UAS) involved in gas pipeline monitoring in Mexico, students in Malawi building and testing UAS under guidance from Virginia Tech engineers, and a location chosen by the United States Air Force for hosting a new MQ-9 Reaper Wing with 24 remotely-piloted aircraft.
SkyX uses UAS to monitor gas pipeline in Mexico
SkyX Systems Corporation, which is a Canadian UAS operator, successfully used UAS to monitor a gas pipelinein Mexico and collect data on it.
Described as one of the longest journeys in its class, the 100-kilometer UAS flight was programmed and monitored remotely from SkyX's Greater Toronto Area SkyCenter mission control, while a support crew of engineers was on the ground in Mexico.
During the longest of multiple flights that it conducted, SkyX used high-resolution imagery to identify more than 200 "potentially significant anomalies" along the remote pipeline, ranging from unauthorized buildings and cultivation to a fissure possibly caused by seismic activity.
Geo-referenced anomalies that were unknown to the customer before the UAS flights were pinpointed with precise coordinates so that they could be investigated and fixed.
According to SkyX, it would have taken a person more than a week to collect the same data that the UAS collected in a little more than an hour during its 100-plus kilometer flight.
"More than $38 billion is spent annually monitoring oil and gas pipelines using less efficient means, which often identify problems only long after they've occurred," says Didi Horn, SkyX founder and chief executive officer, via JWN Energy.
"SkyX brings an unprecedented value proposition to this global issue."
Besides the UAS and the SkyCenter control room, the SkyX system also includes the company's proprietary SkyBoxes, which allows the UAS to recharge and continue long-range missions without having to "return to home."
Malawian students successfully build and test UAS under guidance from Virginia Tech engineers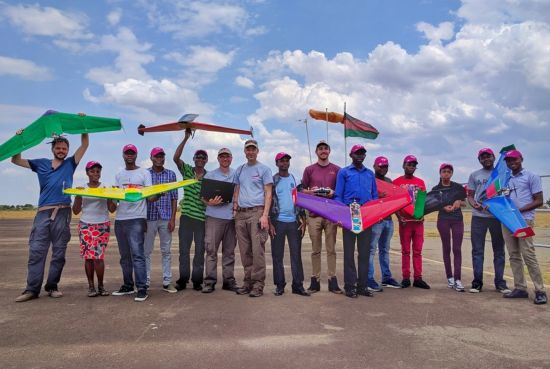 In November, Virginia Tech and Malawian teams used a fully autonomous UAS to conduct tests at the UNICEF drone testing corridor in Kasungu, Malawi, which opened back in July.
Virginia Tech says that "the flights by a fully autonomous aircraft designed in mechanical engineering's Unmanned Systems Lab set several records in Malawi," including the longest cross-country UAS flight, the first flight of an aircraft created by Malawians, and the first delivery of a payload from a health clinic.
On Nov. 9, the UAS, named EcoSoar, achieved a first-flight milestone when it flew 19 kilometers from the Gogode Health Clinic to the Kasungu Airport. The UAS, which is built to carry small packages for medical supplies and diagnostics, carried a simulated package of medical supplies during the flight.
EcoSoar was built by a team of Malawian students from the Malawi University of Science and Technology (MUST). Virginia Tech graduate students Zack Standridge and James Donnelly, along with associate professor in mechanical engineering, Kevin Kochersberger, supervised the Malawian students while they built the aircraft.
As a part of a two-day fabrication workshop, 13 students from across the country built five EcoSoar UAS. After a day of flight testing, an EcoSoar UAS was launched to conduct its beyond-line-of-sight (BLOS) delivery flight, in front of hundreds of villagers.
The UAS was launched by Donnelly from the Gogode Health Clinic, while Standridge stood by to recover the UAS at the Kasungu Airport. After the flight, Standridge expressed pleasure with how the flight went.
"It is extremely rewarding to see my design successfully recreated, and seeing the local students' excitement in their work only adds to my own enthusiasm for the project," Standridge says.
Made with material such as foamcore poster board and 3-D printed parts, the UAS costs $350. It has a payload capacity of 130 grams (4.5 ounces), and can be fitted with an eight-megapixel camera, which it can use to collect images of the ground environment. Those images can then be reconstructed for environmental monitoring.
Kochersberger, who plans to return to Malawi in 2018 with a production-ready version of the EcoSoar UAS that will be adopted by the attendees of the workshop, is optimistic about the future of this technology in Malawi.
"EcoSoar was designed with low-resource environments in mind," Kochersberger says. "I envision entrepreneurs in Malawi establishing businesses around the use of this aircraft – building, operating, and maintaining EcoSoar for both medical deliveries and environmental assessment activities."
Michael Scheibenreif, drone corridor lead with UNICEF, offered similar sentiments towards the technology, saying, "this could have the potential to deliver medicine to remote and hard to access communities and is a great example of how important it is to build local capacity in the drone sector. If we can build an ecosystem of drone experts locally, we can ensure these solutions are sustainable and embedded within the communities they service."
The corridor will remain open for one to two years, and during that time, it will be used to explore UAS applications in emergency medical supply delivery, vaccine and sample delivery for diagnosis, and remote sensing for environmental assessment.
Air Force selects Tyndall AFB as preferred location for hosting new MQ-9 Reaper Wing
The United States Air Force has chosen Tyndall Air Force Base, Florida (Tyndall AFB)as the preferred location for hosting a new MQ-9 Reaper Wing with 24 remotely piloted aircraft (RPA).
The wing will feature an operations group with mission control elements, a launch and recovery capability, and a maintenance group.
"We selected Tyndall Air Force Base because it was the best location to meet the unique requirements of the MQ-9 Reaper," says Secretary of the Air Force Heather Wilson.
Those requirements, according to Wilson, include fewer aircraft competing for air space, nearby training ranges, lower up-front costs and great weather.
The selection of Tyndall AFB will also meet the goals of Air Combat Command's Culture and Process Improvement Plan, which recognized the need for additional basing locations to help diversify assignment opportunities for personnel within the MQ-9 enterprise, provide more opportunities for leadership from within the community, and provide flexibility to "enhance integration with other warfighter organizations and capabilities."
"Remotely Piloted Aircraft and the intelligence capabilities supporting them remain vital to our national security and the security of our allies," says Air Force Chief of Staff Gen. David L. Goldfein.
"Equally important is the increasing use of RPAs in defense of the homeland and response to humanitarian disaster as we have seen recently with hurricanes and wildfires. Co-locating this wing with [U.S. Northern Command's] Air Operations Center and 1st Air Force will bring increased capability to support Gen. Lori Robinson in addition to increasing lethality and giving our other combatant commanders the best trained operators possible."
Previously, the Air Force announced Shaw AFB, South Carolina as the preferred alternative for an operations group with mission control elements. No aircraft will be assigned to the operations group.
Tyndall AFB is still the preferred alternative for this basing action, and the final basing decision will be made by the Secretary of the Air Force, but only after the completion of the environmental analysis.
Based on current projections, Airmen are expected to begin arriving at the new location as early as 2020, with the first aircraft expected to arrive in 2022.
View more information on the AUVSI.
Share your vision-related news by contacting James Carroll, Senior Web Editor, Vision Systems Design

To receive news like this in your inbox, click here.
Join our LinkedIn group | Like us on Facebook | Follow us on Twitter