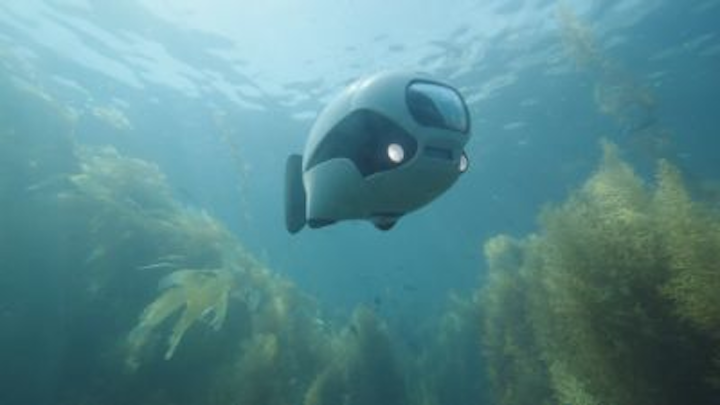 Having set an initial funding goal of $20,000 on Kickstarter, Chinese company Robosea has far surpassed its target, having raised more than $220,000 for its vision-guided robotic fish called "BIKI." As a result, the robot is now available for purchase to the public.
BIKI is touted by the company as the world's first bionic unmanned underwater drone, which is easily controlled with a physical controller or through an app on a smartphone. BIKI weighs 2.4 lbs. and measures 10.47 in. (length) x 4.17 in. (width) x 5.83 in. (height.) The robot uses a 3840 x 2160 image sensor to capture images at up to 30 fps, along with an inertial measurement unit and the proprietary Robosea algorithm to allow BIKI to keep its balance and capture pictures clearly. To illuminate scenes in the robot's field of view, two 114 lumen LED lights are employed.
Additionally, BIKI features a 150° wide-angle lens, 32 GB internal memory, a 32° to 158°F operating temperature range, and 90-120 minutes of video shooting capability. It is also equipped with an infrared positioning sensor, which enables the robot to avoid obstacles and adapt to its environment, according to the company.
"BIKI can maneuver just about anywhere, and with the use of our trademarked exclusive Robosea Algorithm and set in IMU (inertial measurement unit), it can keep its balance in the water – allowing BIKI self-stabilization to provide smooth videos and sharp photos through its camera platform," said Dr. Minglei Xiong, CEO of Robosea.
View more information on BIKI.
Share your vision-related news by contacting James Carroll, Senior Web Editor, Vision Systems Design

To receive news like this in your inbox, click here.
Join our LinkedIn group | Like us on Facebook | Follow us on Twitter