In this week's roundup from the Association for Unmanned Vehicle Systems International (AUVSI), which highlights some of the latest news and headlines in unmanned vehicles and robotics, learn about the "first-of-its-kind Part 107 waiver" granted by the FAA to CNN to allow them to fly a small UAS over people, as well as a delivery UAS and truck, and an autonomous wireless charging pad.
CNN granted Part 107 waiver to fly small UAS over people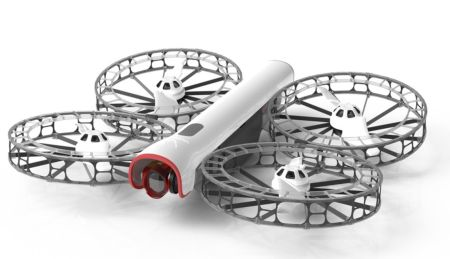 The FAA has granted CNN a "first-of-its-kind Part 107 waiver" that allows the media organization to fly a small UAS over people.
Considered an industry milestone, this waiver, for the first time, permits real-world UAS operations over people, giving CNN the ability to fly its 1.37-pound Snap UAS in a variety of environments, up to an altitude of 150 feet above ground level (AGL).
"We are delighted that the FAA has granted CNN a waiver that has a meaningful and practical application to our newsgathering operations," says Greg Agvent, Senior Director of National Newsgathering Technology and CNN AIR.
"We believe that this waiver is scalable and usable across industries, and therefore represents significant progress for the commercial UAS industry as a whole."
The Snap UAS is a product of San Leandro, California's Vantage Robotics. The company's CEO, Tobin Fisher, says that the UAS was created "for the purpose of safely capturing aerial video over people."
Fisher adds that the company is "pleased that Vantage was able to work with CNN to present and establish the safety case for the Snap to the FAA."
For more than two years, CNN and Vantage Robotics have conducted research and testing for this waiver application.
The waiver application was based on the "Reasonableness Approach." Under the "Reasonableness Approach," an applicant's ability to operate a UAS safely over people is determined based on "the totality of circumstances," which includes the operator's safe history of operations, the UAS' safety features, and test data demonstrating that the UAS is safe to operate over people.
Emily Avant, Senior Counsel for CNN, says, "the Reasonableness Approach, which CNN designed and proposed to help the FAA analyze the safety of UAS flights over people, is precedent-setting and of significant importance to the commercial UAS industry."
For the past few years, CNN has been at the forefront of trying to integrate UAS into the operations of media organizations. Back in 2015, the FAA selected CNN as one of the first three industry "Pathfinders" to develop safe uses of UAS in newsgathering, specifically in "urban populated areas."
Last year, the FAA granted CNN the first-ever waiver to fly a small UAS over people, and recently, CNN became the first organization to be granted a Part 107 waiver by the FAA to fly a small UAS over people for "closed-set motion picture and television film."
Workhorse hoping its delivery UAS and truck can be used by year's end
An Ohio-based company called Workhorse has created an electric delivery truck, and UAS—dubbed HorseFly—which can be used to deliver packages along the truck's route. The company performed a UAS demonstration in Las Vegas last month, showcasing its technology.
With a goal towards saving drivers time and fuel, the UAS, which would be docked on a truck, would take off, deliver the package at its designated location, and fly back to the truck continuing its route.
"If drivers cut out one mile of driving a day that would add up to $54 million in fuel savings for the year," says Workhorse spokesman Mike Dektas. "Obviously for rural deliveries, it could be more than a mile."
And that is the ideal place to use this technology—in rural areas "that have more distances between package drops-off"—according to Elliot Bokeno, a Workhorse engineer.
Bokeno adds that the delivery method for packages—either by UAS or by driver—is determined by software on the truck. After evaluating each package, the software designs the most efficient way to reach each destination on the route.
The delivery method is largely determined by the capabilities of the UAS.
"It divides those packages between packages that the drone can do … and packages the drone can't do because they're too big, too heavy or too awkward," Bokeno explains.
Earlier this year, Workhorse and UPS conducted a residential package delivery using an autonomous UAS. This wasn't the first time that the companies have worked together, as UPS uses WorkHorse's battery-electric delivery trucks in different areas, which led to the companies collaborating for the UAS project.
WorkHorse is hoping that its technology can be used regularly by the end of the year, but the company first has to get approval from the FAA to allow their UAS to fly beyond visual line of sight, as those flights are restricted by current regulations.
"We have a petitioned the FAA, saying let us do more beyond line-of-sight — or virtual line-of-site, as we have video coming from the drone — delivery in rural Ohio and collect all that data. (We would) then bring it back to (the FAA) as a demonstration of what drone delivery is going to look like if these rules are relaxed," Bokeno says.
WiBotic unveils its autonomous wireless charging pad for UAS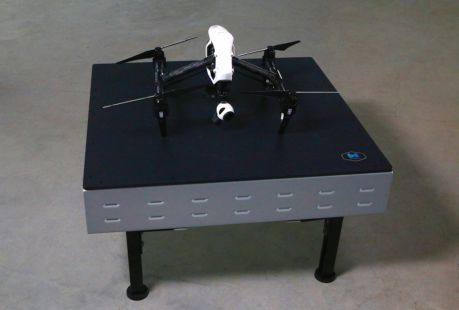 WiBotic has unveiled its "completely integrated wireless charging pad" for UAS, WiBotic PowerPad, which is designed for UAS operators who don't want to develop their own wireless charging pad.
In one ready-to-go unit, the wireless charging pad includes the WiBotic transmitter circuit, transmitter antenna and power supply. The current version of the charging pad, which is three feet by three feet, can support a wide variety of today's UAS, from smaller commercial and enterprise UAS, to large industrial UAS.
WiBotic PowerPad can be easily mounted on a variety of things, including rooftops and inside warehouses and factories. Those that use UAS for security, oil and gas, and in warehouses, could find WiBotic PowerPad extremely beneficial.
"WiBotic works with drone operators and service providers in many industries, and almost all of them have experienced the time and financial burdens of manually recharging batteries," says Ben Waters, CEO of WiBotic.
"WiBotic PowerPad is an easy solution for autonomous charging and enables them to quickly experience the maintenance reductions and cost benefits of wireless power."
WiBotic PowerPad, which has a powder coated aluminum body, as well as a plastic lid for durability and corrosion resistance, works in coordination with the separate WiBotic onboard charger, which is a "small circuit board and antenna" that easily mounts on the UAS itself.
WiBotic software can be used to "configure and optimize the charge rate" for any battery onboard the UAS, and once configured, all the UAS has to do is land on the wireless charging pad, where it charges without any human involvement necessary.
Wireless charging is convenient for a number of reasons, especially for companies and enterprises that utilize UAS. For one, they don't have to worry about physical charging connections wearing out. They also don't have to worry about "exposed live electrical contacts or environmental conditions that can impact contact-based chargers." All of these concerns are alleviated being that the charging pad is completely integrated into a closed unit.
WiBotic PowerPad is also weather resistant. For companies that want fully weatherproof options, this requirement can be custom-manufactured. Based on specific customer needs, custom-sized versions of the charging pad can also be designed.
Multiple UAS can be supported using one WiBotic PowerPad. It is also possible that one UAS can extend its flight range by landing on multiple pads.
Ultimately, UAS can work completely autonomously, potentially for the lifespan of their batteries, using the wireless charging pad and related components.
​A video of WiBotic PowerPad in action can be seen here.
View more information on the AUVSI.
Share your vision-related news by contacting James Carroll, Senior Web Editor, Vision Systems Design

To receive news like this in your inbox, click here.
Join our LinkedIn group | Like us on Facebook | Follow us on Twitter