In this week's roundup from the Association for Unmanned Vehicle Systems International (AUVSI), which highlights some of the latest news and headlines in unmanned vehicles and robotics, learn about how drones will be used to provide deliveries to Moose Cree First Nation in Ontario, UAS that will be used to fly over crash scenes and to fight wildfires, and a partnership between Huangling and DJI to develop an aerial photography base.
Drone Delivery Canada to provide deliveries via UAS to Moose Cree First Nation in Northern Ontario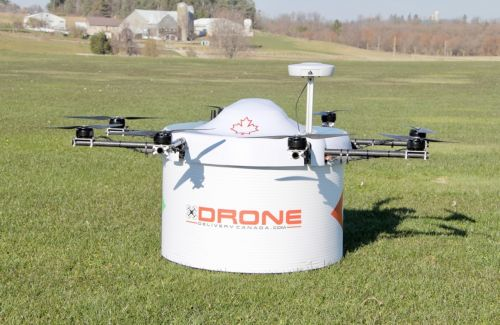 Drone Delivery Canada (DDC) and Moose Cree First Nation have entered into an agreement to start a commercial program that will use DDC's UAS delivery system to make deliveries to the community located in northern Ontario, Canada.
DDC, which is collaborating with federal regulators and community stakeholders, is ready to begin commercial test flights within the Moose Cree geography. Mail, food, medical supplies, and general goods are some of the things expected to be delivered via UAS.
"We are very pleased to begin roll out of our drone delivery solution for the Moose Cree First Nation community," says Tony Di Benedetto, CEO of Drone Delivery Canada.
"Drones provide immediate capacity building and provide an alternative to traditional infrastructure where none presently exist."
Patricia Faries, Chief of Moose Cree First Nation, adds, "we are excited to see the formation of this initiative, from pilot testing to potential commercialization and possibly building a business model. This technology is new, and we hope also to help our neighboring communities address the high costs associated with the delivery of goods to their communities."
DDC says that this achievement is the first of its kind for Canada.
Washington State Patrol using UAS to fly over crash scenes
The Washington State Patrol (WSP) is crediting its UAS with helping to ease backups that are caused by crashes on the road.
Since the start of WSP's pilot program back in July, UAS have been used to fly over 20 crash scenes.
According to Washington State Patrol Detective Eric Gunderson, one of the UAS named 'Ice Man' recently flew over a rollover crash that was blocking two lanes of traffic on Interstate-5 in Tacoma, Washington.
Gunderson says that using the UAS, he was able to capture more than 200 digital photos, which allowed him to document the scene in just over 20 minutes. It would have taken three to four hours to document the scene without the UAS, according to Gunderson.
​Thanks to being able to document the scene in such a short amount of time, the lanes were reopened and the wrecked cars were cleared in a much shorter time than usual, which saves the WSP in overtime costs. It is also helps diminish backups and accidents that are caused in unexpected slowdowns.
"That's why we invested the time, money, and effort into this program," Gunderson says via KING5.com.
"We think it's really going to be a game changer in clearing the roadways."
Insitu and Esri collaborate to test UAS for fighting wildfires
Insitu, along with Esri, which is a company that builds mapping and spatial analytics software, has successfully completed test flights using state-of-the-art software to support the firefighting efforts of firefighters and first responders.
The flights, which were held at the Warm Springs, Oregon FAA UAS Test Range, were aimed at helping firefighters suppress the Eagle Creek fire in Oregon, using Insitu's INEXA Solutions professional aerial remote sensing teams, and the company's ScanEagle UAS.
In coordination with the Oregon Department of Forestry and other governing entities, the ScanEagle UAS was used to provide firefighters and first responders with "optimal, near real-time data," which resulted in "heightened emergency response efforts, increased situational awareness and safety, and supported planning and resource allocation."
The ScanEagle was able to survey fire lines at night over the fire—which had spread to nearly 49,000 acres throughout the Columbia River Gorge region—using the UAS' electro-optical (EO), in daylight, infrared (IR) video for nighttime flights, and mid-wave sensors.
Thanks to its ability to operate in dense smoke and at night, the ScanEagle is ideal for supplementing manned firefighting fleets when manned aircraft typically can't operate.
Smoke can be penetrated using infrared camera technology, which allows for the gathering and disseminating of geo-referenced still images of points of interest.
Geographic Information System (GIS) specialists can use these images to perform analysis using Esri's Geographic Information System ArcGIS software.
The ScanEagle was the only "aviation over watch within the temporary flight restriction." It provided constant nighttime oversight, and monitored the fire's progression.
Manned and unmanned aviation assets were coordinated by Insitu, and through data collection, analysis, and integration capabilities, near real-time georeferenced spatial data (maps tied to specific known locations) was produced.
This allowed incident commanders, firefighters, and first responders to have data that delivered "updated incident perimeter maps, identified spot fires, located fire lines and hotspots, and provided near real-time video feed and still images of critical infrastructure, historical structures, and more."
Huangling and DJI partner to launch aerial photography base for UAS enthusiasts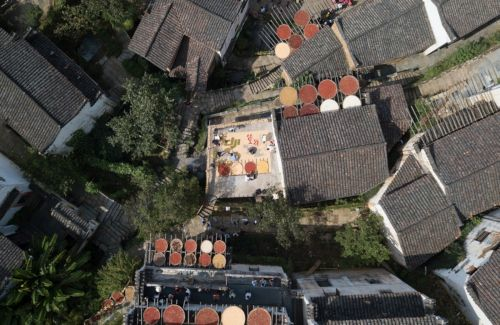 Huangling, which is a countryside destination in Wuyuan County, Jiangxi Province, China, has partnered with DJI to launch an aerial photography base in the village.
The airspace around the village will be open to UAS enthusiasts, giving them the opportunity to use their systems for video-taking and photography purposes.
"We are thrilled to work with DJI to give visitors an exciting new way to view and appreciate the beauty of Huangling," says Wu Xiangyang, CEO of Wuyuan Rural Culture Development Co., Ltd.
"The view from the sky will be a stunning angle for visitors to experience the village where quaint, color-topped Hui-style houses are dotted across the mountainous landscape."
The launch of this base comes at the perfect time, being that September to November is the best time to discover the village's unique view of shaiqiu, which is a time when "bamboo baskets filled with colorful produce such as chili peppers and chrysanthemum flowers are sun-dried over roofs and in racks." This creates a "breathtaking layered vista of vibrant colors against Hui-style homes with their black roof tiles and white walls."
Huangling has been working to connect its cultural heritage and landscape with technological innovation, so the village has also introduced virtual reality (VR) viewing of its springtime vistas, giving visitors a 3D panoramic view of the "sensational golden sea of rapeseed flower blossoms and historic houses via real-time drone feed."
"High-tech innovations offer us the opportunity to showcase our cultural heritage and ancient traditions, such as shaiqiu, as never-seen-before spectacles," Wu says.
"We will continue to incorporate new cutting-edge technologies to introduce new ways of visiting and experiencing our incredible Chinese village."
View more information on the AUVSI.
Share your vision-related news by contacting James Carroll, Senior Web Editor, Vision Systems Design

To receive news like this in your inbox, click here.
Join our LinkedIn group | Like us on Facebook | Follow us on Twitter