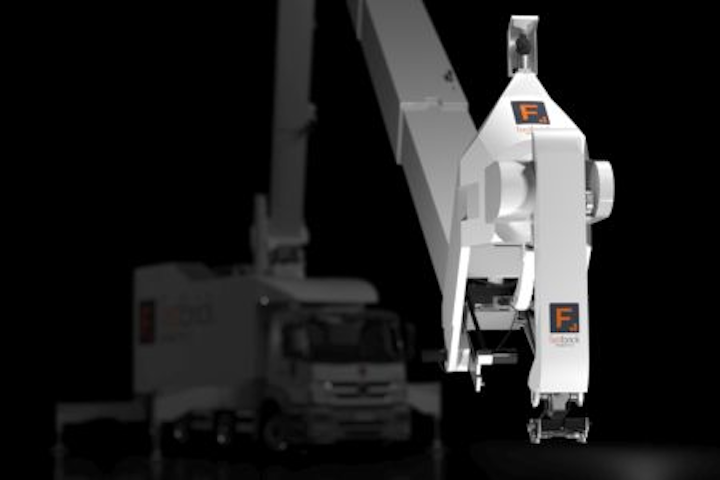 Caterpillar Inc. has announced a $2 million investment in Fastbrick Robotics, an Australian company that develops bricklaying robots, while also signing a memorandum of understanding (MOU) with the company for collaboration in relation to the robotic bricklaying technology.
Fastbrick Robotics' Hadrian X robotic bricklaying machine can lay 1,000-plus bricks—using laser and sensor guidance—per hour, and can build a standard-sized home every two days, according to Fastbrick Robotics. The Hadrian X machine features custom software that generates a 3D model of a home, feeds data into the robot, and prints a structure course like a 3D printer. Further, the robot cuts and routes all the bricks for electric and plumbing services so that a finished structure is ready for first fixing within days.
With the signing of the MOU, the two companies have established a strategic alliance board with representatives from both sides that intend to develop a framework and consider how best to offer Fastbrick Robotics' technology to Caterpillar's construction customers. The board, according to a press release, will also consider the most appropriate and most profitable business models to apply in each country, state, and region.
The MOU has an initial 12-month term and may be extended by mutual written agreement or terminated by either party at any time. Fastbrick Robotics has also agreed to deal exclusively with Caterpillar for the development and potential commercialization of the robotic technology during the term of the MOU.
In addition to the $2 million investment, which is being undertaken in accordance with the terms of a placement agreement, Caterpillar will have an option to invest a further $8 million in Fastbrick Robotics, subject to approval by Fastbrick Robotics' shareholders. Fastbrick Robotics intends to seek that shareholder approval within 60 days.
Fastbrick Robotics Managing Director Mike Pivac commented: "Fastbrick Robotics is delighted to sign a MOU with Caterpillar and welcomes the company as a new shareholder. Caterpillar is a globally recognised industry leader, and we look forward to collaborating with the company and uniting our teams to share ideas, pursue innovation and explore opportunities to commercialise our unique technology."
View the press release.
View more information onFastbrick Robotics.
Share your vision-related news by contacting James Carroll, Senior Web Editor, Vision Systems Design

To receive news like this in your inbox, click here.
Join our LinkedIn group | Like us on Facebook | Follow us on Twitter
Learn more: search the Vision Systems Design Buyer's Guide for companies, new products, press releases, and videos