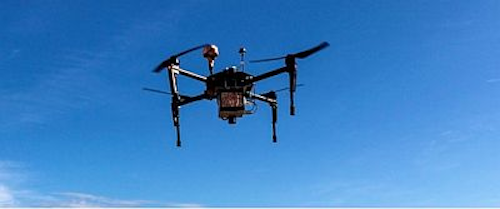 PrecisionHawk and Corning Incorporated have announced a collaboration in which Corning Incorporated's microHSI 410-SHARK hyperspectral camera will be made available as a sensor option for PrecisionHawk's platform for collection and analysis of drone data.
The microHSI 410-SHARK camera is designed for the 400-1000 nm spectral range and features on-board processing, which produces calibrated, geo-referenced hyper-cubes post flight. The visible to near-infrared (VNIR) hyperspectral camera is equipped with 154 spectral bands, and can be mounted on several of PrecisionHawk's drone platforms.
The research potential brought to light by these low-altitude remote sensing capabilities will allow for the creation of new spectral libraries that can generate tailored applications across enterprise verticals including agriculture, mining, energy, and environmental industries, according to PrecisionHawk, which will offer the hyperspectral camera as a plug-and-play solution.
"Hyperspectral imagery is a tremendously rich dataset that helps researchers pick up vital information over a detailed spectrum for analysis," said Thomas Haun, senior vice president of Partnerships at PrecisionHawk. "With Corning's 154-band hyperspectral product, researchers can obtain and create a wide variety of spectral maps to hone in on specific problems the customer is trying to solve that would otherwise not be identifiable with visual or multispectral sensors."
Richard Zacaroli, commercial business development manager, Hyperspectral Imaging Products, Corning Incorporated, also commented.
"Historically, low-altitude data collection using hyperspectral sensors has been very difficult to achieve due to operational complexities," he said. "Due to the integration between Corning's revolutionary sensors and PrecisionHawk's drone and data suite, it's now possible for novice users to properly and effectively collect high-resolution hyperspectral data."
View more information on Corning hyperspectral products.
View more information onPrecisionHawk.
Share your vision-related news by contacting James Carroll, Senior Web Editor, Vision Systems Design

To receive news like this in your inbox, click here.
Join our LinkedIn group | Like us on Facebook | Follow us on Twitter
Learn more: search the Vision Systems Design Buyer's Guide for companies, new products, press releases, and videos