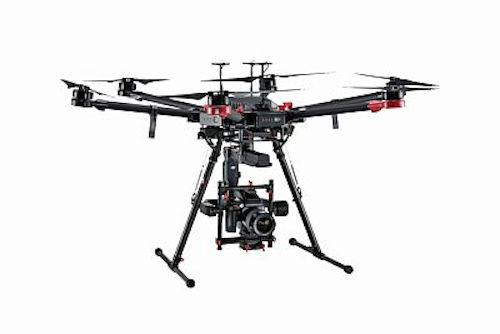 DJI and Hasselblad have collaborated to produce what both companies say is the first 100 MPixel integrated drone imaging platform.
Along with the DJI M600 Pro drone, the Ronin-MX gimbal and the Hasselblad H6D-100c camera combine to create the 100 MPixel imaging platform, which targets image acquisition for landscape and aerial photography, data for surveying and mapmaking, and more. Hasselblad's medium-format camera features a 100 MPixel (11600 x 8700), 53.4 mm x 40.0 mm CMOS image sensor with a 4.6 µm pixel size and a 25 fps frame rate. The camera mounts on the drone through the Ronin-MX three-axis stabilized gimbal, which uses motors and inertial measurement units to resist high G-forces, maintain stability and hold the horizon.
DJI's drone is a six-rotor flight platform equipped with the Lightbridge 2 transmission system, a dustproof propulsion system and six Intelligent Flight Batteries. The M600 Pro can be guided by the D-RTK GNSS navigation system, which can withstand strong magnetic interference to provide highly precise centimeter-level 3D positioning, according to DJI. The drone has a recommended maximum takeout weight of just over 34 lbs., and can fly for up to 38 minutes with no payload, and between 16-18 minutes with maximum payload at speeds of up to 40 mph.
With DJI's GO app, users can continuously control camera operations in flight. This platform is the latest product collaboration since DJI assumed a stake in Hasselblad in late 2015, allowing the companies to explore fruitful collaborations on their advanced technology, according to a joint press release. The product will be released in Q3 of 2017, with pricing to be announced later.
View more information on the DJI M600.
View more information on the Hasselblad H6D-100c.
Share your vision-related news by contacting James Carroll, Senior Web Editor, Vision Systems Design

To receive news like this in your inbox, click here.
Join our LinkedIn group | Like us on Facebook | Follow us on Twitter
Learn more: search the Vision Systems Design Buyer's Guide for companies, new products, press releases, and videos