In this week's roundup from the Association for Unmanned Vehicle Systems International(AUVSI), which highlights some of the latest news and headlines in unmanned vehicles and robotics,learn about first responders at the Dallas/Fort Worth International Airport that have received approval from the FAA to fly their unmanned aerial systems directly over the airfield. Additionally, learn about drones deployed at an indoor football game and the new vertical take-off and landing fixed wing UAS that have been added to the U.S. Department of the Interior fleet.
First responders receive approval from FAA to fly UAS at Dallas/Fort Worth International Airport
After receiving approval from the FAA, first responders at Dallas/Fort Worth (DFW) International Airport will now be allowed to fly their UAS directly over the airfield.
The FAA granted special approval to the first responders that allows them to operate UAS at the airport, both inside and outside the terminals over the airfield.
DFW is the first airport in the United States to allow these types of operations.
Along with DFW Police and Fire, Garret Bryl of the North Texas USA Response Team convinced the FAA and the DFW Airport Operations that UAS would improve public safety at the airport.
"We spent several hours out here just running scenarios to see would these things work here," Bryl says in an interview with WFAA, via DroneDJ.
Bryl and his team put together a video that was shown as a proof of concept. The short film included examples of how UAS equipped with infrared cameras can show hot spots on a running aircraft. The zoom capabilities of modern UAS cameras was also shown to airport operations staff.
UAS have plenty of use cases outside, but the can also be used inside the terminal to quickly scan a building for any possible bomb threats or suspicious packages.
"Police and fire on the airport, they want to be able to use this technology to their advantage as well — what this does is open the door for other airports that want to use this to their advantage to keep everyone safer," Bryl says.
While it is unknown how many UAS will be used or which models, WFAA has confirmed that the first responders have been cleared to start flying their UAS immediately.
Kansas State Polytechnic introduces UAS to the world of professional indoor football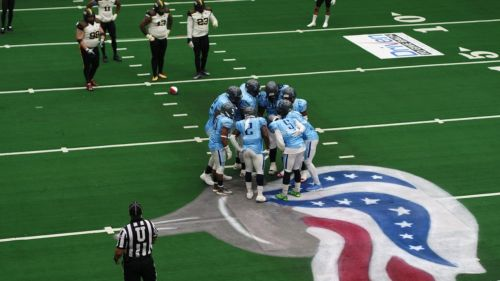 Kansas State Polytechnic's Applied Aviation Research Center is collaborating with the Salina Liberty, a professional indoor football team in Salina, Kansas, to bring UAS technology to the team's home games this season.
Through the collaboration, the research center is using a UAS to perform a 35-foot ball drop to the head referee before opening kickoff. The research center is also using UAS to capture aerial footage of the games to livestream on the team's Facebook page.
"We see drones as a way to enhance the in-game experience for the fans, giving them a unique view of the action on the field, so we're excited that Kansas State Polytechnic was so receptive to the idea," says Ricky Bertz, Salina Liberty CEO and co-owner.
"This could also set a trend among other teams in our league and even within the sports industry, so we're thankful to be pioneering the initiative with one of the best drone programs in the country."
According to Kansas State Polytechnic, the idea behind using a UAS to release the game ball to the referee was sparked by one of the challenges in the NFL's Pro Bowl Skills Showdown called drone drop. But using UAS during a game to capture live action isn't something that Kansas State Polytechnic's Applied Aviation Research Center is doing with any regularity.
At this point in time, the FAA does not allow unmanned operations over a large assembly of people outdoors, which is why, along with a no-fly zone, UAS are generally prohibited at sports stadiums. But since the Salina Liberty is an indoor football team, the research center is able to fly "beyond the FAA's rules for the national airspace system."
With safety being a top priority for these flights, the research center is partially maintaining the FAA's guideline on operations over a crowd, as it has decided only to fly UAS above the field where the players are wearing protective gear and the teams, coaches and referees have knowledge of the activity.
Also, to address the UAS' lack of GPS indoors, a concept of operations has been developed, and it includes both a remote pilot in command and a visual observer at the games.
Research center staff members and students involved in the project have also conducted several training sessions on campus and in the arena before the beginning of the season.
This attention to detail and careful approach might help Kansas State Polytechnic's Applied Aviation Research Center build a safety case that could be presented to the FAA about expanding its UAS flight operations to large outdoor sporting events, according to Travis Balthazor, flight operations manager of Kansas State Polytechnic's Applied Aviation Research Center.
"The long-term benefit of flying unmanned aircraft at the Salina Liberty games is the opportunities it could create down the road for athletic teams," Balthazor says.
"When we combine a strong concept of operations with numerous flights near crowds and few to no errors, we have the potential to prove to the FAA that these types of operations also can be performed safely and successfully outside."
U.S. Department of the Interior adding up to 50 VTOL fixed wing UAS to its fleet
The U.S. Department of the Interior (DOI) has announced that it will soon have the use of up to 50 Vertical Take Off and Landing (VTOL) fixed wing UAS.
The new UAS are a result of an extended process to develop mission performance requirements and select the most useful type of aircraft to meet the needs. Andover, New Hampshire-based startup company Birdseyeview Aerobotics was awarded a contract to produce and train on the new UAS.
​The new UAS weigh less than 10 pounds and are capable of carrying a variety of modular sensors. They have a service ceiling of 12,000 feet, and are operable in winds up to 25 knots.
The UAS are designed to take off and land vertically in confined spaces, and they can also be quickly launched from spaces with a limited area, such as a boat.
"These new fixed-wing aircraft are another weapon in our arsenal as we remain committed to preventing the spread of catastrophic wildfires," says U.S. Secretary of the Interior Ryan Zinke.
"The UAS program continues to leverage technology to fight fires in safer and more efficient ways to ensure we are protecting the public, local communities and the men and women on the fire line."
The extended range of the UAS enhances safety and capabilities where DOI already has beyond visual line of sight (BVLOS) authority within Temporary Flight Restrictions (TFR), such as those established over large wildfires.
"Last year, thick smoke over some wildfires grounded manned aircraft for days, with only our UAS able to fly during these periods," comments DOI's Office of Wildland Fire Director, Jeff Rupert.
"This expanded capability lets us continue our wildland firefighting operations in conditions that would stop manned aircraft, and provide greater support to our firefighters."
While the new UAS will be used to fight wildfires, DOI believes that its new aircraft have the potential to support its emergency response responsibilities beyond wildfires, being that the aircraft are easily customizable for the types of fieldwork and emergency response operations performed. With this in mind, DOI expects to use the new UAS across its mission portfolio to supplement current UAS capabilities.
DOI says that it will "continue to maintain security and privacy requirements for encrypted control and payload links, as well as the ability to control whether any flight telemetry/mission data is shared."
"With stewardship responsibilities for nearly one in every five acres in the United States, DOI often finds itself working with other federal, state, and local authorities in responding to natural disasters," says DOI's Office of Emergency Management Director, Lisa Branum.
"UAS have proven very useful in emergency management situations, aiding enhanced responsiveness, better data, and public transparency."
​DOI is expecting at least a 50% increase in UAS flights this year, partly thanks to the addition of this new fleet capability, and also because of the expected award of a commercial UAS services contract later this Spring.
View more information on the AUVSI.
Share your vision-related news by contacting James Carroll, Senior Web Editor, Vision Systems Design

To receive news like this in your inbox, click here.
Join our LinkedIn group | Like us on Facebook | Follow us on Twitter