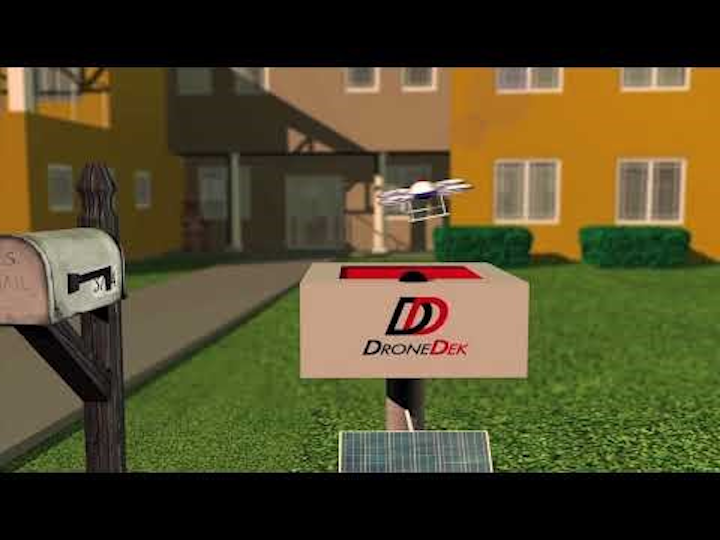 DroneDek, a company aiming to develop a vision-guided drone docking station and delivery system, has been awarded a U.S. Patent for last mile drone delivery.
DroneDek's idea is to offer shipping and receiving services through an app, where users will receive alerts when their packages ship or arrive. From there, the user will be notified of what item has arrived and from whom. In the patent, it describes the need for a "drone compatible secure delivery box [the Drone Dock] that can reliably receive goods delivered from a drone." Additionally, it says that there is also a need for a "safe container to house items that are to be picked up by a drone."
"The Drone Dock will save shippers significant amounts of money through the secure storage of delivered and stored goods, products, and items," according to the patent filed.
To access the dock and open the top to pick up or drop off items, a barcode will be imprinted on the Drone Dock that the drone will be able to read. Other potential communication methods, according to the company, include the possibility of a wireless network such as Wi-Fi or Bluetooth, or an electronic or magnetic connection that is made upon the drone landing and connecting with the box, may also be methods considered. Additionally, a remote server may be employed, where the drone communicates with a system that would ping or otherwise deliver a signal directly to the box or an associated IP address, triggering it to unlock and open, or an RFID system could be used, according to DroneDek.
Along with the barcode scanner, the drone will feature a mounted security camera that will be used in tandem to confirm delivery of a box from the drone. The camera will be used to capture an image of the items of the docking station box and provide visual guidance for the drone to retrieve any items marked for pickup according to an image analysis of the captured image.
DroneDek states that for deliveries involving pharmaceutical, food, or beverage items, a heated and cooled cargo area will be utilized. DroneDek will operate off solar power or a 110v power supply and will feature a heated door to operate in any climate, and will host a charging station for delivery drones, according to the company.
Potential users of the DroneDek technology include corporate and enterprise users, pharmaceutical industry, food/restaurant industry, internet retailers, suggests the company.
View the U.S. Patent here.
View the company website.

Share your vision-related news by contacting James Carroll, Senior Web Editor, Vision Systems Design

To receive news like this in your inbox, click here.
Join our LinkedIn group | Like us on Facebook | Follow us on Twitter