In this week's roundup from the Association for Unmanned Vehicle Systems International (AUVSI), which highlights some of the latest news and headlines in unmanned vehicles and robotics, learn about a new smartphone-sized unmanned aerial system from DJI, the development of the world's first autonomous air tanker, and a partnership that seeks to create and enable airspace maps for drones.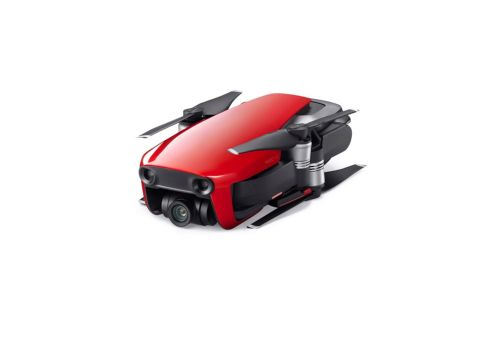 DJI unveils smartphone-sized Mavic Air UAS
On Tuesday, Jan. 23, at an event in New York, DJI unveiled its latest product, Mavic Air, which the company describes as an "ultra-portable, foldable camera drone that delivers higher performance, more intelligent features and greater creative possibilities than any other consumer drone."
According to DJI, Mavic Air was developed with the traveler and outdoor enthusiast in mind, as it inherits the best features of DJI's Mavic series but is considerably smaller, at half the size and 40 percent of the weight. It's closer in size to the company's Spark, but actually has a smaller footprint because its rotor arms fold up, and it carries a better camera.
Mavic Air's features include a 4k camera, new QuickShot modes and SmartCapture for "easier, more intelligent photo and video capturing," and FlightAutonomy 2.0 with Advanced Pilot Assistance Systems for smarter, safer flight.
"When DJI introduced the Mavic Pro, it reinvented what a consumer drone could be: powerful, yet portable, accessible, but advanced," says Roger Luo, President at DJI. "Today, with the introduction of Mavic Air, we have pushed these attributes to the next level to create our best consumer drone yet."
Mavic Air weighs less than a pound, making it the most portable UAS that DJI has ever developed. With folding arms and propellers that sit flush against its slender aerodynamic frame, Mavic Air is so compact that its footprint is nearly the size of a modern smartphone when folded, although it's considerably thicker. The company's North American director, Michael Perry, pulled a couple of them out of his pockets at the event to showcase their diminutive size.
Despite its stature, Mavic Air can fly stably in windy conditions of up to 22 mph, and at high elevations of up to 16,404 feet above sea level, making it useful in a variety of situations and environments, the company says. The UAS also has a maximum flight time of up to 21 minutes.
Every aspect of Mavic Air's camera has been designed for maximum performance, DJI says. To further reduce vibration and provide superior protection and steadier shots, Mavic Air's recessed three-axis mechanical gimbal is suspended from dampeners. The UAS captures high-quality photos and videos thanks to a powerful camera that houses a 1/2.3" CMOS sensor and the equivalent of a 24mm F2.8 lens (on a 35mm full frame sensor).
Users can capture beautiful aerial pictures from sunrise to sunset thanks to new HDR algorithms that preserve more highlight and low light details, which allows Mavic Air to photograph crisp 12-megapixel still images, DJI says.
The UAS can also shoot smooth stabilized 4K video at 30 fps, capturing the highest quality video of any DJI consumer UAS with a maximum bitrate of 100 Mbps, and, with Mavic Air's ability to shoot 1080p slow-motion video at 120 fps, the UAS can also preserve the action in dramatic fast-paced scenes as well.
Forgot your micro SD card? Mavic Air is DJI's first UAS with eight gigabytes of onboard storage, which allows users to save photos and videos directly to the aircraft on the go. A card slot allows for more storage capacity. Exporting captured footage is easy and fast thanks to a newly added USB-C port.
Mavic Air is equipped with FlightAutonomy 2.0, which is used to process data gathered from seven onboard cameras and infrared sensors to construct a 3D map of its environment for "more precise hovering and better flight performance."
The improved forward and backward dual camera vision systems can sense obstacles up to 66 feet away, and, with newly developed Advanced Pilot Assistance Systems, Mavic Air can make its way through more complex outdoor environments, ultimately helping pilots avoid and bypass obstacles automatically.
Mavic Air is currently available for pre-order, and drones will start shipping on Jan. 28.
Drone America and Thrush Aircraft partner to develop world's first autonomous air tanker
UAS manufacturer Drone America and aircraft manufacturer Thrush Aircraft have formed a strategic alliance to begin the development of the world's first autonomous air tanker, which would add to the arsenal of airborne tactics available to firefighters and first responders when fighting wildfires.
The new tanker is expected to mix Thrush's large airframe and airborne delivery system expertise with Drone America's "Ariel" amphibious platform, producing an aircraft capable of delivering approximately 800 gallons of water or fire retardant, autonomously.
The aircraft will also be built to conduct long-duration tactical surveillance flights over a fire, which will provide on the ground real-time understanding of conditions and fire behavior for firefighters, operations managers, and public safety coordinators.
"As the almost incomprehensible devastation of the 2017 fire season has shown, there is virtually no limit to the level of destruction to property and natural environments wildfires can cause," says Mike Richards, president and CEO of Drone America.
"We founded our company on the belief that highly-reliable, well-integrated autonomous systems can significantly improve public and environmental safety. Our collaboration with Thrush represents a major step forward in achieving that goal, and we're excited to be joining forces in the fight against one of our country's most challenging foes: wildland fires."
At this point in time, only manned air tankers are used in airborne firefighting operations. Manned tankers are restricted from fighting fires during night hours, but it is during this "dark window" that autonomous tankers can really thrive, as they can take advantage of the cooler night temperatures and reduced fire activity to support tactical ground operations, while taking pilots out of harm's way.
Unmanned air tankers equipped with infrared cameras, sensors and integrated communications equipment are also ideal for systematically mapping and communicating fire intensity, rate and direction of spread.
This "high-level, on-scene intelligence gathering" helps greatly enhance the safety of civilians and firefighters on the ground, and it helps solve a major issue related to disaster response, which is "linking voice and data transmissions across different and otherwise incompatible communication systems."
Unifly and HERE Technologies partner to enable airspace maps for UAS
Unmanned Traffic Management (UTM) software provider Unifly and digital mapping and location services provider HERE Technologies have announced that they will work together to "jointly enable airspace maps for drones."
The collaboration between the two companies will consist of two phases.
During the first phase of their collaboration, Unifly and HERE plan to enable an airspace map for UAS that covers both rural and urban areas, and marks out no-fly zones such as airports, residential areas and sensitive government installations.
During the second phase of the collaboration, the companies will look to continue the development of the system so that it can support the management of UAS traffic flow, and even collision avoidance, in a similar fashion to what air traffic controllers do for today's airline industry.
A long-term goal of the companies is to explore how UAS transportation and logistics can be seamlessly integrated into the larger transportation system.
"New mapping technologies will make it easier to tell a drone and its operator where they can viably, safely and legally fly. This is needed if, one day, drones are to be flown remotely out of the view of their operators," says Marc Kegelaers, Chief Executive Officer of Unifly.
"And it will be even more essential as autonomously-flying drones become more prevalent. By greatly boosting the situational awareness of drone traffic, we act as a catalyser for developing new and exciting applications of drone technology."
HERE is currently developing the Reality Index, which is a "rich real-time digital representation of the physical world." Based on the companies' commercial agreement, HERE's map and location data from the Reality Index will be integrated into Unifly's applications, in an effort to provide a "more and more robust picture of the low-altitude airspace."
"Drones will be the ultimate users of the Reality Index™, the rich real-time digital representation of the physical world we're creating," says Leon van de Pas, Senior VP Internet of Things at HERE Technologies.
"By combining our location technologies with the drone traffic management expertise of Unifly, we're excited to help shape the future of this growing industry."
​During CES 2018, Unifly and HERE provided attendees with a demonstration of the airspace map. According to Laurent Huenaerts, VP Business Development, North America at Unifly, visitors were quite impressed with this technology.
"The visitors were quite enthusiastic, while at the same time they were surprised that such technology is not science-fiction, it already exists today!" Huenaerts told AUVSI via email.
Huenaerts added that "complete and accurate information about both airspace rules and ground data, is essential for the safe integration of drones into the airspace."
View more information on the AUVSI.
Share your vision-related news by contacting James Carroll, Senior Web Editor, Vision Systems Design

To receive news like this in your inbox, click here.
Join our LinkedIn group | Like us on Facebook | Follow us on Twitter