In this week's roundup from the Association for Unmanned Vehicle Systems International(AUVSI), which highlights some of the latest news and headlines in unmanned vehicles and robotics,learn about an extended range unmanned aerial system, the first flights under the UAS Integration Pilot Program, and a maritime demonstration showcasing autonomous systems for military operations.
Insitu's Integrator ER UAS delivers Group 4 and 5 capabilities in a Group 3 aircraft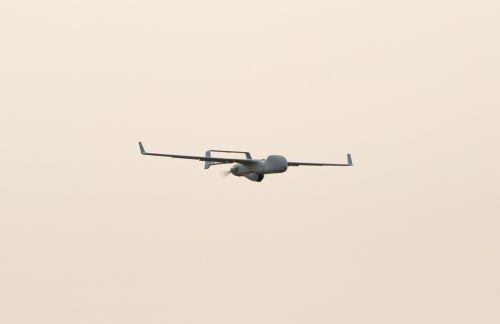 During the Air Force Association's annual Air, Space and Cyber Conference, Insitu announced its Integrator Extended Range UAS.
The UAS, which is a beyond line of sight (BLOS), SATCOM-enabled small UAS capable of "ranging modern combat theaters," delivers Group 4 and 5 capabilities in a Group 3 aircraft.
Some of these capabilities include "high quality, full motion video on par with current ISR systems while flying at acoustically and visually undetectable altitudes; bandwidth throughput up to 10 megabits per second with a less than 1.5 second latency," and a significantly reduced manpower footprint for operations, as it only takes a team of 12 operators, maintainers and mission commanders to operate the system.
"Insitu has always been at the forefront of customer-inspired innovation, and our exceptional team has delivered another ground-breaking capability," says Esina Alic, Insitu president and CEO.
"High quality, long endurance ISR - to include FMV and SIGINT- remains one of, if not the most requested and unmet need for the Department of Defense. With our announcement today, all warfighting units and coalition partners can have access to what was once a limited resource, getting this much-needed capability in the hands of the warfighter at a fraction of the cost of any current system available today."
Insitu says that Integrator ER allows users to save money by augmenting higher cost systems with a small UAS, which frees up the larger strike-capable unmanned assets to conduct more of the kinetic missions for which they were designed.
Additionally, Integrator ER will put more eyes and ears in dangerous environments globally, giving troops on the ground a common operating picture that heightens their awareness and brings them home safely.
City of Reno, Nevada and Flirtey complete first flights under UAS IPP
The city of Reno, Nevada and Flirtey have successfully completed their first flights under the UAS Integration Pilot Program (IPP).
The city of Reno and Flirtey conducted the first multi-drone delivery demonstration under the program, as a single Flirtey pilot operated multiple Flirtey UAS at the same time and simulated the delivery of automated external defibrillators (AEDs) in the presence of the FAA.
The flights were conducted under a regulatory waiver that allows multiple small UAS to be operated by one pilot.
"Flirtey just demonstrated deliveries with multiple drones per pilot for the first time, which is a major milestone toward scaling drone delivery nationwide," says Flirtey Founder and CEO Matthew Sweeny.
"We're excited to be working with our partners and the FAA to save lives and improve lifestyles with Flirtey's drone delivery."
The flights were conducted using Flirtey's next-generation UAS, which was designed to carry heavier payloads for longer distances, so that medicine and commercial packages can be delivered quickly and more efficiently.
​Along with its desire to save lives, the city of Reno decided to partner with Flirtey to deliver AEDs to cardiac arrest patients to "pioneer a scalable model for commercial drone delivery."
"The City of Reno is proud to partner with Flirtey, the FAA, and our local IPP partners to test drone delivery of AEDs to Washoe County residents," says City of Reno Mayor Hillary Schieve.
"Public safety is our top priority, and the use of drones to provide life-saving AED technology to cardiac patients could reduce the number of deaths from cardiac arrest in northern Nevada."
The leading cause of natural death in Reno, and the United States as a whole, is cardiac arrest. The city of Reno says that "for every minute that a cardiac arrest patient waits to receive defibrillation, their odds of survival decrease by about 10 percent per minute."
The city of Reno says that using UAS to deploy AEDs "can increase the cardiac arrest survival rate of Washoe County residents from just 10 percent today, to approximately 47 percent."
Teledyne Marine and industry partners conduct maritime demonstration during ANTX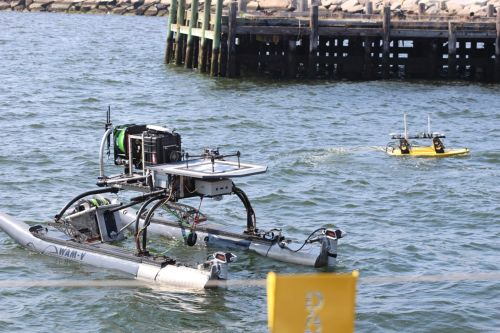 During the 2018 Advanced Naval Technology Exercise (ANTX) from Aug. 29 to 31, Teledyne Marine and its industry partners showcased an Autonomous, System of Systems approach to expeditionary Mine-Countermeasures (MCM) using multi domain unmanned assets.
Teledyne Marine has provided a description of the demonstration.
The demonstration, which included multiple vehicles and several companies, begins with a Power Docks Blue Isles Autonomous Power Microgrid platform simulating providing power to all vehicles. The exercise starts with a Teledyne Oceanscience Z-Boat 1800 RP ASV performing a "bathymetric and LiDAR survey" of the basin.
Following that, a Planck Aerosystems Shearwater UAS conducts surface surveillance for both object avoidance and threat mitigation for the Z-Boat, and then a Teledyne Gavia AUV performs a search-classify-map sidescan survey of the basin.
Running on the Gavia AUV, the Teledyne CARIS-Onboard then performs "mosaicing of the sidescan data" in near real time while Charles River Analytics' Onboard ATR software—also running in near real time on the Gavia AUV—uses "advanced image processing algorithms" to not only analyze the CARIS mosaics, but also perform Automatic Target Recognition (ATR).
The coordinates of a mine-like object are passed to Marine Advanced Research's WAM-V ASV, which then moves to the provided coordinates and deploys a Teledyne SeaBotix vLBV300 ROV equipped with a mock-up of a mine disposal system. Finally, Greensea Systems' inertial navigation and supervised autonomy, maneuvers the ROV to the waypoint with minimal operator assistance, visualizes the target, and simulates neutralization.
"Following the theme of "Human Machine Interaction", Teledyne and its partners demonstrated how today's Mine Countermeasures activities can safely be performed by multi domain assets incorporating much needed autonomy," explains Teledyne Marine System's Vice President of Engineering, Bob Melvin.
"The thirty-two-minute exercise was an amazing display of using autonomous vehicles for mine detection and clearance in a small harbor while keeping the warfighter out of harm's way."
View more information on the AUVSI.
Share your vision-related news by contacting James Carroll, Senior Web Editor, Vision Systems Design

To receive news like this in your inbox, click here.
Join our LinkedIn group | Like us on Facebook | Follow us on Twitter