In this week's roundup from the Association for Unmanned Vehicle Systems International(AUVSI), which highlights some of the latest news and headlines in unmanned vehicles and robotics,learn about Hyundai Motor's autonomously navigated semi-trailer truck journey, medical drone delivery trials in North Carolina, and an autonomous robotic fish.
Hyundai Motor makes history in South Korea with autonomously navigated semi-trailer truck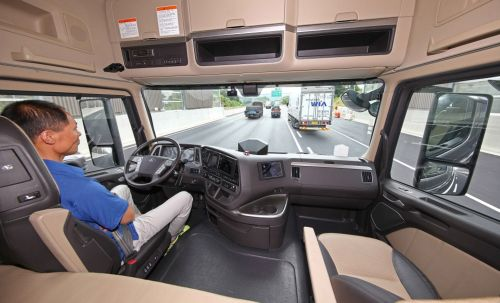 On Aug. 21, Hyundai Motor Company completed South Korea's first domestic highway journey with an autonomously navigated semi-trailer truck.
Hyundai showcased its "innovative technological advancement in future mobility" when its Xcient truck drove approximately 40 kilometers on the highway between Uiwang and Incheon while carrying a large semi-trailer simulating cargo transportation.
"This successful demonstration proves that innovative autonomous driving technology can be used to transform the trade logistics industry," says Maik Ziegler, Ph.D., Director of Commercial Vehicle R&D Strategy Group at Hyundai Motor Company.
"At this stage, a human driver is still used to control the vehicle manually in certain situations, but I think we will achieve level 4 automation soon as we are constantly upgrading our technological capability."
Capable of holding a maximum load capacity of 40 tons, Hyundai's Xcient model truck was semi-equipped with a Society of Automotive Engineers (SAE) standard Level 3 autonomous driving system, allowing it to do several things without human input, including steer, accelerate or decelerate, and maneuver through traffic. A human driver was on-board to take over manual control when required.
Also equipped with a variety of innovative technology features, the vehicle was able to, among several things, maintain and change lanes during the natural flow of traffic, and perform a complete halt or accelerate according to road traffic.
​The demonstration was possible thanks to the Ministry of Land, Infrastructure and Transport (MOLIT) issuing a temporary autonomous driving license for the first time to a heavy-duty truck.
In cooperation with its trade subsidiary Hyundai Glovis, Hyundai Motor used this demonstration as a chance to test the application of autonomous driving for use in the trade logistics industry, as the test route is Hyundai Glovis's parts transportation most frequently traveled section for vehicles heading to the Port of Incheon.
The truck successfully completed the journey, as it traveled 40 kilometers in one hour, all while abiding strictly to the expressway speed limit of 90 kilometers per hour.
Hyundai Motor plans to conduct more autonomous navigation technology tests in the future in different areas such as Busan. The company also plans on concentrating its enterprise development capabilities with the aim of early commercialization of the technology.
Matternet set to begin medical drone delivery trials in North Carolina
On Wednesday, Aug. 29, drone delivery company Matternet will begin medical drone delivery trials in North Carolina as part of the UAS Integration Pilot Program (IPP).
The company will test aerial deliveries from a medical office to a WakeMed hospital in Sunnybrook, North Carolina.
During the trials, UAS will carry vials of water, which are presumably intended to simulate blood or plasma samples. During the flights, Matternet's UAS will fly above various buildings before landing on top of WakeMed's hospital roof.
The plan is to gradually expand these operations, with the eventual goal of implementing this type of transportation in WakeMed facilities across the country.
"We're going to crawl, then walk, then run," says North Carolina Department of Transportation's Division of Aviation (NCDOT) spokesperson James Pearce, via The Drive. "We're starting off that crawling process this week."
Pearce says that the Aug. 29 flights will be the first time medical deliveries are transported using UAS in the United States, and one of the first times it's a beyond visual line of sight (BVLOS) flight. There will be people on the ground serving as basic visual spotters.
On Aug. 30, NCDOT will hold its first public meeting about the state's participation in the UAS IPP. The meeting will serve as an information session with the opportunity to provide feedback and ask questions.
Similar meetings are planned for the future as the program evolves and expands its local operations.
"Pretty soon people are going to start to see drones overhead, and we want them to know what to expect," Pearce says.
Embry-Riddle alumnus turns doodle drawing into award-winning autonomous robotic fish
A recent graduate of Embry-Riddle Aeronautical University named Jefferson Talbot has turned one of his doodle drawings into an autonomous robotic fish created with 3D printing technology, which he hopes can be used in the pet fish industry, and to help researchers who need a close-up view of underwater ecosystems.
Back in 2016, Talbot started drawing a skeleton of a fish in the margins of his notebook during class. Last summer, after watching his roommate "carefully lug" around his fish and bowl whenever leaving the dorm for a few days so the fish would stay healthy, Talbot came up with the idea of a robotic fish, as he thought that a robotic fish would be a lot easier to take care of.
​Talbot's idea would go on to garner him international attention this year, as he won the Jury Prize in the Project of the Year 2018 contest, and was chosen by a panel of professionals in the Global Academia Department of Dassault Systèmes.
Headquartered in France, Dassault Systèmes, which is known as "The 3DEXPERIENCE Company," develops 3D design, 3D digital mock-up, and product lifecycle management software. The projects entered in the competition had to be created with Dassault Systèmes software, and the Jury Prize was based on a number of criteria, including innovation, originality and technicality.
"There is a growing interest around the world in bringing robots and AI (artificial intelligence) into the home," Talbot says.
"Given the love of toy robot dogs in the past decades, I thought there might be interest in a fish. I figured that if I wanted a robot fish, there probably are other tech-obsessed people who would be interested in non-humanoid robots for their homes too."
Talbot refined his fish during his last year on campus, as he spent time working on his laptop in between his classes in the Embry-Riddle College of Engineering/Lehman Engineering and Technology Center. Additionally, Talbot worked in the advanced Makerspace Lab, and he also used his personal 3D printer.
Thanks to Dr. Heidi Steinhauer's 3D-CADD and Engineering Documentation course, Talbot was able to focus his ideas related to the robotic fish, and he also sought Dr. Steinhauer's advice on a computer-aided design technique involving the fish.
Talbot is still working on the newest version of the fish CAD model, as he wants to capture as many life-like features as possible. He is also finalizing the locomotion systems so he can then file for a patent.
Once Talbot's fish can operate with full autonomy and can swim without human contact for days or weeks, he plans on simplifying the designs into a smaller fish that could fit into an aquarium.
View more information on the AUVSI.
Share your vision-related news by contacting James Carroll, Senior Web Editor, Vision Systems Design

To receive news like this in your inbox, click here.
Join our LinkedIn group | Like us on Facebook | Follow us on Twitter