In this week's roundup from the Association for Unmanned Vehicle Systems International(AUVSI), which highlights some of the latest news and headlines in unmanned vehicles and robotics,learn about how State Farm was granted a waiver for UAS operations for damage assessment in communities impacted by Hurricane Florence. Additionally, learn about a collaboration aimed at UAS traffic management and an underwater tracking technology being used by the US Naval Surface Warfare Center.
State Farm granted waiver to conduct UAS operations over people and BVLOS in areas effected by Hurricane Florence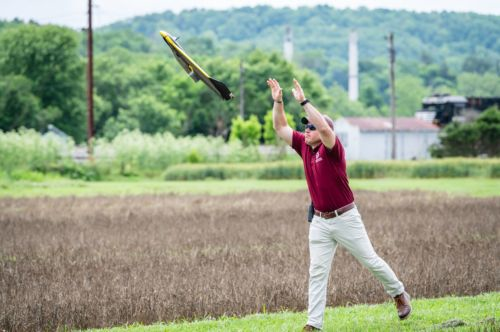 State Farm has been granted a waiver for UAS operationsthat will be the first of its kind for an insurance company and will allow it to assess damage in communities effected by Hurricane Florence.
The FAA has granted State Farm a waiver that combines permissions to conduct UAS flights over people and flights beyond the operator's visual line of sight. Both of these operations are usually tightly restricted.
These provisions are approved over four states impacted by Hurricane Florence. Together, they will "dramatically enhance State Farm's ability to evaluate hurricane damage and allocate resources," the insurance company says.
"State Farm needs to quickly assess damage after significant weather events," says Robert Yi, Senior Vice President – State Farm.
"Drone technology provides us with the capability to quickly deploy over a catastrophe site and assess damage from the air. The data we obtain from drone flights can be used to help us determine the severity of damage. This also allows us to place our Claims team on-the-ground and evaluate uninhabitable insured property."
After significant weather events such as Hurricane Florence, obtaining access to an area could be more difficult because of water, debris, and damage to infrastructure. Damage may also extend across a large area, which makes efficient damage assessment especially hard.
Taking all of this into account, State Farm says that the new waiver will make its work "much easier by allowing longer-distance flights over densely populated areas."
Recently, State Farm has been working with the Virginia Tech Mid-Atlantic Aviation Partnership (MAAP) under the FAA's UAS Integration Pilot Program, after the Virginia-based research team was named one of the program's awardees back in May.
The entities say that their successful application for this unprecedented waiver is a "testament to the program's success in facilitating rapid, research-based advances in drone operations to serve communities' needs."
"This is a pivotal moment that demonstrates the value of a risk-based safety case development process," says MAAP director Mark Blanks.
"Drone technology has tremendous potential to serve the public, but before we can harness that capability we need to demonstrate conclusively that ambitious operations can be done safely. This waiver, and the volume of research that backs it up, shows that this approach works."
senseFly's eBee fixed-wing UAS will be used to perform these flights. State Farm and MAAP say that the eBee UAS reduces the risk of damage to people and property. The eBee UAS also captures high-resolution imagery.
NUAIR Alliance and Thales agree to collaborate on UTM research
The Northeast UAS Airspace Integration Research Alliance (NUAIR Alliance) has signed a multi-year collaboration agreement with Thales.
NUAIR says that the agreement supports its efforts to safely integrate UAS into "traditional, controlled airspace." The agreement also supports NUAIR's ability to conduct operations at its New York UAS test site's 50-mile UAS traffic management (UTM) corridor at Griffiss International Airport.
"This partnership helps advance the critical tools needed for beyond visual line of site testing; these are capabilities not found at any other test site in the nation," says Major General Marke F. "Hoot" Gibson (ret), chief executive officer of the NUAIR Alliance.
"This region is leading the industry and attracting partners from across the globe due to investments being made by New York State. We look forward to working with Thales and deploying this industry-leading technology in coming months, taking our capabilities to a new level."
Thales is working with NUAIR at the Griffiss test site to look into how advancement in UTM could offer a preview into future airspace automation capabilities. Thales will do this this by integrating the entire airspace situation into its software, so NUAIR can enable the tracking of unmanned flights and keep operators a safe distance from manned aviation.
​Other capabilities that Thales brings to the table to facilitate the safe integration of UAS into the airspace include cyber security and the concept of "centralized, airspace management" for UAS operations to ensure the safety and security of the National Airspace System (NAS).
Thanks to all of its capabilities, Thales was recently named as a Low Altitude Authorization and Notification Capability (LAANC) approved partner to help directly support UAS integration into the NAS.
The Thales LAANC system allows small UAS operators to access airspace safely and efficiently by receiving authorization from the FAA in just minutes, which is a significantly quicker time frame than the previous approval process in place before LAANC that would take nearly 90 days.
Thales is one of only five companies approved by the FAA to provide LAANC services, and it will provide tools to plan flight operations for commercial UAS users at more than 225 airports across the U.S.
Sonardyne Inc.'s underwater target tracking technology selected to use at South Florida Ocean Measurement Facility
The US Naval Surface Warfare Center (NSWC), Carderock Division has selected Sonardyne Inc.'s underwater target tracking technologyto use at its South Florida Ocean Measurement Facility (SFOMF).
Described as the largest, most comprehensive establishment of its kind in the world, Carderock Division is the US Navy's research, engineering, modeling, and test center for surface and undersea technologies. Located close to the Gulf Stream, Carderock's SFOMF offers a "demanding open ocean test environment" for subsea systems and UUVs being developed for the Navy, as well as the wider maritime industry.
In an effort to support this work, Carderock Division has ordered Sonardyne's high accuracy Ranger 2 Ultra Short Baseline (USBL) acoustic tracking system, with the additions of a GyroUSBL transceiver, Nano and Wideband Sub-Mini 6 Plus (WSM 6+) transponders. When mobilized aboard vessels-of-opportunity, the Ranger 2 system will allow operators to track the precise underwater position of any subsea system or UUV that comes through the SFOMF for testing.
With the Ranger 2 system, systems can be tracked in both shallow and deep water, near the surface and over very long ranges.
If both Nano and WSM 6+ transponders are purchased, all sizes of vehicle can be accommodated, from man-portable models to extra-large (XLUUV) designs.
"This system will more than meet Navy expectations," says Dan Zatezalo, Technical Sales Manager at Sonardyne Inc. "Our Ranger 2 GyroUSBL is a survey grade acoustic positioning system with built-in attitude and heading sensors, which makes moving it from vessel to vessel easy, with no new calibration required."
Zatezalo continues, "used alongside Nano, our smallest ever, rechargeable acoustic transponder, and WSM 6+ transponders, which both support our secure Wideband 2 signal protocols, the NSWC has a high-performance and time-saving system for its operations at Maryland. This sale also further embeds our commercial-off-the-shelf capabilities, field-proven within the US offshore energy and science sectors, into the North American defence market."
For more than 50 years, the SFOMF has housed an "active, continuously operating" Navy range. The SFOMF's main mission is to perform electromagnetic signature tests of Navy assets, using multiple fixed, in-water electromagnetic and acoustic measurement sites.
Other activities that take place at the facility include testing and evaluating mine detection, countermeasures and mine response; performing acoustic measurements; and acquiring radar cross section and infrared signatures.
View more information on the AUVSI.
Share your vision-related news by contacting James Carroll, Senior Web Editor, Vision Systems Design

To receive news like this in your inbox, click here.
Join our LinkedIn group | Like us on Facebook | Follow us on Twitter