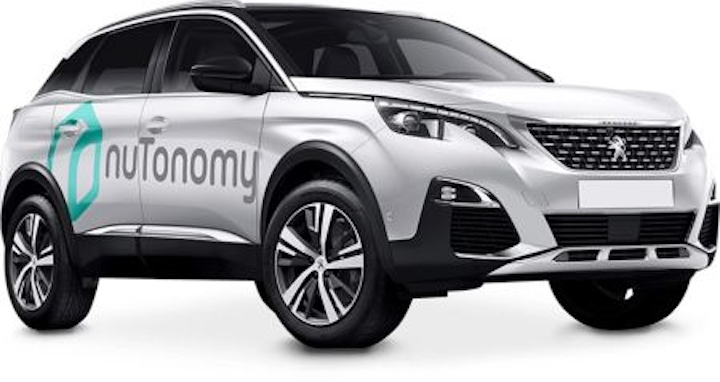 After first beginning its autonomous vehicle testing in the Seaport District of Boston, self-driving car startup company nuTonomy will expand its testing into the entire city of Boston.
In January 2017, nuTonomy signed a Memorandum of Understanding with the City of Boston and the Massachusetts Department of Transportation that authorized the company to begin testing its fleet of self-driving carson specific public streets in the Raymond L. Flynn Marine Park in the Seaport section of the city. Now, the company has received approval to test on public roads citywide.
"Continuing to test autonomous vehicles in a careful and methodical manner represents another step forward in helping us to achieve the vision for improved mobility that was established by residents during the Go Boston 2030 Transportation Plan public process," said Boston Mayor Martin J. Walsh in a statement. "If deployed thoughtfully, shared fleets of autonomous vehicles could offer the city of Boston the potential to improve safety on our streets, provide equitable connections to the MBTA, and offer a new source of mobility to all Boston residents."
Self-driving cars from nuTonomy are equipped with what the company calls "high-performance sensing and computing components" to enable safe operation of a vehicle without a driver. The company's autonomous vehicle software, nuCore, is described as a scalable, full-stack software solution for perception, mapping, localization, motion planning, decision making, and control of passenger vehicles operating in complex urban environments.
"nuCore's powerful planning engine enables human-like maneuvering performance, and nuCore's patented approach to decision making allows autonomous vehicles to handle even the most complex traffic scenarios. nuCore can be integrated with a wide range of vehicle types, sensor configurations, and ride hailing applications, and has been successfully deployed on five different vehicle models across three continents," writes the company on its website.
Each quarter, according to an announcement, nuTonomy will report to the city and update the transportation department when it begins testing in a new Boston neighborhood.
"Being recognized by the city for our exceptional safety record is an important milestone for the entire nuTonomy and Aptiv team," said Karl Iagnemma, nuTonomy's president, in a statement. "Today, we are excited to have access to some of the most complex roads in North America as we continue to focus on improving the safety and efficiency of transportation in cities worldwide."
The INRIX Global Traffic Scorecard, which analyzes and ranks the impact of traffic congestion across five continents, shows that in terms of the overall driving time spent in congestion, Boston (14%) has the worst conditions in the country. On a personal level, as someone who lives 10-12 some odd miles from Boston, I am interested to see how full city testing of autonomous vehicles goes. I suppose that—perhaps save for Los Angeles—if they can operate in Boston, they could likely operate most anywhere else in the country.
View more information on nuTonomy.
View a Boston Business Journal article on the news.
Share your vision-related news by contacting James Carroll, Senior Web Editor, Vision Systems Design

To receive news like this in your inbox, click here.
Join our LinkedIn group | Like us on Facebook | Follow us on Twitter