In this week's roundup from the Association for Unmanned Vehicle Systems International(AUVSI), which highlights some of the latest news and headlines in unmanned vehicles and robotics,learn about how members of the Members of the European Parliament approved an agreement reached between Council and Parliament negotiators from last November on EU-wide principles for UAS and UAS operators, in terms of safety. Additionally, learn about how the U.S. Coast Guard will deploy small UAS from its National Security Fleet, and about Boeing's investment in UAS software company Kittyhawk.
European Parliament approves EU-wide rules for safety of UAS
On June 12, Members of the European Parliament approved an agreementreached between Council and Parliament negotiators last November on EU-wide principles for UAS and UAS operators, to "ensure a common level of safety and give operators and manufacturers the predictability to develop products and services."
Most UAS currently fall under differing national rules, which, according to the European Parliament, can hamper market development.
Under the new rules, UAS would need to be designed so that they can be operated without putting people at risk. The European Parliament explains that "based on risk related to, for example, the weight of the drone or area of operation," the UAS would need additonal features, such as automated landing in case the operator loses contact with the UAS, or collision avoidance systems.
The European Parliament says that UAS operators need to be aware of all the rules that apply to them, and must be able to operate a UAS safely without putting people or other airspace users at risk. With this in mind, some UAS operators would be required to go through training before they can operate a UAS.
UAS operators would need to be on national registers, and their UAS marked for identification, in order to help identify the UAS operators if there is an incident. This, however, would not apply to operators of the smallest UAS.
Based on the key principles, the EU Commission is responsible for the development of more detailed EU-wide rules, including maximum altitude and distance limits for UAS flight, and which UAS operations and UAS would need to be certified based on the risk they pose.
The rules would also determine which operators need extra training and to be registered, and which UAS would need to have additional safety features.
Insitu's ScanEagle to provide small UAS ISR services aboard entire U.S. Coast Guard National Security Cutter fleet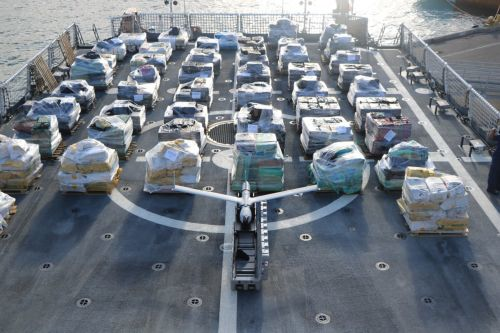 After being awarded a United States Coast Guard (USCG) contract award, Insitu's ScanEagle UAS will be used to provide small UAS ISR services aboard the entire U.S. Coast Guard National Security Cutter fleet.
Valued at approximately $117 million, the service contract covers the installation and deployment of small UAS for 200 hours per 30-day operational patrol period. ScanEagle will be used for a variety of tasks, including conducting surveillance, detection, classification and identification operations.
The UAS will also be used to "support prosecution" by providing real-time imagery, data, target illumination, communications relay and other capabilities to the fleet, as well as other government platforms as needed.
Just two years ago, Insitu won the contract to provide small UAS ISR services aboard one National Security Cutter, the USCGC STRATTON. By January of this year, ScanEagle had directly assisted the ship's crews in seizing more than $1.5 billion of cocaine and heroin, as it played a major role in the USCG's record-breaking year for drug busts in 2017.
"When ScanEagle initially deployed with the STRATTON, we recognized what an incredible opportunity we had to partner with the U.S. Coast Guard to bring dynamic improvements to mission effectiveness and change aviation history," says Don Williamson, vice president and general manager, Insitu Defense.
The contract award also marks a major milestone for the acquisition process, notes Cmdr. Daniel Broadhurst, who served as unmanned aircraft systems division chief in the Office of Aviation Forces.
"The sUAS has already proven itself to be a transformational technology, and the deployment of this capability to the entirety of the NSC fleet is an incredibly important first step in realizing the Coast Guard's vision of fleet-wide UAS implementation," Broadhurst says.
"The Coast Guard is excited to award the contract for the service's first class-wide sUAS to Insitu."
Boeing announces investment in UAS software company Kittyhawk
Boeing has announced an investment in Kittyhawk, a company that is offering a "unified approach" to the safe operation of commercial UAS.
According to Boeing, Kittyhawk's technology will support the development of a UAS Traffic Management System (UTM), which will allow both piloted and autonomous air vehicles to safely coexist in the airspace.
Founded in 2015, Kittyhawk has developed enterprise software and mobile-based apps that integrate "real-time UAS flight operations and management solutions" all in one platform. The company's customer base has grown over the last three years to include industry leaders from a variety of fields, including media, rail transportation, and fire and emergency management agencies that rely on it for end-to-end UAS operations.
"When paired with the broad portfolio of complementary data service offerings within Boeing, Kittyhawk is poised to help us shape the future of safe autonomous flight," says Brian Schettler, managing director of Boeing HorizonX Ventures.
"We are excited to explore new capabilities made possible through foresight, expertise and a focus on holistic solutions that support the safe integration of unmanned systems into the national airspace."
In partnership with Boeing subsidiary Jeppesen, Kittyhawk will look to expand UAS operations by participating in the FAA's Low Altitude Authorization and Notification Capability (LAANC), which is a collaborative effort to create UTM processes that integrate UAS, cargo delivery and beyond visual line of sight operations (BVLOS) safely into the airspace.
"Boeing's world-renowned aviation expertise and resources will help Kittyhawk continue to mature our enterprise offerings," comments Joshua Ziering, founder and chief pilot of Kittyhawk.
"Boeing's long history of forging new industries within the aerospace sector will also help as Kittyhawk continues its mission to create robust, open and interoperable standards to empower the commercial drone industry. We have a unique opportunity to pioneer a new aviation industry and having the support of Boeing will give Kittyhawk the resources and expertise we need to be truly disruptive in this space."
Boeing HorizonX Ventures participated in this seed funding round that was led by Bonfire Ventures, and also included participation by Freestyle Capital.
The Boeing HorizonX Ventures investment portfolio includes companies specializing in technologies for aerospace and manufacturing innovations, including autonomous systems.
View more information on the AUVSI.
Share your vision-related news by contacting James Carroll, Senior Web Editor, Vision Systems Design

To receive news like this in your inbox, click here.
Join our LinkedIn group | Like us on Facebook | Follow us on Twitter