In this week's/today's roundup from the Association for Unmanned Vehicle Systems International(AUVSI), which highlights some of the latest news and headlines in unmanned vehicles and robotics, the New York City Police Department fields a fleet of UAS, Walmart plans to expand its current fleet of service robots thanks to Brain Corp., and use of UAS for search and rescue operations continues to expand.
NYPD launching fleet of crime-fighting UAS
According to the New York Post, the New York City Police Department (NYPD) is launching a fleet of crime-fighting UAS.
The largest municipal police department in the U.S., the NYPD will use 14 UAS for a variety of purposes, including large-scale city events, search-and-rescue operations, and for accessing hard-to-reach crime scenes.
"As the largest municipal police department in the United States, the NYPD must always be willing to leverage the benefits of new and always-improving technology," says Police Commissioner James O'Neill.
"Our new Unmanned Aircraft System program is part of this evolution — it enables our highly trained cops to be even more responsive to the people we serve, and to carry out the NYPD's critical work in ways that are more effective, efficient, and safe for everyone."
Thus far, 29 NYPD officers from the Technical Assistance Response Unit have been trained and licensed to use the UAS under the program, and that number will continue to grow, a spokeswoman for the department told the New York Post.
All of the UAS are products of DJI. 11 are DJI Mavic Pro quadcopters, which will be used for "tactical operations." Two are DJI M210 RTK quadcopters, which will be used for, among many things, search-and-rescue operations. The final UAS is a DJI Inspire 1 quadcopter, which will be used to train the officers.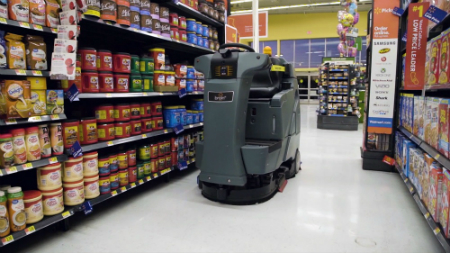 Brain Corp to provide 'brain' for Walmart's floor scrubbing robots
A San Diego-based software technology company called Brain Corp has announced that it will provide Walmart with artificial intelligence (AI) services, thanks to a new partnership with the world's largest retailer.
Right now, Brain Corp's Brain Operating System (BrainOS) platform automates more than a hundred of Walmart's fleet of commercial floor scrubbers across the U.S.
With BrainOS, the machines have autonomous navigation and data collection capabilities, which are all tied into a cloud-based reporting system.
By the end of its fiscal year, Jan. 31, 2019, Walmart expects to have 360 robots powered by BrainOS in its stores.
"We are thrilled to partner with Walmart to enhance customer experience at its retail locations," says Dr. Eugene Izhikevich, CEO of Brain Corp.
"BrainOS technology allows robots to effectively and safely function in complex, crowded environments, ensuring increased productivity and efficiency across applications. We look forward to continuing to work alongside Walmart to help build intelligent, connected stores."
With Walmart's BrainOS-powered floor scrubbers, store associates can quickly map a route during an initial training ride, and activate autonomous floor cleaning by simply pressing a button.
Using multiple sensors, the robot can scan its surroundings for people and obstacles, providing what Brain Corp calls the "industry's highest level of safety and performance."
"We're excited to work with Brain Corp in supporting our retail operations and providing our associates with a safe and reliable technology," comments John Crecelius, Walmart's VP of Central Operations.
"BrainOS is a powerful tool in helping our associates complete repetitive tasks so they can focus on other tasks within role and spend more time serving customers."
Described as a "proprietary operating system" that integrates with off-the-shelf hardware and cloud technology, BrainOS is the foundation of Brain Corp's technology platform, as it provides a cost-effective "brain" for robots. Equipped with computer vision and AI libraries, BrainOS can quickly and efficiently develop smart systems that learn and adapt to people and complex environments.
The platform's navigation stack also provides advanced self-driving capabilities for cluttered and dynamic indoor environments.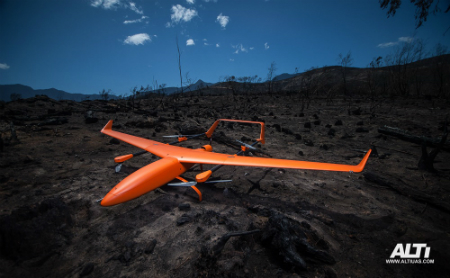 ALTI UAS launches new UAS for search and rescue operations
UAS developer and manufacturing company ALTI UAS has launched the ALTI Transition SAR 'Orange', which is a search and rescue version of the company's ALTI Transition VTOL UAS.
Based in the coastal town of Knysna, South Africa, ALTI UAS notes that the ALTI Transition SAR 'Orange' is being launched following some of the worst fires in South African history, which recently effected the area.
Designed for search and rescue missions, the new ALTI Transition SAR 'Orange' is a specific version of the ALTI Transition UAS, the company explains. Described as compact, rapid, smart, and advanced, the UAS includes a unique vibration damping mount for the combustion engine, allowing it to fly up to 12 hours per flight, with a range of 900 kilometers.
"The new ALTI Transition SAR 'Orange' has been designed specifically for search and rescue missions and can capture precise, detailed footage and information from above, along with thermal cameras allowing fire crews to see through smoke, see exactly what the fire is doing, where hot spots are and the ability to quickly and effectively relay this information to the right people," explains Duran De Villiers, owner & director at ALTI UAS.
Another advantage that the UAS provides, De Villiers says, is the ability to fly when it's too dangerous for manned aircraft to fly. De Villiers notes that a local firefighting helicopter pilot died during the recent fires in Knysna, so he is hoping that the company's technology can help prevent similar tragedies like this going forward.
"If we can assist in preventing further losses with our technology, then only are we doing our job," De Villiers says.
Some of the differences between the ALTI Transition SAR 'Orange' and the ALTI Transition VTOL UAS are the bright orange Search and Rescue color scheme on the new version of the UAS, as well as the disaster specific payload integration that makes the UAS ideal for firefighting support and post-disaster management and damage assessment.
Being that the ALTI Transition SAR 'Orange' is based on the ALTI Transition VTOL UAS, the ALTI Transition SAR 'Orange' doesn't need additional equipment such as a catapult or landing strip, allowing search and rescues to launch instantly from just about anywhere. The UAS also supports a variety of payloads, and has a capacity of up to 1.5 kilograms.
With its ability to support emergency rescue operations by capturing detailed footage from above, the ALTI Transition SAR 'Orange' facilitates the ability of fire crews to perform supply drops, locate trapped victims, and survey, record and analyze terrain.
Additionally, the UAS is designed for every day, all day operation with a low hourly operation cost of just $3.50.
"The ALTI Transition drastically cuts down on expenses, keep rescuers safe by doing most of the dangerous work, and ultimately speeds up all efforts related to the entire rescue," De Villiers says. "After all, every second counts in these types of situations."
Share your vision-related news by contacting Dennis Scimeca, Associate Editor, Vision Systems Design

To receive news like this in your inbox, click here.
Join our LinkedIn group | Like us on Facebook | Follow us on Twitter