In this week's roundup from the Association for Unmanned Vehicle Systems International(AUVSI), which highlights some of the latest news and headlines in unmanned vehicles and robotics,learn about a new self-driving car service in Texas, autonomous mobile robots from Fetch Robotics being deployed at Honeywell distribution centers, and a new contract from the U.S. Navy for the development of unmanned underwater vehicles.
Drive.ai launches self-driving service in Arlington, Texas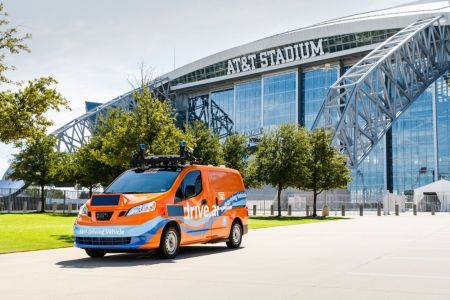 On Friday, Oct. 19, Drive.ai officially launched its self-driving program in the city of Arlington, Texas.
For Drive.ai, this is the second self-driving service that it has launched on public roads in the last four months, with the first launching in Frisco, Texas back in July.
During the program in Arlington, Drive.ai is deploying its fleet of self-driving vehicles in Arlington's downtown district, making the technology available to more than 400,000 residents, as well as visitors to the area.
"Our goal — as a company and with this program in Arlington — is to use self-driving technology to create truly impactful mobility solutions," Drive.ai says in a company blog post.
The 50th most populous city in the country, Arlington, Texas is home to the NFL's Dallas Cowboys and Major League Baseball's Texas Rangers. According to Drive.ai, the city welcomes approximately 14 million visitors each year and brings 100,000 people through Arlington's Entertainment District on days when the Cowboys or Rangers play.
According to Drive.ai, its self-driving vehicles will run on-demand between fixed pick-up and drop-off locations. Rides can be hailed either by using one of the kiosks located throughout the service area, or by downloading the Drive.ai app.
To service the football and baseball games in the area, Drive.ai's service will operate along multiple routes. These routes will also be used to service conventions, as well as Arlington's Entertainment District and nearby offices, restaurants and amenities.
"Now people can use our self-driving service to catch a game downtown or go grab lunch with colleagues — at no cost," Drive.ai says.
Drive.ai says that there are three key elements that it believes will be the foundation of advancing self-driving programs and scaling them in new cities and use-cases. First, Drive.ai says that it leverages deep-learning technology, which allows the company to scale quickly.
"We can adapt to a range of geographies and vehicles, meaning we're nimble and can rapidly ramp up with new partners," Drive.ai says.
Second, the company says that it has a "people-centric approach which prioritizes a safe, smooth experience for riders, pedestrians, and other drivers." Drive.ai cites its innovative external communication panels as an example. Lastly, the company says that it is committed to working closely with regional and local governments to deploy self-driving programs that are safe and scalable.
"With this blueprint for impactful transportation services, we will continue expanding and implementing self-driving programs that are tailored to the transportation needs of different communities and environments," Drive.ai says.
Honeywell and Fetch Robotics collaborating to deliver autonomous mobile robots to distribution centers
Honeywell and Fetch Robotics are partnering to deliver autonomous mobile robots (AMRs) to distribution centers, in an effort to help them "more effectively fulfill growing volumes of e-commerce orders."
The collaboration between the two entities enables Honeywell Intelligrated's customers to increase productivity and boost labor efficiency by deploying Fetch Robotics' AMRs, which transport items through distribution centers without human guidance or fixed paths, all while operating safely alongside people.
With Fetch Robotics' AMRs a part of its smart robotics portfolio, Honeywell Intelligrated can provide customers with a range of flexible automation technology that can be adjusted to address current and future operational needs.
"As staffing challenges and the continued growth of online shopping are pressuring supply chains, robotics can be an effective solution to help make large, integrated distribution centers more efficient," explains Pieter Krynauw, president of Honeywell Intelligrated.
"With this arrangement, we can provide our customers with a complete suite of fixed and mobile robotics solutions, backed by the expert systems integration, solutions development and reliable, 24/7 technical support they expect from us."
Fetch Robotics offers a variety of AMRs that use a combination of LiDAR and 3D cameras to safely and accurately move around unpredictable warehouse environments.
The robots can adjust their routes in real time if an obstacle becomes present, allowing the AMRs to handle repetitive warehousing tasks that may otherwise require significant travel time between locations and transporting heavy loads.
Fetch Robotics' platforms can also deploy and redeploy in just a single day without integration requirements or changes to infrastructure.
"We are committed to helping customers achieve their productivity goals by providing on-demand automation that enables a wide range of flexible and safe AMRs to be rapidly deployed," says Melonee Wise, CEO, Fetch Robotics.
"We fully expect our relationship with Honeywell Intelligrated to help accelerate the adoption of our cloud robotics solution within the logistics and manufacturing verticals."
Honeywell Intelligrated provides automation equipment, software and services to more than 60 of the top 100 global retailers and half of the top 100 internet retailers. Distribution centers can deploy its Momentum warehouse execution system to bring together automation technologies, workflows, orders and labor in a unified platform to provide real-time visibility and help make operations more efficient.
Fetch Robotics develops and manufactures AMRs for warehouses, manufacturing facilities, and logistics providers. The company provides a large and versatile portfolio of mobile robots and a powerful, cloud-based software platform that offers on-demand automation for a range of applications, including material handling and inventory management.
Alion awarded contract to develop, build, and support the U.S. Navy UUV Family of Systems
A McLean, Virginia-based company called Alion Science and Technology has been awarded a multiple award contract (MAC) Indefinite Delivery/Indefinite Quantity (ID/IQ) from the Department of Navy, Naval Undersea Warfare Center, Newport, Rhode Island, to develop, build, and support the U.S. Navy UUV Family of Systems (FoS).
According to Alion, the scope of the contract covers systems and subsystems required to support the advancement of UUV FoS, which not only includes current UUV systems and subsystems, but also any future UUV systems and subsystems.
Alion says that the value of the contract, with all option years, is $794M.
"The ability to deploy unmanned vehicles with sensors that can covertly survey a contested environment and detect threats sooner, will provide the host platform an advanced situational awareness that increases the effectiveness of their tactical decision making with less risk to fleet personnel," explains Vince Stammetti, senior vice president of Alion.
"In addition, the relatively low cost of a UUV as compared to the cost of building a ship, provides the Navy a low cost, force multiplier alternative. Under the FoS contract, the Navy has tasked industry to use their imagination to find even more ways to use them to increase capabilities."
Under the contract, Alion will "design, develop, fabricate, test, install, document and deliver" rapid prototype material technologies associated with the products, systems, subsystems, ancillary and peculiar support equipment, and the development of Navy UUVs.
View more information on the AUVSI.
Share your vision-related news by contacting James Carroll, Senior Web Editor, Vision Systems Design

To receive news like this in your inbox, click here.
Join our LinkedIn group | Like us on Facebook | Follow us on Twitter